Melania Trump Seeks Buyers for New 'POTUS' NFT Collection
Melania Trump is unveiling a new NFT collection celebrating her husband's time in office, just days after she denied claims that she had been the buyer of her own digital artwork.
The former first lady's latest non-fungible token project is called the "Official POTUS NFT Collection" and will include "10 original pieces of digital artwork highlighting iconic moments from President Trump's Administration," according to a statement from her office.
Set to launch on President's Day, February 21, the collection is made up of 10,000 tokens, featuring the 10 designs, on sale for $50 each.
The digital artworks mark moments such as former President Donald Trump's Fourth of July visit to Mount Rushmore in 2020, Christmas at the White House and a trip on Air Force One.
"I am proud to expand upon my NFT platform and am honored to be able to recognize important moments in our nation's history," Melania Trump said in the statement.
"I look forward to collaborating with others to offer truly special, authentic parts of U.S. history."
Shoppers won't know which of the 10 artworks they will get because each NFT is revealed only after purchase, according to the statement.
In January, the former first lady launched an NFT that included a digital artwork of a white hat she wore for a state visit in 2019. This week it was reported that the winning bid in this auction appeared to have come from the token's creators.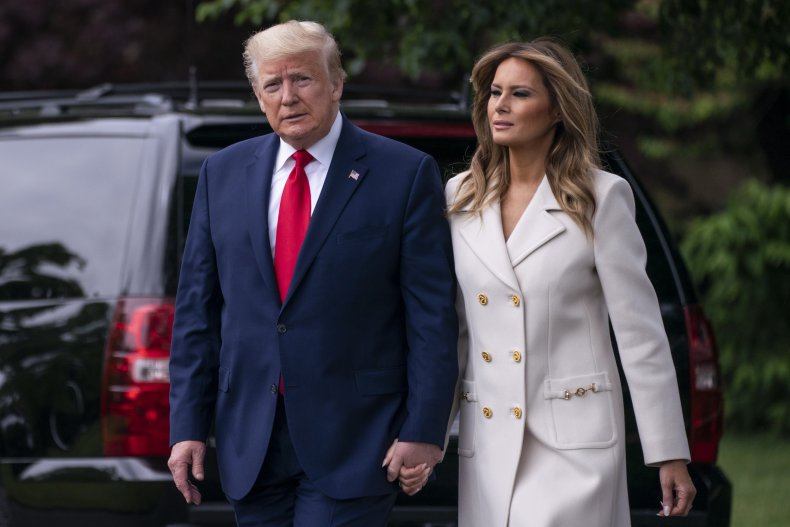 An investigation by Bloomberg News revealed that a series of blockchain transactions show the cryptocurrency used to purchase the digital asset came from a wallet belonging to the entity that had put the token up for sale.
Trump has denied that the $185,000 purchase came from her or her office.
"The nature of Blockchain protocol is entirely transparent," the Office of Melania Trump said in a statement to Bloomberg. "Accordingly, the public can view each transaction on the Blockchain. The transaction was facilitated on behalf of a third-party buyer."
Despite the former first lady's denial, late-night hosts poked fun at her NFTs on Thursday night.
"But despite the currency fluctuations, Melania's hat got a buyer! And the winner was… Melania!" Stephen Colbert quipped on The Late Show.
"Because it turns out the money that won Melania's NFT came from Melania's own digital wallet. It was her own hat, her own watercolor and her own NFT, paid for with her own money. It's the circle of grift!"
Jimmy Kimmel, meanwhile, joked about her new digital collection.
"How would she even know what the 'iconic moments' from his administration were? Half the time she was first lady, she hid in her room, the other half she spent b******* about Christmas decorations," he said.
Kimmel went on: "This is the weirdest part, 'Collectors will enjoy an element of surprise, as the artwork of each NFT is revealed only after purchase.' You send Melania your money and in return you get … whatever they decide to send back. Where do I line up? What a deal that sounds like."