What Is Melania Trump Doing? First Lady Sparks Conspiracies, Tackles Bullying and Defiantly Wears High Heels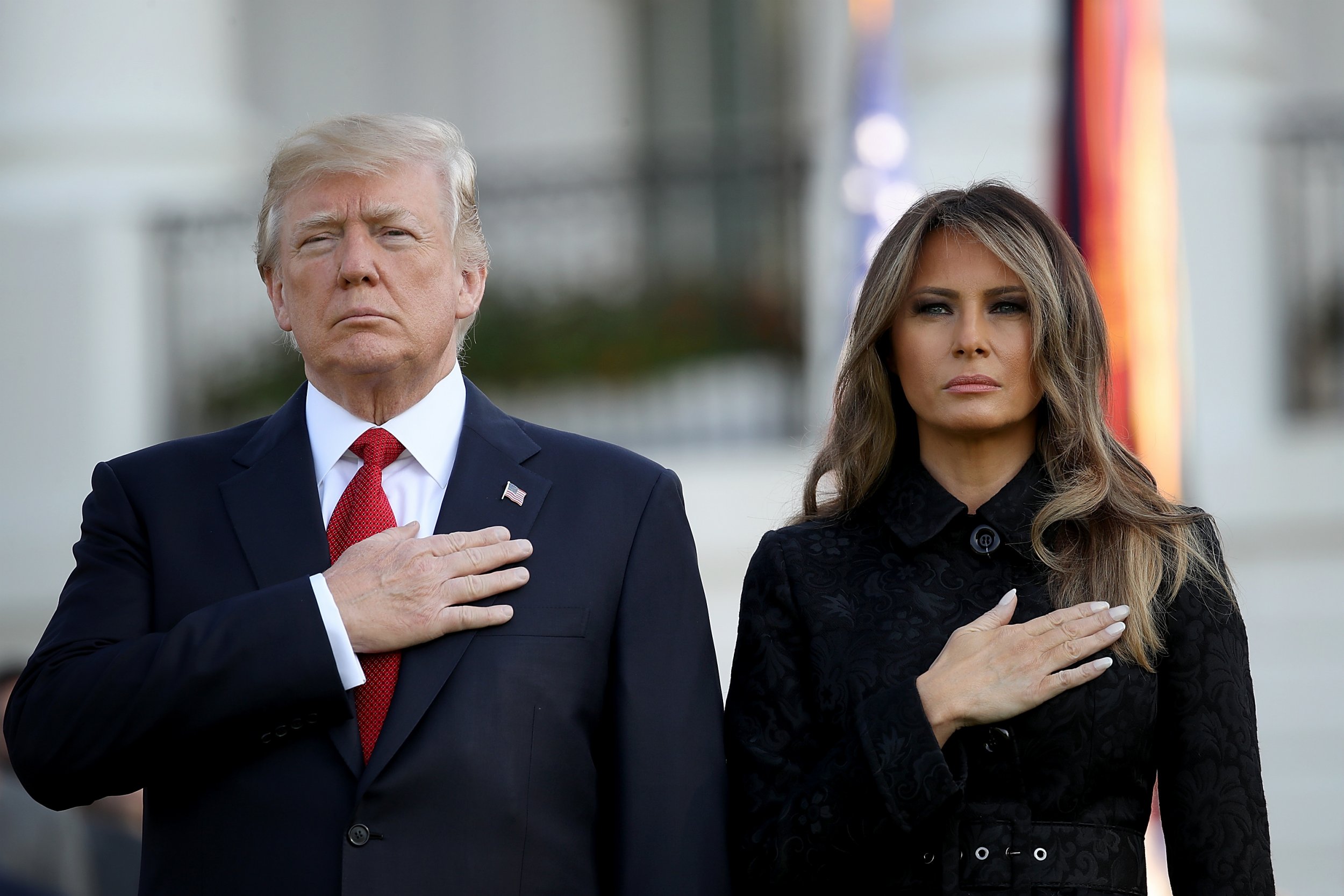 First lady Melania Trump—who definitely does not have a body double, nuh-uh—is taking yet another crack at getting her anti-bullying crusade off the ground. Trump and Education Secretary Betsy DeVos are set to stop by a Detroit middle school Monday to participate in a "no one eats alone" event and discuss "the importance of being inclusive and the negative effects of social isolation," as spokeswoman Stephanie Grisham told CNN.
Like Trump's previous anti-bullying efforts, Melania's Detroit visit will almost certainly spark backlash, given her husband's tendency to name-call online and in real life. But it's also another solo event for the first lady, who previously was only rarely spotted—and even then, mainly alongside the president.
Ever since Trump and her son, Barron, moved into the White House in June, she's become an increasingly visible figure. Here's a quick look what she's been doing recently:
Cutting down her staff.
Trump's office includes just nine employees, seven fewer than her predecessor, Michelle Obama, had in 2009, Fox News reported Saturday. Grisham told the outlet that Trump is trying to be careful with taxpayer money, so she has been "focusing on quality over quantity" in the hiring process.
Inspiring conspiracy theories.
When Trump and the president were caught on camera last week at a Secret Service training site, Twitter pointed out that both her height and her nose looked different. User @JoeVargas tweeted a video clip of the first couple and wrote, "This is not Melania. To think they would go this far & try & make us think its her on TV is mind blowing." The message went viral and rumors that she may have been using a body double spread quickly—and were just as quickly debunked.
Fighting with Ivana Trump.
The president's first wife, Ivana Trump, started a catfight this month when she told ABC News that she was the true first lady, adding that she avoids using the White House's direct number "because Melania is there and I don't really want to cause any kind of jealousy." Trump, via Grishman, fired back with a Mean Girls-style statement, saying there was "clearly no substance to this statement from an ex; this is unfortunately only attention-seeking and self-serving noise."
Making hurricane-relief visits—in style.
Trump's footwear turned heads when she accompanied her husband on two trips to Texas after Hurricane Harvey, and one to Puerto Rico after Hurricane Maria. She walked from the White House to the plane in designer high heels but had changed into boots or sneakers by the time they touched down. The president defended Melania's choices in September, saying during a rally that the media "went after her" as if "you know, she's going to go into the floods with her high heels."
Getting more popular.
The first lady is the most well-liked person in the Trump family, notching a 44 percent favorable/35 percent unfavorable rating in a September CNN poll. Her husband's approval ratings aren't so good: He's underwater at 41 percent favorable/57 percent unfavorable.
Following in her predecessor's footsteps.
Though Michelle Obama was much busier than Melania Trump during her first 100 days in office, but the two first ladies finally merged initiatives last month. Trump invited about a dozen kids to help her tend to Obama's vegetable garden on the South Lawn in September, planting cabbage, kale and other plants while harvesting lettuce, peas and radishes, according to Politico. The White House may have begun to roll back school nutrition rules, but Trump insisted that she's "a big believer in healthy eating because it reflects on your mind and your body."