15 Times Melissa McCarthy and Her Husband Ben Falcone Shared the Screen
If you've seen Melissa McCarthy in a movie role, odds are you might have spotted her real life husband Ben Falcone alongside her too.
McCarthy seems to be a collaborative performer in general, after appearing alongside Octavia Spencer many times for over a decade. She's also appeared in multiple movies and series with actor Bobby Cannavale.
No one can compare to her husband Ben Falcone, though; not only do they share a life together as husband and wife, they've also starred in over a dozen movie and television projects together.
Here's a list of their joint work...
TV projects and smaller roles
Before we dive into the full list, it's worth noting a couple of occasions where the married couple have been part of the same project, but have not necessarily shared the screen.
McCarthy came to prominence as Sookie St. James in Gilmore Girls, but her husband also made a brief appearance as a lawyer in Season 3. They both stared in the short movie Chicken Party, alongside the likes of Octavia Spencer and Allison Janney. The pair also played themselves in multiple episodes of the TV Land comedy Nobodies.
1. Cook Off!
Falcone and McCarthy first made their big screen debut together in the mockumentary comedy Cook Off!.
McCarthy played an amateur chef hoping to win a national competition, while Falcone played her supportive but equally clueless-with-cooking husband.
2. The Nines
Melissa McCarthy played herself and various other characters in this perplexing 2007 movie. Ryan Reynolds leads and stars along with Hope Davis, and a very young Elle Fanning.
Falcone makes a cameo as McCarthy's husband in the reality TV portion of the movie.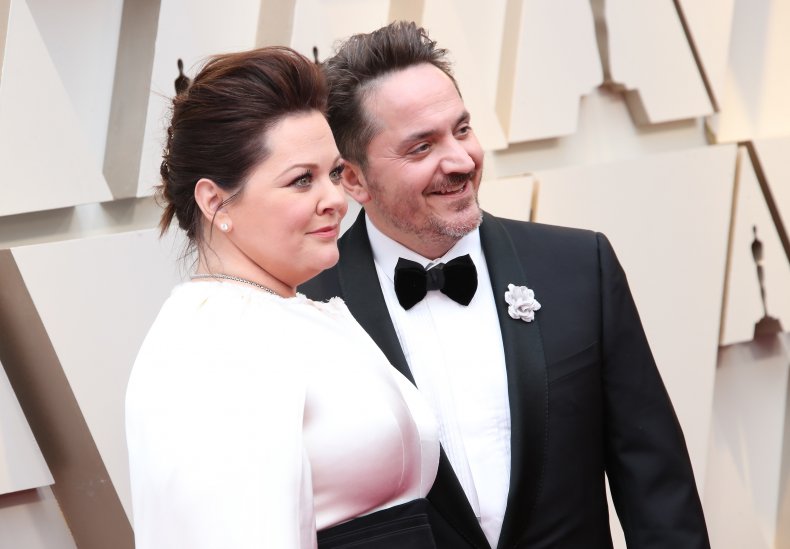 3. Pretty Ugly People
Missi Pyle is the star of this R-rated romcom while McCarthy plays her old college buddy Becky.
Falcone makes a brief appearance at the end as McCarthy's character's partner Coach Merryweather.
4. Bridesmaids
Perhaps the couple's most iconic appearance on screen together, the image of them sat next to each other on a plane has stood the test of time.
McCarthy got an Oscar nomination for her role as the brash friend Megan. When she runs into Jon (Falcone) on a flight, sparks fly immediately as she's determined to out him as an undercover air marshal.
Falcone revealed on Conan that he and his wife actually filmed a food-fueled sex scene for the movie that didn't get used in the final cut.
5. Identity Thief
McCarthy stars alongside Jason Bateman in this buddy movie about a grifter (McCarthy) who steals a man's identity.
The comedy performed well at the box office and featured many other big-name actors, including Amanda Peet, Jon Favreau, T.I., Morris Chestnut and John Cho. Falcone makes his customary cameo as Tony the motel desk clerk.
6. The Heat
McCarthy showed her tough side as the bad cop to Sandra Bullock's good cop in The Heat.
Falcone appears as a simple Blue-Collar Man in what was another financially positive comedy for McCarthy and co.
7. Tammy
Tammy marked Falcone's debut as a writer and director, and he also served as an executive producer on the movie while his wife McCarthy co-wrote and played the titular Tammy.
The road trip comedy was panned by critics and earned McCarthy and her co-star Susan Surandon Razzie nominations. Despite this, the movie made $100 million on a $20 million budget.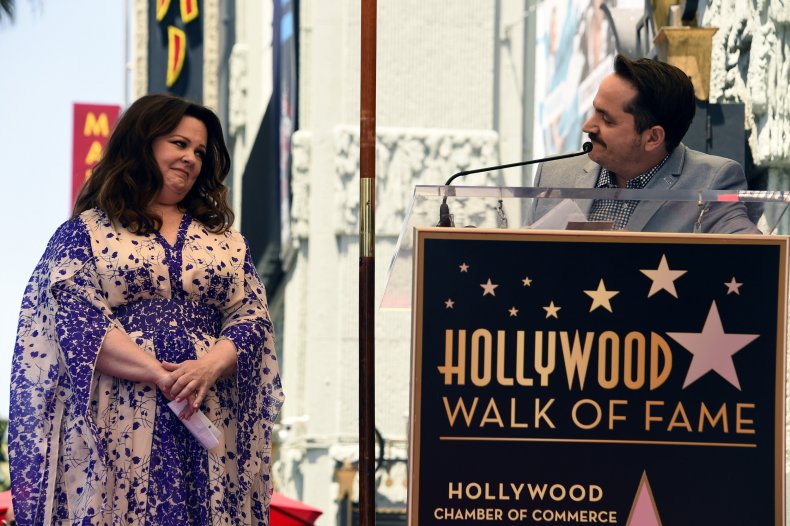 8. Spy
McCarthy's next comedy outing was a return to form for the Academy Award nominee as she played desk worker-turned secret agent, Susan Cooper, in Spy.
The comedy featured the likes of Jude Law, Jason Statham and Rose Byrne, while Falcone made a brief appearance as an American Tourist in Europe.
9. The Boss
Falcone's sophomore movie that he wrote and directed, The Boss, didn't perform much better with critics than his first effort.
McCarthy stars as a wealthy woman who must win back her fortune while Falcone appears as her former lawyer. Kristen Bell, Peter Dinklage, Kathy Bates and Cecily Strong all make appearances in the movie too.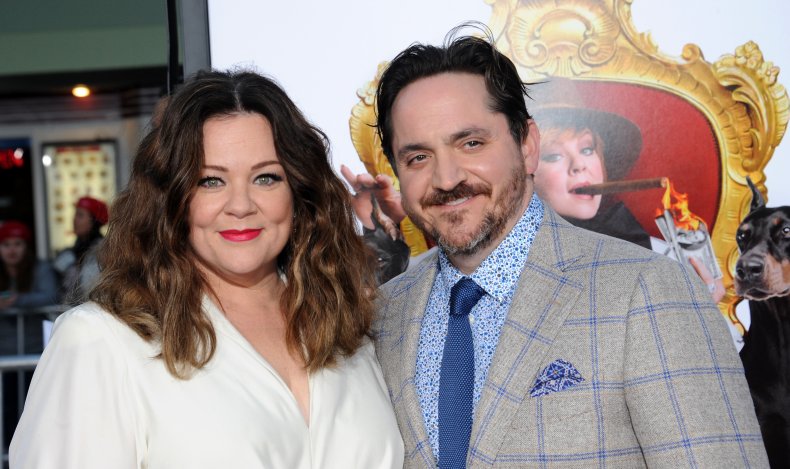 10. Life of the Party
Falcone once again wrote, produced and directed his wife in the comedy Life of the Party. The critics were marginally kinder to McCarthy and Falcone for this movie but it still earned her a Razzie Award for Worst Actress.
The movie follows recently divorced Deanna Miles as she returns to college 22 years after for a life do-over. Falcone has a brief cameo as an Uber driver.
11. The Happytime Murders
McCarthy had a career first in her next movie starring alongside a cast filled with puppets in The Happytime Murders. She played a detective solving mysterious deaths in a world where puppets and humans co-exist.
The movie earned six Razzie nominations, with McCarthy winning Worst Actress for this performance combined with Life of the Party. Maya Rudolph, Joel McHale and Elizabeth Banks all starred while Falcone, who was also a producer on the movie starred as LAPD desk worker Donny.
12. Can You Ever Forgive Me?
Not shaken by her Razzies, McCarthy returned to a more serious role in Can You Ever Forgive Me? and earned herself a second Oscar nomination.
Based on a true story, it follows Lee Israel who attempts to make money by forging letters by dead celebrities and selling them.
Falcone played the supporting role of Alan Schmidt in the critically-acclaimed film.
13. Superintelligence
Falcone was just on producing and directing duties for this action romcom about an autonomous piece of AI (voiced by James Corden) that threatens to annihilate the human race. Melissa plays Carol who works with the AI in the hopes it changes its mind.
Falcone and comedian Sam Richardson play NSA agents investigating Carol's relationship with the AI.
14. Thunderforce
McCarthy and her real life pal Octavia Spencer team up in this superhero comedy movie on Netflix.
Falcone once again writes and directs this film about childhood friends who have found a way to become superheroes in a world filled with too many supervillains.
McCarthy and Spencer play the heroes Lydia "The Hammer" Berman and Emily "Bingo" Stanton, while Falcone has a smaller role as Kenny.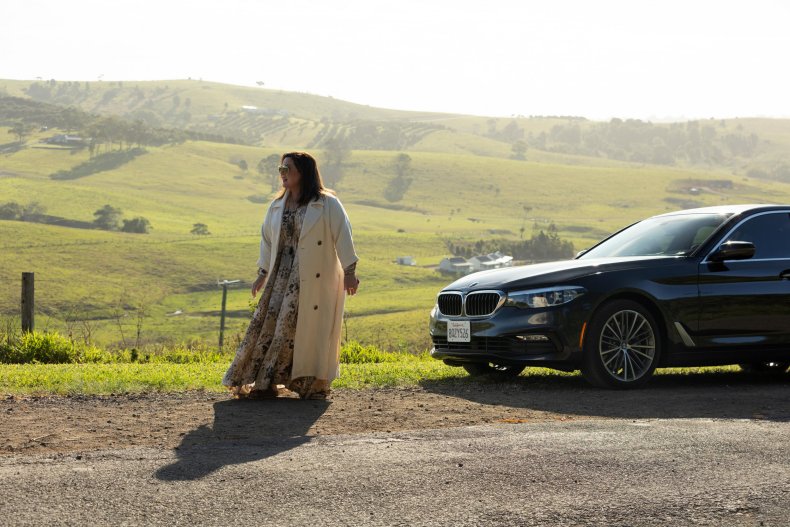 15. Nine Perfect Strangers
McCarthy stars in the popular Hulu mini-series Nine Perfect Strangers alongside an impressive cast including Nicole Kidman, Regina Hall, Michael Shannon and Bobby Cannavale. She also serves as an executive producer on the drama, which is made by the same team behind Big Little Lies.
Filmed in Australia during lockdown, Falcone makes guest appearances as an evil ex of McCarthy's character Frances Welty, who conned her out of over $100,000.
Future collaborations
The couple's working relationship doesn't appear to be slowing down, with a number of upcoming projects in the works.
They're both rumored to be making small cameos in the upcoming Thor: Love and Thunder as well as appearing in the upcoming Netflix comedy series, God's Favorite Idiot.