Despite Lobbying Efforts, Obama's Iran Deal Likely to Survive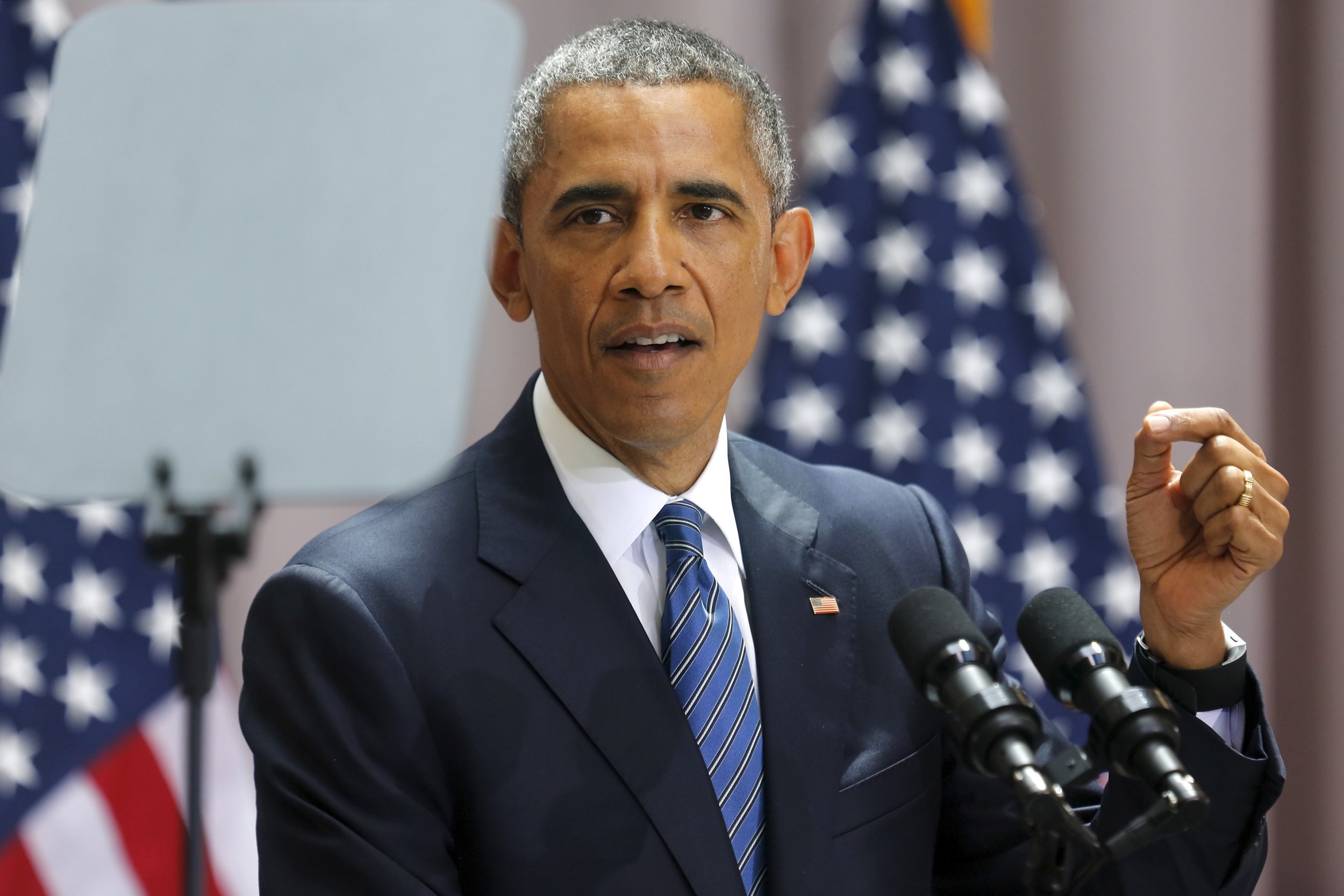 It was billed as a major foreign policy speech, but the congressional math says otherwise. On Tuesday, New Jersey Senator Robert Menendez became the 13th Democrat to join Senate Republicans in opposing the Iran nuclear deal, charging that it paves the way for the Islamic Republic to become a nuclear weapons state in 10 to 15 years. Yet as the deadline nears for a congressional challenge to the agreement in September, it seems increasingly likely that the nuclear accord will survive.
Menendez, a former chairman of the Senate Foreign Relations Committee, said the agreement failed to dismantle Tehran's nuclear program, as President Barack Obama has pledged to do. "This deal is based on hope," Menendez said. "Hope that when the nuclear sunset clause expires, Iran will have succumbed to the benefits of commerce and global integration. Hope that the hard-liners will have lost their power and the revolution will end its hegemonic goals. And hope that the regime will allow the Iranian people to decide their fate. Hope is part of human nature, but unfortunately it is not a national security strategy."
Menendez has been an outspoken critic of the agreement since it was announced on July 14, even advocating additional sanctions against Tehran. Yet his opposition to the deal does little to change the number of lawmakers needed to scupper it. More than halfway into Congress's 60-day review of the accord, Menendez and New York Senator Charles Schumer are now the only two Democrats in the Senate to come out against the agreement. In the House, only 11 Democrats have announced their opposition to the deal so far.
The White House argues that the agreement provides the only viable alternative to war with Iran over its nuclear program. So far, that argument has convinced many Democrats to support the administration. Other Democrats could join what appears to be a unanimous Republican opposition to the Iran deal. And with Republicans holding majorities in both chambers, a resolution of disapproval is widely expected to pass.
But Obama has vowed to veto any such measure, and opponents would need to muster two-thirds majorities in both the House and the Senate to override the president's veto—an exceptionally high bar, particularly on a major foreign policy issue. Obama needs 34 Senate Democrats to sustain a veto and likely has 27, according to a whip count by The Hill, a newspaper that focuses on Congress. While winning the support of another seven Democrats could be a close call in the Senate, Obama appears to have a safe margin of support in the House, where 151 Democrats continue to endorse an earlier Iran nuclear accord, which the final deal improves upon. Obama needs 145 House Democrats to uphold a veto.
Even as they continue to rail against the agreement, some senior Republicans now grudgingly concede they're unlikely to win. Speaking to a business group in his home state of Kentucky on Monday, Senate Majority Leader Mitch McConnell acknowledged the difficulty in achieving a veto override. "He's still got a great likelihood of success," McConnell said of Obama, according to The Associated Press. "The procedure is obviously stacked in the resident's favor."
Though McConnell's remarks reflected what lawmakers have been saying privately, groups opposed to the deal are pressing ahead with their lobbying campaigns in hopes of convincing enough Democrats to vote against the president. Leading the push is the American Israel Public Affairs Committee, or AIPAC, the largest and most powerful pro-Israel lobby. The group said it will spend as much as $40 million on television ads this summer attacking the agreement, mostly in the districts and states of undecided Democrats. Bolstering the lobbying drive is Israeli Ambassador Ron Dermer, who has met with more than 60 lawmakers to persuade them to vote against the accord.
At the same time, Israeli Prime Minister Benjamin Netanyahu, who was criticized for interfering in U.S. affairs after he lambasted the interim accord before a joint meeting of Congress in March, has continued his campaign against the deal from Jerusalem. On August 9, he spent two hours with a group of 22 Democratic lawmakers who visited Jerusalem on a trip organized by AIPAC.
House Democratic Whip Steny Hoyer, who led the delegation, said the Israeli leader did most of the talking during the meeting as he reviewed what he considered the flaws in the agreement and explained why he saw it as a bad deal. "He understands that the decision is up to the members of the House that owe their judgment to their constituents," Hoyer told the Israeli daily Haaretz. "He didn't tell them to vote one way or another, but it was clear he hopes they will vote against the agreement because it is a bad deal that will allow Iran to have a path to a nuclear bomb in 13 years. He said, 'It is not my place to tell you how to vote. It is up to you —but my opinion is…'"
Commenting on the meeting in the online publication Al Monitor, Israeli columnist Akiva Eldar noted: "This is like saying, 'Anyone who backs this agreement cannot be considered a friend of Israel, but of course, you're fully within your rights to vote in favor of Israel's enemies. Who am I to interfere in U.S. domestic affairs?'"
Support for Israel is strong on Capitol Hill, not only because the Jewish state is a close U.S. ally but also because AIPAC keeps close tabs on how lawmakers vote on Israel-related issues and uses its vote tallies to influence which candidates gets millions of dollars in campaign contributions from pro-Israel donors.
So far, the lobbying campaign has convinced some major Democrats. In addition to Menendez and Schumer, a number of prominent Jewish House members have announced their opposition to the deal, including Eliot Engel of New York, ranking member on the House Foreign Affairs Committee; Steve Israel and Nita Lowey of New York; and Ted Deutsch of Florida. In the Senate, moderate Republican Jeff Flake of Arizona also came out against the agreement, dashing the administration's hopes for bipartisan support.
But Obama and his supporters have been waging their own campaign in support of the deal. White House officials say that the president, vacationing on Martha's Vineyard, has been calling Democrats to urge them not only to vote against the resolution of disapproval but to come out publicly in support of the accord. Helping the president are several left-leaning groups, including the Ploughshares Fund, which advocates against nuclear weapons, and J Street, a left-leaning, pro-Israel lobby that has budgeted $5 million for its campaign to win support for the Iran accord. So even though the president and his supporters can't match AIPAC's deep pockets, Obama can still count on Democratic solidarity—some might say old-fashioned partisanship— to keep enough party members by his side to override a veto.
Yet the fight over the Iran deal isn't over. Republican Lindsey Graham of South Carolina, chairman of the Senate Committee that doles out foreign aid and a presidential candidate, said he will block funding for the United Nations organization that will conduct inspections of Iran's nuclear facilities under the accord, unless it shares its confidential arrangement with Congress. Graham also said he and Menendez will introduce new sanctions against Iran. "Rest assured," Graham said in Westhampton, New York, earlier this month. "This will not be the last vote related to the deal."