Mercedes Breaks Its Own Electric Car Efficiency Record
The electron-powered Mercedes-Benz Vision EQXX concept car broke its own record, traveling 747 miles on a single charge. That number beats the old record of 621 miles that the car had previously set.
The original record-setting journey happened in April with the model traveling from Stuttgart, Germany to Cassis, France. It was recently bested during a road trip from Stuttgart to Silverstone, England.
In a press release, Mercedes provided details about the route of the most recent trip saying that the car's drivers negotiated an autobahn closure and requested cross-country diversion near Stuttgart before crossing the French border near Strasbourg.
They then cruised across northern France at "highway speeds" to Calais, where the EQXX boarded the Eurotunnel. The Channel Tunnel trip from France to England takes just 35 minutes to go 31 miles.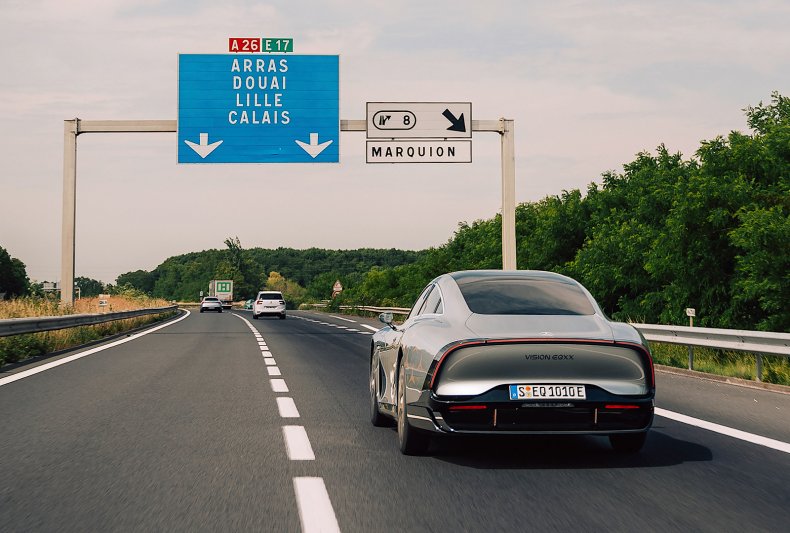 After entering the UK, the EQXX took the M25 around London, stopping off at the Mercedes-Benz Grand Prix in Brackley. It then carried on to Silverstone where Nyck de Vries, a Mercedes-Benz Formula E driver, put the remaining battery power to the test, hitting the maximum speed limit of 87 miles per hour (mph) and completing 11 laps on the famed circuit.
Total travel time was 14.5 hours over two days. The car averaged 52 mph during the journey.
Throughout the trip, the car achieved an average consumption of 8.3 kilowatt-hours (kWh) per 100 kilometers (km) of travel. This is in spite of the soaring summer temperatures in Europe during the day.
The Vision EQXX was designed for efficiency. On board, advanced technology is combined with software to deliver benchmark efficiency of 95 percent from battery to wheels. Its low weight is possible thanks to the elimination of unnecessary parts and functions, while 3D printing allowed for perfectly fit parts to be put in place.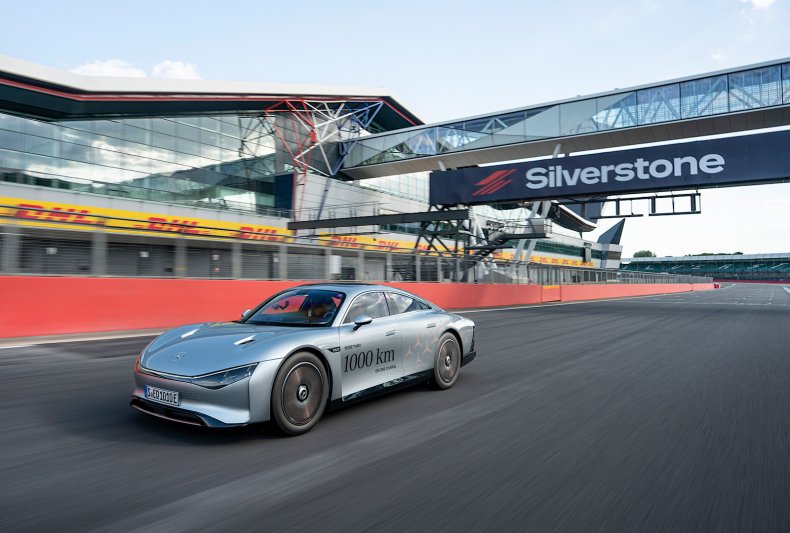 Mercedes engineers also used a blend of materials to achieve its lightweight status, including recycled and plant-based materials, magnesium wheels, and aluminum alloy disc brakes. Ultra thin roof panels, a Formula One chassis, and ultra low resistance tires with an aerodynamic design complete the package.
"Electric range sounds easy but is a complex technical challenge. The easiest way is to put a bigger battery in the car. However, this leads to diminishing returns due to size and weight. This is definitely not the smartest route and it's also not the best use of scarce resources. With the Vision EQXX, we're presenting the results of an extraordinary challenge: we pushed efficiency to a totally new level. And we explored new ways to increase the range of an electric car," said Joerg Bartels, Vice President for Vehicle Engineering and Overall Vehicle Functions, when the model debuted in January.
The car can be seen at the Goodwood Festival of Speed this weekend.