Merrick Garland Trends As Ted Cruz Says GOP Senate Didn't 'Rig' the Supreme Court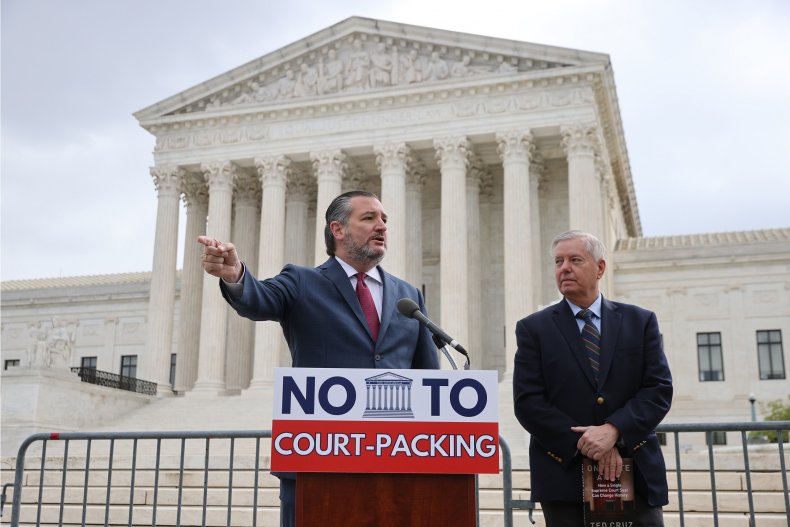 Sen. Ted Cruz (R-Texas) was mocked and reminded of Attorney General Merrick Garland's blocked 2016 nomination to the Supreme Court after urging Democrats not to "pack" the court on Thursday.
Garland's name became a trending topic after a clip of Cruz making the remarks circulated on Twitter. Cruz was speaking against legislation introduced by a group of Democratic lawmakers last week, led by Rep. Jerrold Nadler (D-N.Y.) and Sen. Ed Markey (D-Mass.). The bill would add new justices to the Supreme Court, with the likely practical effect of changing the ideological balance of court, something opponents have often referred to as "court packing."
"You didn't see Republicans when we had control of the Senate try to rig the game," Cruz said in the clip, speaking against the proposal to expand the court alongside Sen. Lindsey Graham (R-S.C.) "You didn't see us try to pack the Court."
Many were quick to point out that the GOP-controlled Senate refused to allow confirmation hearings for Garland after he was nominated to replace deceased Justice Antonin Scalia by former President Barack Obama roughly 10 months before the 2016 presidential election.
"That's... exactly what we saw," Rep. Eric Swalwell (D-Calif.) tweeted.
"Actually we did! We saw you delay Merrick Garland for a year then jam in Amy Coney Barrett for the guy who called your wife ugly and said your dad killed JFK," tweeted Democratic strategist Christine Pelosi, the daughter Speaker of the House Nancy Pelosi (D-Calif.). "That's why Americans want to unpack the court that you and your fellow Senate Republicans rigged."
"Legit the funniest thing I've seen *all* day!" tweeted Texas attorney and former Congressional candidate Lulu Seikaly. "Was I the only one living in a world where TED CRUZ AND CO refused to consider Merrick Garland?!"
"Maybe Ted Cruz drank the worm in Cancun, which made him forget about the existence of Merrick Garland?" Democratic strategist Julie Roginsky tweeted.
"Republicans wouldn't even give Merrick Garland a vote because it was an election year," sportswriter Molly Wright tweeted. "Then they rammed Amy Coney Barrett's nomination through in a record 35 days because it was an election year."
"We all know Cruz is a shameless liar," astronomer Phil Plait tweeted. "But this? This is the Big Bang, the Grand Unified Theorem of lies. Holy crap. Let's ask [Merrick] Garland what he thinks, or ponder Brett Kavanaugh and Amy Coney Barrett."
The Democratic proposal would increase the number of Supreme Court justices from nine to 13. However, the proposal is unlikely to become reality soon since there does not appear to be enough support for it in Congress. And while President Joe Biden established a commission on court reforms earlier this month, he has indicated little support for the proposal in the past, at one point calling it a "bonehead idea."
Regardless, Cruz and some other Republicans have spoken out against the proposal heavily in recent days. During his speech on Thursday, Cruz went on to say that Republicans did not attempt to expand the court because they, unlike Democrats, had "respect for the rule of law" and "basic decency," describing expansion efforts as an attempt to "destroy" the court.
Newsweek reached out to the offices of Garland and Cruz for comment.