Can You Blame Meryl Streep For Harvey Weinstein? Street Artist Suggests Actress Is An Enabler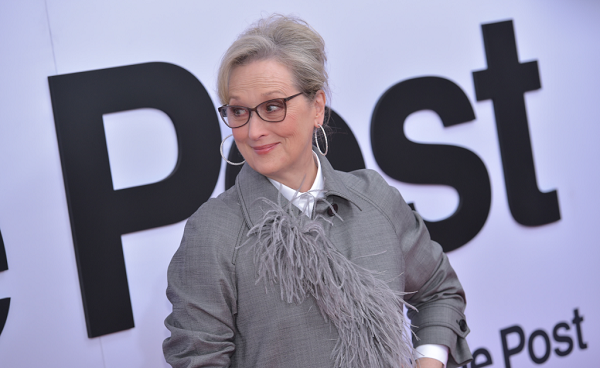 Meryl Streep has said she didn't know about movie mogul Harvey Weinstein's long history of sexual harassment and assault of women. Nevertheless, the Oscar-winning actress, who has starred in several Weinstein films, quickly and publicly condemned the former Weinstein Company co-founder once the allegations surfaced in October.
But there are those who wonder how it's possible that she didn't know; Hollywood runs on rumors and gossip and pretty much everyone working in film knew of Weinstein's reputation for abuse, both physical and emotional. Doubters include the anonymous street artist who hung posters of Streep with Weinstein in locations around Los Angeles on Tuesday. The graphic black and white design, imitating the style of artist Barbara Kruger, feature a red banner, with the words "She Knew," across Streep's eyes.
Rose McGowan, who has accused the 65-year-old Weinstein of rape, was one of the first of his victims to come forward. She was included in the October New York Times' investigation on his alleged sexual misconduct, which ultimately resulted in many women coming forward with additional accounts.
In a tweet posted on McGowan's Twitter account on December 15, since deleted, McGowan accused Streep of enabling Weinstein by ignoring rumors of his behavior and remaining silent. "Actresses, like Meryl Streep, who happily worked for The Pig Monster, are wearing black @goldenglobes in a silent protest," McGowan wrote. "YOUR SILENCE is THE problem. You'll accept a fake award breathlessly & affect no real change. I despise your hypocrisy. Maybe you should all wear Marchesa." Marchesa is the bridal and couture label co-founded by Weinstein's estranged wife, Georgina Chapman.
On Tuesday, Streep issued a statement once again denying that she was aware of Weinstein's behavior. "Rose assumed and broadcast something untrue about me, and I wanted to let her know the truth," Streep wrote.
"I am truly sorry she sees me as an adversary, because we are both, together with all the women in our business, standing in defiance of the same implacable foe: a status quo that wants so badly to return to the bad old days, the old ways where women were used, abused and refused entry into the decision-making, top levels of the industry," the 68-year-old continued. "That's where the cover-ups convene. Those rooms must be disinfected, and integrated, before anything even begins to change."
The artist behind the posters wasn't buying it. They were placed around L.A. on Wednesday, a day after Streep's statement, near her Pasadena home, the SAG-AFTRA building in Mid-Wilshire and across the street from the 20th Century Fox studio in Century city.
Supporters of Streep—including her onetime co-star Cher—argue that McGowan is focusing on the wrong villain. Women, they say, should not attack other women. It's the men accused of harassment and abuse who deserve to be condemned, as well as other men, like actors Matt Damon and Ben Affleck, who observed his behavior in silence. Damon and Affleck have admitted to knowing that Weinstein sexually harassed actress Gwyneth Paltrow while they were working on the 1999 film TheTalented Mr. Ripley, produced by Weinstein's former film company, Miramax. Neither actor intervened.
Affleck has been accused of his own bad behavior with women. Damon, on the other hand, has created another kind of controversy. Last week, in an ABC interview, he sparked a firestorm, particularly among feminists, when he referred to a sexual violence "spectrum," meaning that harassers should not be treated the same as men accused of assault. In other words, there is a distinction between what Al Franken or Lous C.K. did and what Weinstein is accused of.
The perception, among many women, is that men are more likely to "mansplain" the behavior of another man accused of harassment or abuse.