Met Gala Debut: Rosé and CL Stun As First Female K-Pop Artists To Attend Event
Rosé from K-pop girl group Blackpink and CL, the rapper and former member of K-pop group 2NE1, made their Met Gala red carpet debut on Monday.
The event has previously been attended by male K-pop stars, including Psy of "Gangnam Style" fame, but Rosé and CL are the first female K-pop artists to attend.
The annual fundraiser for New York City's Metropolitan Museum of Art—organized and presided over by Anna Wintour, former Vogue editor-in-chief and now Conde Nast's chief content officer—has been held since 1948 to raise money for the museum's Costume Institute. Last year it was canceled due to the COVID-19 pandemic.
The Met Gala is one of the biggest, most glamorous nights in the fashion industry and both K-pop stars are no strangers to the world of high couture.
Rosé, who has been a global ambassador for Yves Saint Laurent since July 2020, wore a little black dress from the French fashion house's winter 2021 collection, adorned with a large white bow at the front.
Her look was paired with an embellished choker made of heart-shaped pieces, statement drop earrings and black stiletto heels. Rosé walked the red carpet alongside YSL's creative director Anthony Vaccarello.
Back in January, the New Zealand-born member of Blackpink was announced as the newest muse for YSL Beauté, the fashion label's beauty brand. In April this year, she became the new face of luxury jewelry brand Tiffany & Co., being named its latest global ambassador.
CL, who is an ambassador for Beyonce's Ivy Park fashion brand, has previously walked for the fashion label DKNY and most recently collaborated with Jean Paul Gaultier for an editorial in W magazine's Korea edition.
At the Met Gala, CL wore a long denim coat by Alexander Wang over white briefs. The rapper's striking coat, which featured a high slit at the front and was held together by a knot at the top, may have been inspired by the Statue of Liberty, keeping with the "In America: A Lexicon of Fashion" theme of this year's Met Gala.
Fans of the K-pop artists have praised both Met Gala looks in several posts on Twitter.
A video of Rosé and Vaccarello arriving on the red carpet shared in a tweet Vogue has had over a million views and the post has had over 93,000 likes since it was shared.
Tweeting a video of the pair walking up the stairs at the Met Gala, user @D0LLWINTER wrote: "THE CUTE LITTLE BLACK DRESS, THE SHOES, THE HAIR AND MAKEUP, AND THE QUEEN HERSELF, EVERYTHING IS ON POINT. ROSÉ AT THE MET GALA #ROSÉ #MetGala2021." The video, which was originally shared by ABC's Good Morning America, had at least 984,000 views at the time of reporting.
Sharing a video clip of her exiting a building, user @Happiness1997CL tweeted: "oh hello there miss rosé gahhhh she looks so great and the dress such a Saint Laurent will do. ROSÉ AT THE MET GALA #로제." The clip, first posted by user @jenniesrenes, had two million views since it was shared.
Sharing close-up images of Rosé's look, user @trsrmaker0807 tweeted: "Okay it's her final dress idc anymore, SHE LOOKS HOT GORGEOUS BEAUTIFUL STUNNING!!! SHE ALSO SERVED US LONG LEGGED ROSÉ!! YESS THAT'S MY QUEEN!! ROSÉ AT THE MET GALA #MetGala2021." The post had over 1,000 likes at the time of reporting.
Posting images of CL from Getty, user @sophiegzb tweeted: "There's no other k-pop artist that deserves to be at the Met Gala more than the CL. She brought the fashion into K-Pop back in 2009 making statements and taking risks no one else did. Truly a fashion icon for so many people, i am so proud of you @chaelinCL."
Sharing a video of CL posing at the event, user @roii_irl wrote: "SHE GOES BY THE NAME OF CL OF 2NE1 IT'S BEEN A LONG TIME COMING BUT SHE'S IN THE MET GALA NOW," The video, which was first shared by Variety, has had over 991,000 views.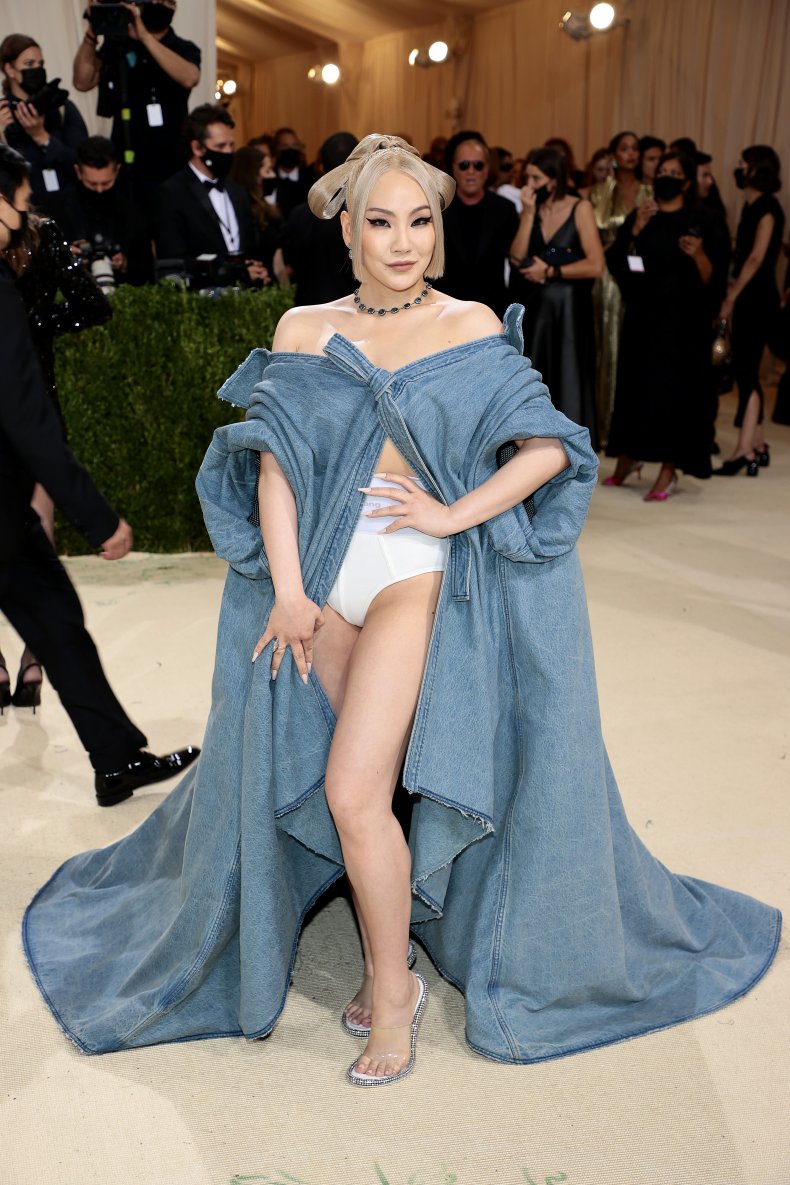 Fans also praised CL's look for its nod to the traditional Korean "hanbok" dress, whose top portion has a tie at the front, similar to the knot on CL's coat.
Posting a comparison image of CL's look and the Korean traditional dress, user @jekkibby2 tweeted: "CL in classic american denim tied with traditional korean hanbok knot and hair inspired by a headpiece worn mostly by queens— yes that's how you make a met gala debut." The post had over 39,000 likes since it was shared.
User @springmacchiato tweeted: "CL is really doing an amazing job with her advocacy to represent the Asian community with her looks! SUBTLE BUT LOUD. A Queen indeed.#MetGala." The post has had over 600 likes.