Metro Considering Providing Separate Trains for Neo-Nazis Ahead of Washington's Unite the Right Rally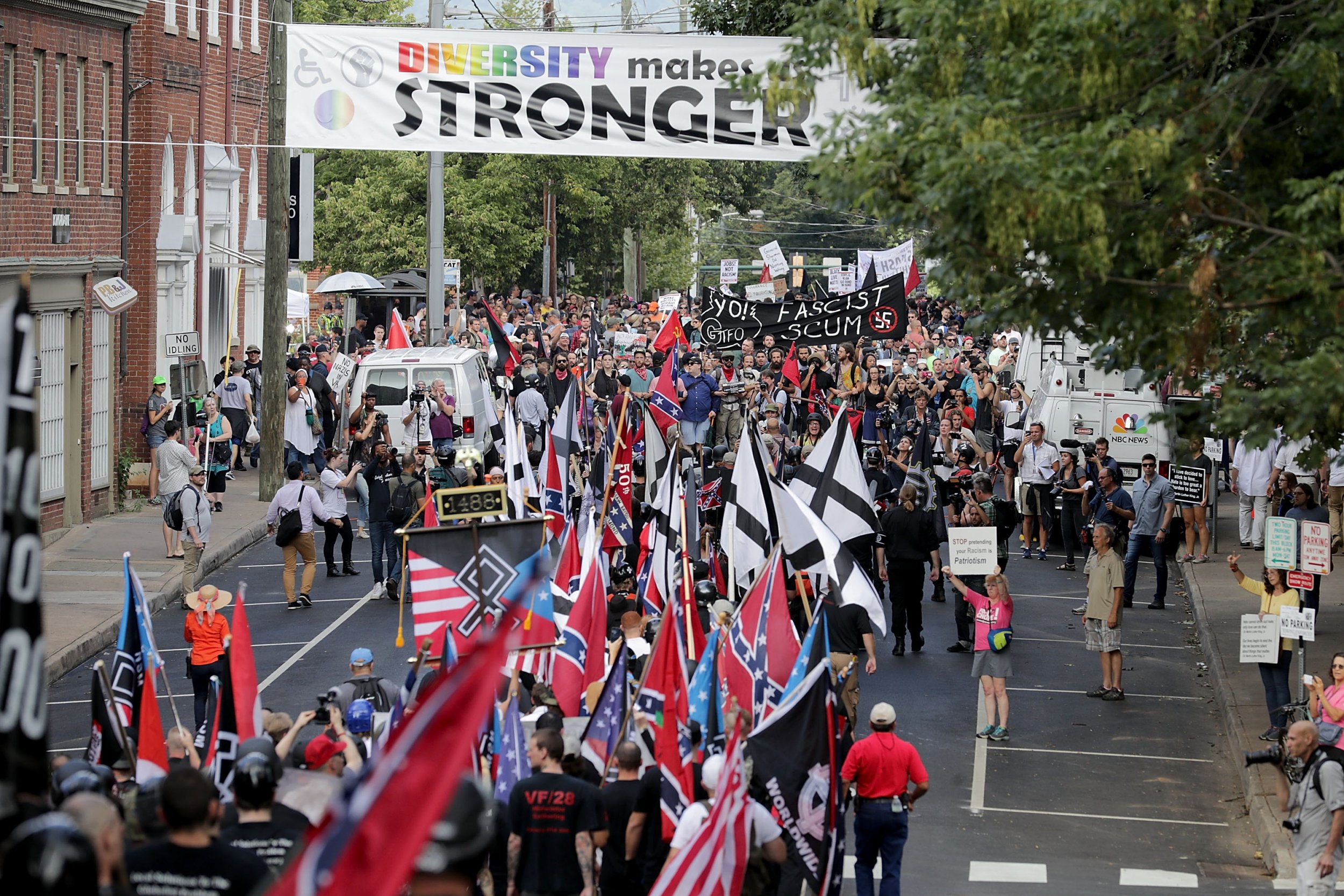 Metro officials are considering providing separate trains for white nationalists attending the Unite The Right rally in Washington D.C. on August 12 to avoid conflict with counter protesters, according to reports.
Metro's largest union, Amalgamated Transit Union Local 689, said at least three private trains are to be organized for a hate group affiliated with the Ku Klux Klan to Foggy Bottom Metro Station before they are escorted by police to Lafayette Park for the rally.
The union said Metro General Manager Paul Wiedefeld put forward the plans.
Metro Chairman Jack Evans confirmed they are floating the idea of putting far-right members who are attending what they call a "white civil rights" rally on separate trains.
"We have groups clearly at odds with each other," Evans told NBC 4 Washington. "We'd like to keep the groups separate. We don't want incidents on Metro.
"Maybe put all of one group on a train or a certain car on a train," Evans added.
"We're trying to see how can we keep the groups separate so we don't have any incidents but not put in place programs that could be problematic in the future."
The Unite The Right rally is being organized by the same group who participated in the deadly neo-Nazi march in Charlottesville, Virginia, and is scheduled to take place on the one year anniversary.
Heather Heyer, 32, was killed when a car ploughed through a crowd of counter-demonstrators. James Alex Fields Jr., 21, from Maumee, Ohio, has been charged with first-degree murder in connection with the attack.
Responding to the reports, union president Jackie Jeter said in a statement: "Local 689 is proud to provide transit to everyone for the many events we have in D.C. including the March of Life, the Women's March and Black Lives Matters.
"We draw the line at giving special accommodation to hate groups and hate speech, especially considering that the courts granted Metro the ability to deny ads on buses and trains that are 'issue-oriented,' we find it hypocritical for Mr Wiedefeld to make these unprecedented special accommodations for a hate group."
The union said that they will not play a role in the "special accommodation" of white nationalists as more than 80 percent of their members are people of color.
"As we do for all events of this nature, Metro is working collaboratively with law enforcement to ensure safe travel for our customers and employees," Metro spokesman Dan Stessel said in a statement.
"Transit Police are engaged in ongoing discussions with MPD (the Metropolitan Police Department), the lead agency for the Aug 12 event, as well as Virginia State Police and others as to how to keep everyone safe on that day. While details of the plan are security sensitive at this stage, I can tell you that it has not been finalized."
White nationalist groups, despite their small size, have recently been emboldened by support from President Donald Trump, and have often succeeded in garnering attention by provoking their opponents into public fights.