Mexicans and Americans Came Together to Highline Across the Southern Border, And Their New Film Looks to Humanize Immigration
On the final day of the longest government shutdown in U.S. history, a small group of Mexicans and Americans converged along a rural segment of the Rio Grande River to do something perhaps never done before: highline across a portion of the treacherous ravine.
They met — many for the first time — on January 25 along the southern border miles away from Terlingua, a small town located in the southwest portion of Texas that is home to only 50 or so people. From there, they paddled down the Rio Grande in a raft for roughly 20 miles before stopping to set-up their slackline across the canyon that acts as a natural deterrence to those who wish to cross the border.
That is, unless you know how to highline.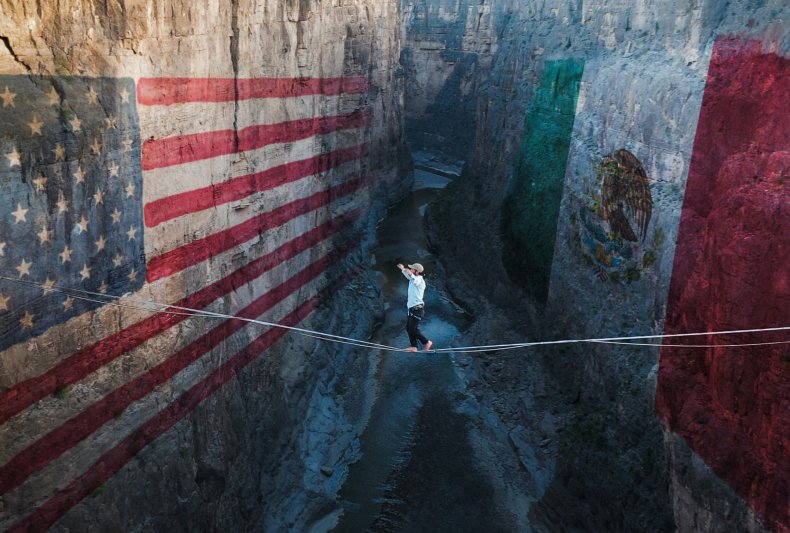 "It's a really beautiful symbol of trust because when you're rigging a highline, you have to entirely trust the other side," Kylor Melton, a member of the U.S. side who filmed the adventure, told Newsweek. "We put our hands and our lives entirely in the trust of the other side."
But the experience was not about highlining or even specific immigration policies. What it was about, Melton said, was the chance to offer a more humanizing depiction of an issue that so often is politicized by the president and lawmakers thousands of miles away in Washington, D.C.
A short film of the entire journey will debut Sunday morning on Melton's YouTube channel and Instagram with the hopes of allowing people to view America's neighbors to the south, in addition to other foreigners, with a new sense of understanding. A preview has already been uploaded online and can be watched below.
"For me, this isn't a highlining story. There are better, bigger highlines. This story is about two groups of people coming together to stand for what they believe," Melton explained. "We see ourselves as divided. But the truth is, we're really all the same people. We just construct these walls in our mind of division. And while they are very real and the U.S.-Mexico border is very real, we just hope that people can humanize it and see these characters as humans."
Immigration has been a pillar of President Donald Trump's campaigns and his presidency. He's often used divisive, anti-immigrant rhetoric while touting policies that would restrict legal and illegal immigration. As a candidate, he claimed the majority of Mexicans trying to come to the United States were bringing drugs, crime and were rapists.
Since taking office, Trump's issued several forms of travel bans against Muslim-majority countries and implemented a "zero tolerance" immigration policy that separated thousands of migrant families who crossed the southern border illegally. Migrant detention facilities have come under recent scrutiny as the record-number of border apprehensions have overwhelmed government facilities and drained resources, leading to unsanitary and severely overcrowded conditions.
Last week, the Trump administration announced a new rule that seeks to curb legal immigration by making it harder for less educated and less wealthy migrants to obtain and maintain legal status. On Wednesday, a new proposal was unveiled that would allow migrant families to be held in custody indefinitely as they await their court date, replacing a previous rule that children could not be detained longer than 20 days.
But perhaps the climax of the immigration debate came in December of last year, when portions of the federal government came grinding to a halt after spending measures failed to pass Congress because of last-minute demands made by Trump for billions of dollars in border wall funding. The stalemate carried over into the new year and a new Congress, when Democrats regained control of the House. Eventually, the feud ended after 35 days when lawmakers passed a temporary funding measure without the president's desired money for the wall, leading Trump to declare a national emergency and unilaterally reappropriate money from other departments.
However, that was after Melton and his friends had already begun to make their idea become reality. It began when one of his friends, Corbin Kunst, who later became the leader on the U.S. side of the group, made a proposition.
"During the government shutdown, Corbin calls, and he's like, 'I have this idea, bro. I want to rig a highline between our two countries,'" Melton recalled. "And I was like, 'Meet at my house tomorrow.'"
They immediately set the plan into motion, with Kunst phoning friends that he knew in Mexico.
The final video, which is set to be around 11 minutes long, elaborates less about the actual highlining experience and more about how the group came to meet and reach their destination. Once there, Knust balanced his way from the U.S. side, camera in hand. One person from the Mexico side also walked across the highline.
Melton said the video has already been shown at events and festivals around the world and has received positive reactions that have humbled him. But it's yet to be released in full to the general public. In this political climate, it's something Melton hopes can give viewers a new perspective on how they see and treat other people.
"The news you hear is just flooded with negativity. I just feel bombarded. Any news channel you go to — detainment centers, immigrants being held, kids being detained, all this negativity," Melton said. "This story is all about people coming together and I hope it can stand as a symbol of light in these dark, dark political times."