Donald Trump Endorses End to Government Shutdown With Stopgap Spending Bill Without Wall Funding
President Donald Trump announced Friday that on the 35th day of the partial government shutdown, he will support a three-week continuing resolution (CR) to reopen the shuttered portions of the government through February 15.
It will not provide money for his southern border wall, but it will provide federal employees with backpay. The temporary spending solution will allow lawmakers time to negotiate a long-term border security plan that the president will support, in addition to providing federal workers and agencies with funding.
The president warned that if a deal is not struck during the three-week funding stretch, he is prepared to shut down the government for a second time.
"If we don't get a fair deal from Congress, the government will either shut down on February 15th, again, or I will use the powers afforded to me under the laws and the Constitution of the United States to address this emergency," Trump said, referring to declaring a national emergency. "I had a very powerful alternative, but I didn't want to use it at this time."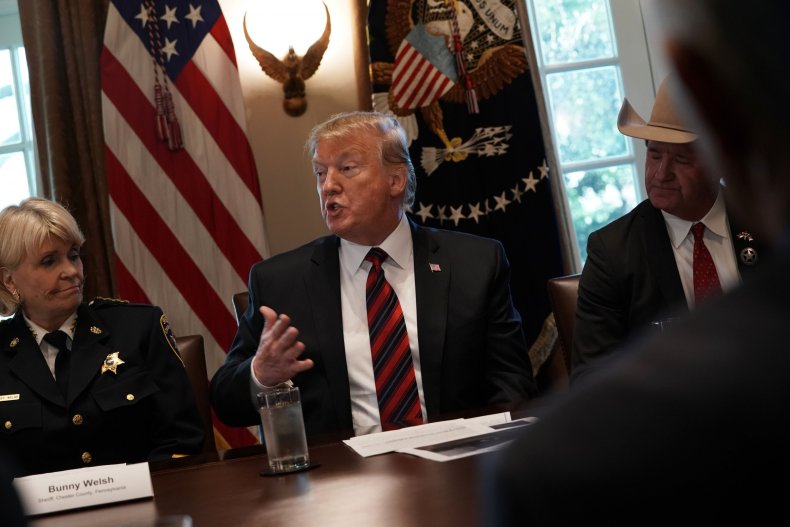 Prior to the government shuttering last month, the GOP-controlled Senate passed the same temporary spending measure to prevent a shutdown. However, Congress could not reach a deal after the president said he required at least $5.7 billion in border wall funding.
Lawmakers said they expect the CR to pass through both chambers and be signed by Trump sometime Friday. Once passed, members of Congress will participate in a bipartisan conference committee to hash out a broader border security deal.
"In the conference, Democrats and Republicans will have the opportunity to negotiate the details of the Homeland Security bill, which includes issues of border security, humanitarian aid, drug inspection technology and many others," Senate Minority Leader Chuck Schumer said.
"I hope our Democratic friends will stay true to the commitment they've stated constantly over the past weeks," Senate Majority Leader Mitch McConnell said, "that once government was reopened, they'd be perfectly willing to negotiate in good faith on a full-year government funding that would include a significant investment in urgently needed border security measures, including physical barriers."
Once two dueling spending bills to end the shutdown failed to advance in the Senate on Thursday, a bipartisan group of senators agreed to push for a clean CR that would reopen the government and not include wall funding.
When asked whether Pelosi would consider hosting Trump for the State of the Union Address that was previously scheduled for Tuesday--prior to her denying him access to the House--now that the shutdown was ending, the speaker said it was "not planned now." A future date will be determined once she discusses the matter with the president, Pelosi added.
This story has been updated to include comments from Pelosi regarding the State of the Union Address.