The partial government shutdown will drag on after two dueling spending bills to reopen the government both failed to advance in the Senate Thursday afternoon.
But emerging from the failed efforts was a bipartisan group of lawmakers who have already devised a possible short-term solution to offer relief to federal workers and agencies, in addition to giving members of Congress "breathing space" to negotiate a final immigration deal the president will support.
Spear-headed by Democratic Senators Ben Cardin and Chris Van Hollen, as well as GOP Senator Lisa Murkowski, the new plan is backed by a bipartisan group comprised of at least 16 senators and will feature a three-week clean continuing resolution (CR) to open the government while lawmakers and the president negotiate a more permanent solution.
"Let's get government open, give us some time and then we are committed to working together to come up with a bipartisan proposal for border security," Cardin said.
Murkowski said the sentiment from her, her colleagues and the American people is "enough already. Figure it out."
"Well, we got the message," she said, adding there is an "urgency to get the government open and to address the legitimate priorities the president has outlined."
A "very serious, sober discussion" would take place during the three-week period, said Van Hollens, which he believed would act as a "breathing space" for lawmakers to get something done.
However, there are still hurdles to jump when it comes to hashing out the details. Trump told reporters a "prorated" and a "large down payment" would be required for him to support a CR. "The president would consider a CR only if it includes a down payment on the wall," White House press secretary Sarah Huckabee Sanders added. Neither Sanders nor Trump suggested a specific dollar amount.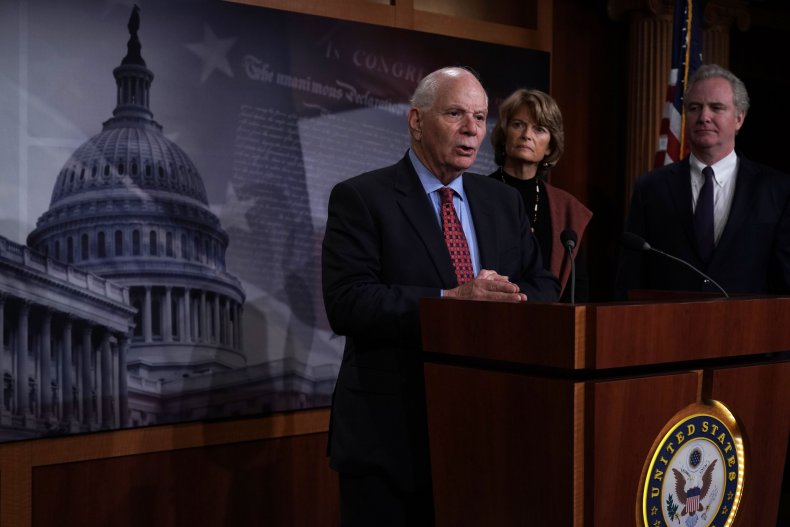 More conservative Republicans, such as Lindsey Graham, also said a "down payment" on the wall would be required. "To my Democratic friends," he said, "money for a barrier is required to get this deal done."
In reference to Trump's "prorated down payment" demand, Murkowski said she did not "know what that means." She stood alongside Van Hollens and Cardin to advocate for passing a clean CR during a press conference.
The continued demand for wall funding could derail the bipartisan deal.
House Speaker Nancy Pelosi viewed any sort of "down payment" in exchange for a CR a non-starter, saying it was not "reasonable." And a spokesperson for Senate Minority Leader Chuck Schumer told Newsweek that "Schumer and Senate Democrats have made clear to [Senate Majority Leader Mitch McConnell] and Republicans that they will not support funding for the wall, prorated or otherwise." McConnell and Schumer met with one another following the two failed Senate votes.
House Democrats have said they're prepared to "meet or exceed" Trump's $5.7 billion demand—but not for the wall. The money would be used for border security measures separate from a wall, such as technology, more border agents, fortifying ports of entry, repairing existing barriers and providing more immigration judges, according to Democratic Representative Bennie Thompson, who chairs the House Homeland Security Committee. The offer could be officially unveiled as early as Friday morning.
Six Senate Republicans defected from party ranks to support the Democrat-backed spending bill earlier that afternoon, signifying a bipartisan willingness to reopen the government. The stopgap spending bill provided no money for the wall and would have funded the government through February 8. The senators who sided with Democrats include Lamar Alexander, Susan Collins, Cory Gardner, Johnny Isakson, Lisa Murkowski and Mitt Romney.
"There has to be negotiation, there has to be discussion," Romney said. He also voted to advance the Trump-backed spending bill, which would have provided $5.7 billion for the wall and temporary protections for certain groups of immigrants. Both spending bills failed to advance. "Whether that includes a continuing resolution of some kind or whether that includes various measures is to be determined," Romney said.
Others expressed confusion as to what the next path forward would be, saying there were many "possible solutions."
"I don't know what's going to happen. Nobody knows," said GOP Senator Richard Shelby of Alabama. "My suggestion to everybody is tone it down, try to see where we are...This is the time to sit down and really have serious negotiations."
This story has been updated to include a comment to Newsweek from Schumer's spokesperson.