Pregnant Woman Trying to Cross Border Sent Back to Mexico While in Labor
A pregnant asylum seeker from Honduras has said that she was sent with her husband back to Mexico by the United States Border Patrol (USBP) after she went into labor, in a case that one humanitarian group described as "shocking."
The couple, named by News 8 as Belkis and Allan, had spent months making their way to Tijuana from where they crossed between ports of entry because the border is closed to asylum seekers due to COVID.
Once in Border Patrol custody, Belkis said she went into labor. "[The agent] told me 'sit down, sit down.' I can't, I tell him because it hurts a lot and I tell him I'm throwing up," she told the network.
They were taken to the San Ysidro Port of Entry and returned to Mexico. From there a Red Cross hospital took them to a hospital in Rosarito where she gave birth to a healthy girl, named Daphne.
However, the couple says that they cannot afford immunizations for their baby and are not eligible for Mexican health insurance. Allan told the outlet: "We wanted to come and ask for help here to get us asylum, but to this day no one has taken care of us.
"No one has listened to us. It's already been three months here without any help."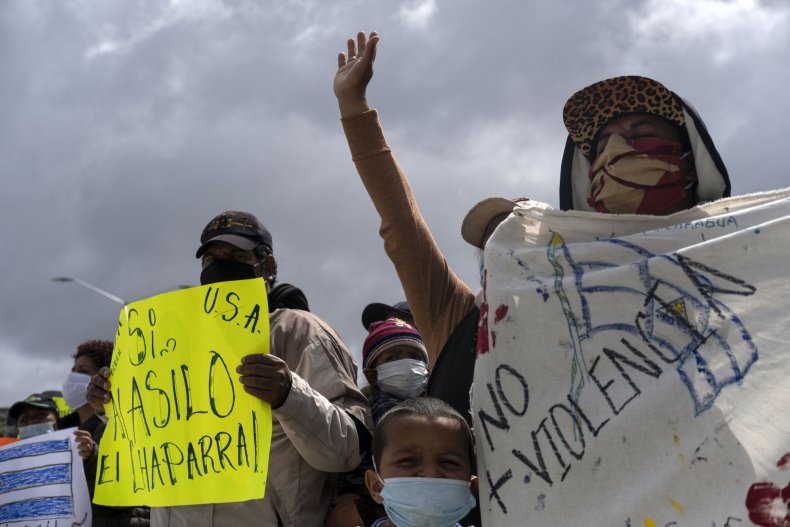 Ginger Cline, from the group Al Otro Lado, which supports asylum seekers, said that the decision by Border Patrol to return the family to Mexico where they had no immigration status "was really shocking and it was a dereliction of duty."
When contacted by Newsweek, Customs and Border Protection (CBP), which oversees USBP, said it could not comment on this specific case due to privacy considerations, but it had been referred to its Office of Professional Responsibility for investigation.
It said it used onsite personnel and referrals to local health systems to give medical support to those in custody who need medical attention.
"It is CBP policy to arrange for medical aid for anyone who is exhibiting signs of distress when encountered by agents, whether from CBP/Border Patrol EMTs or local emergency medical services," the CBP statement said.
"All subjects who require immediate medical care are transported to the hospital as appropriate," it added.
It comes as President Joe Biden faces increased scrutiny at the border as his administration grapples with an increasing number of unaccompanied migrant children seeking asylum.
While Biden has reversed several of hardline immigration policies of his predecessor, former President Donald Trump, his administration continues to use "Title 42", a policy that allows Customs and Border Protection (CBP) to expel undocumented migrants to mitigate the spread of COVID in holding facilities.
However, a key difference is that the Biden administration admits migrant children into the U.S., while expelling most families and single adults.
The graphic below provided by Statista shows the number of apprehensions of undocumented migrants at the U.S. Southwestern border.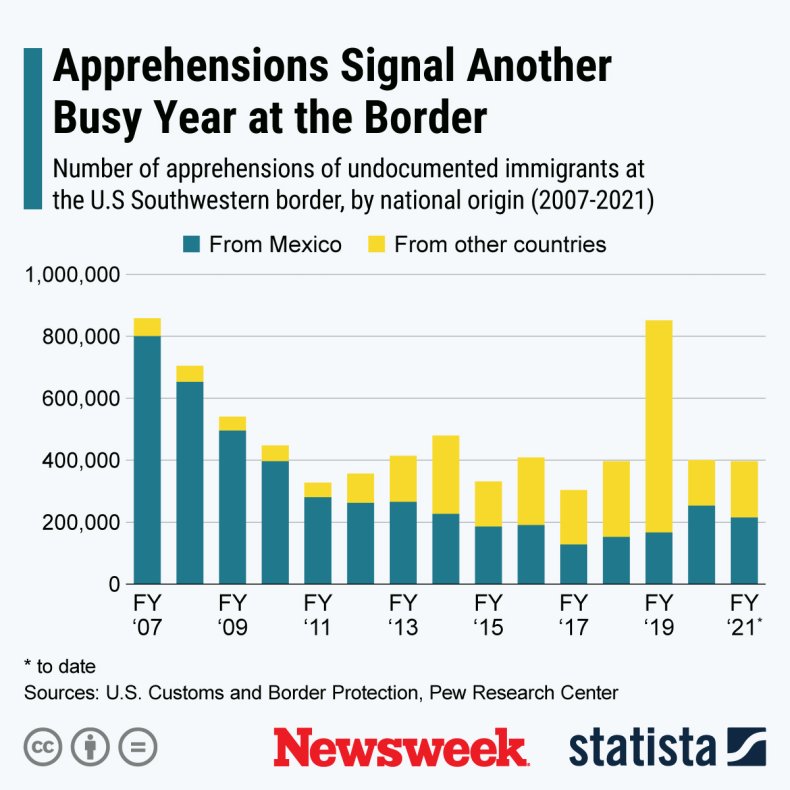 This story has been updated. A response to Newsweek from CBP was later added.