Mexico Ready For U.S. Free Trade Deal With Or Without Canada
Mexico is ready to move ahead with a "bilateral" free trade agreement with the U.S. and without Canada if necessary, the nation's chief NAFTA negotiator said on Thursday in a tweet.
Although Mexico remains hopeful that the negotiations between Washington and Ottawa will prove successful in keeping the deal a trilateral agreement, Kenneth Smith Ramos, the director of the trade and NAFTA Office at the Embassy of Mexico, said a two-way agreement would still be positive for his country.
"We hope the U.S. and Canada will conclude their bilateral negotiation shortly. If that is not possible we are ready to advance bilaterally with the U.S.," he wrote on Twitter. "The agreement in principle that we closed with the U.S. is positive for Mexico because it preserves free trade and modernizes our trade agreement in key areas for today's economy."
Ramos's comments echo those of Mexican Economy Minister Ildefonso Guajardo, who said on Wednesday that the Latin American nation needs a deal with the U.S., regardless of Canada's decision.
"If in the end we see a scenario that we don't expect nor hope for but can't be ruled out -- that there's no agreement between Canada and the U.S. – then Mexico needs to take the next step, advancing on a bilateral deal, if it's necessary," the minister said, BNN Bloomberg reported. However, Guajardo also said that Mexico hopes "the trilateral nature is maintained."
Mexico and the U.S. reached a new trade agreement in late August. At the time, Mexican officials optimistically suggested that further negotiations with Canada could take another week to hammer out the details. But thus far, Washington and Ottawa have failed to come to terms, with Canadian Prime Minister Justin Trudeau repeatedly insisting that "no deal is better than a bad deal for Canada."
During a Wednesday fundraiser, President Donald Trump told attendees that he wants to rename NAFTA to USMC, with "C" standing for Canada, according to The Wall Street Journal. However, the president also said the name could be changed to USM, if Canada doesn't accept the terms of the treaty.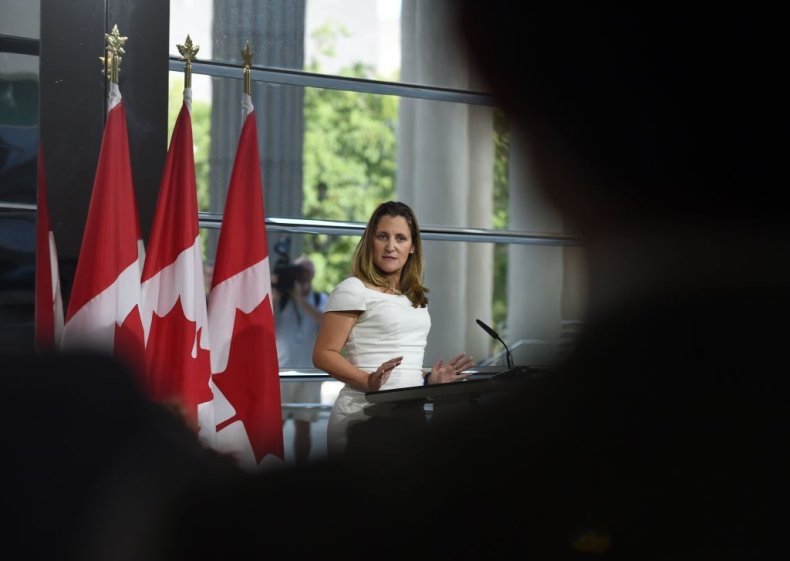 Previously, Trump made off-the-record comments in an interview with Bloomberg insulting and mocking Canada over the trade negotiations. Although Bloomberg did not report the comments, a source shared the information with The Toronto Star and the president later confirmed he had made the remarks. Among other statements, Trump said that every time a disagreement arises in the negotiations, he shows the Canadians "a picture of a Chevrolet Impala," which is produced in an Ontario factory.
Despite the slower than hoped for progress, Canada's Foreign Affairs Minister Chrystia Freeland has maintained an optimistic tone. On Wednesday, she told reporters that talks had "absolutely not" stalled, dismissing widespread speculation.
"In negotiations, you do work and resolve the issues that you can at the ministerial level and then you reach points where what is needed is continued technical work," she said, the CBC reported. "Getting there is going to take goodwill, good faith and flexibility on all sides."