Surfside Building Collapse: People Trapped Beneath Rubble As Rescuers Try to Save Them
Several people are reportedly still trapped under the rubble of an apartment building just north of Miami Beach that collapsed early on Thursday morning.
A section of the Champlain Towers, a condo building located at 8777 Collins Avenue in Surfside, Florida, collapsed at around 1:00 a.m. on Thursday, killing at least one person.
The incident was confirmed on Twitter by the Miami Beach Police Department, which wrote that "multiple police and fire agencies from across Miami-Dade are assisting" in the search.
The police department has not yet confirmed how many people were injured in the collapse, but the Miami Herald reported that a firefighter at the scene said that there were multiple casualties.
Several sources also told CBS Miami reporters who responded to the scene of the building collapse that at least one person has died in the incident, as Surfside Mayor Charles W. Burkett told CNN that there is at least one fatality.
Multiple people have been pulled from the rubble and helped from balconies by the emergency services, with the rescue of a young boy captured by ABC News showing firefighters dragging him from the scene and carrying him to safety.
Later in the morning, Jossie Carbonare, of ABC affiliate WPBF, tweeted that Miami Beach Police had told her that residents were still trapped under the rubble and said that they needed to be careful during rescue attempts.
"They say rescue efforts are being done carefully because the standing portion is shifting. There are also people under the rubble," Carbonare tweeted.
Police are assisting other emergency services with the rescue operation, while Miami-Dade Fire Rescue confirmed on Twitter that it has sent 80 vehicles to help at the scene.
Champlain Towers, which was built in 1981 and contains more than 300 apartments over 12 stories, is located just north of Miami Beach city limits, according to Miami Residence.
The incident comes just six months after a building collapsed in Chipley, Florida in January, killing one person and injuring two more. Three construction workers were trapped in rubble at the scene after the intersection of Highway 77 and Highway 90 collapsed.
In 2018, 46-year-old Samuel Landis died during a collapse of a 13-story Miami Beach building while working at the site as part of a planned demolition.
Newsweek has contacted the Miami Beach Police Department for comment and confirmation.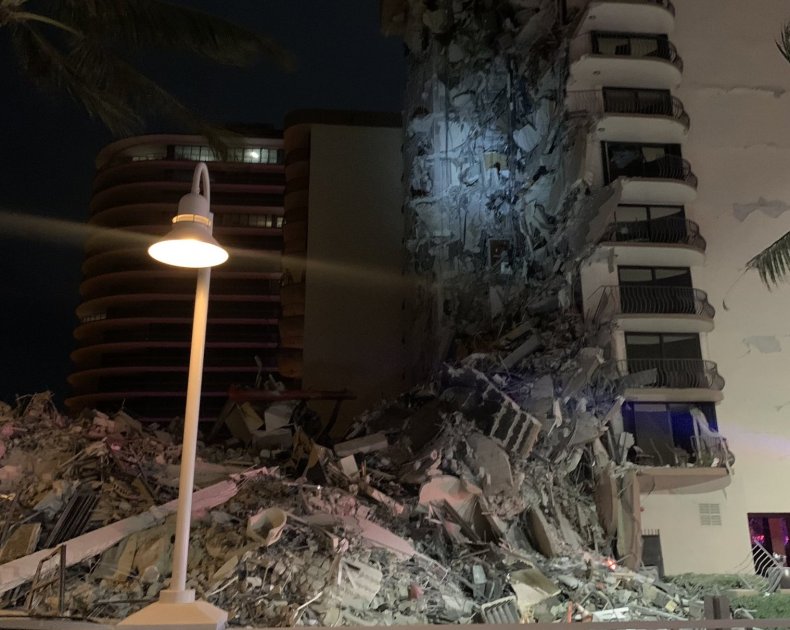 Update 6/24/21, 9:10 a.m. ET: This article was updated throughout with additional details and context. The headline was modified to indicate the location of the building was in Surfside, Florida.