Miami Condo Collapse: Why Search for Survivors Is so Slow
A week after a condo building collapsed in Surfside, Florida, search and rescue teams continue to sift through the rubble in the desperate hope of finding survivors.
In the immediate aftermath, three people escaped; a boy—later identified as Jonah Handler—whose hand witnesses saw moving in the rubble, and then a mother who despite broken bones somehow managed to find her daughter amid unimaginable chaos.
Since then there have been only a few moments of hope among the despair of families' with loved ones still missing following the Champlain Towers disaster. At least 18 people have so far been confirmed dead and 145 are still missing since the June 23 tragedy.
As the search continues, Newsweek looks at what has so far been done to find those missing and ask why the mission's progress has slowed.
Urban rescue experts detailed how underground fires, dramatic weather and an unstable structure has left rescuers facing a life and death game of "Jenga."
But, they insist, there is still hope of finding survivors.
What is happening at the scene
Fifty-five of the building's 136 apartments collapsed, leaving a huge pile of concrete and twisted pieces of metal where they used to be stand.
The search at the site of the disaster is continuing, with local authorities asking federal government to send additional search-and-rescue teams on Tuesday. Teams from Israel and Mexico joined the search operation earlier in the week.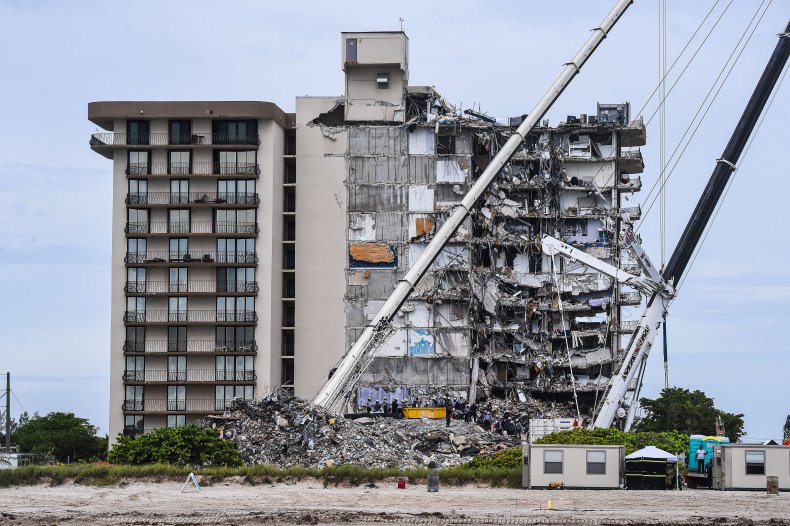 About 1,500 tons of concrete has been removed piece by piece so far, but officials have warned there is a long way to go.
Between six and eight teams are searching the rubble at any one time, with hundreds of other people at the site searching for any survivors on a rotational basis 24-hours a day.
The Story of Rescue Efforts so Far
The search for survivors began almost immediately. Miami-Dade Fire Rescue sent 80 vehicles to help and were joined by local police at the scene.
Although rescuers managed to pull two people from the rubble in the early hours of the morning of June 23 and rescue 37 from the apartment buildings, no one has been found alive since the first day of the operation.
That's not for want of trying. Rescue teams have tunneled into an underground parking lot for the condo building, creating a 125ft-long trench in an attempt to find air pockets in which people may have survived.
Sadly, no one has been found and brought out alive so far. Emergency workers are concerned that further digging, which relies on heavy machinery, could cause more rubble to fall onto any possible survivors.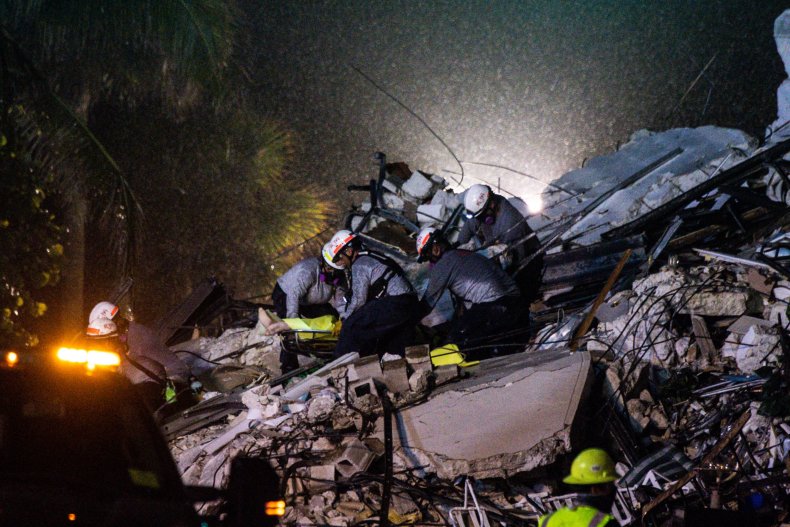 Sniffer dogs, sonar devices and cameras are also being used as part of the effort to locate possible survivors.
Faint sounds have been detected underneath the rubble have, Reuters reports, and teams on the ground have discovered areas large enough for anyone trapped to survive.
Some relatives have become frustrated with the pace of the rescue, as a mother told a meeting with Miami-Dade Assistant Fire Chief Raide Jadallah: "My daughter is 26 years old, in perfect health. She could make it out of there," as she asked why the operation was taking so long, the Associated Press reported.
Why has progress slowed?
The rescue mission has faced several difficulties since the collapse last Thursday, as extreme weather, fires and concerns over safety have complicated the search.
Removing thousands of tons of concrete piece by piece is a slow process that is fraught with danger. Every movement creates extra risk for the crew members and anyone potentially still alive under the rubble.
Fire Chief Jadallah told AP that "it's not an issue of we could just attach a couple of cords to a concrete boulder and lift it and call it a day. Every time there's an action, there's a reaction," as he added that the rescue operation was never going to "happen overnight."
Life and Death 'Jenga'
Alan Cominsky, the Fire Chief of Miami-Dade Fire Rescue, said on Tuesday that crews are unable to enter large areas on both the east and west sides of the building because of the risk of debris falling and resulting in further collapse.
The risk of further collapse has been a consideration from the start. Initially, crews had to assess the structure before shoring up the rubble.
"Sometimes they have to do a lot of work to create a safe space to operate in," Dan Cooke, from the international rescue organization Serve On told Newsweek.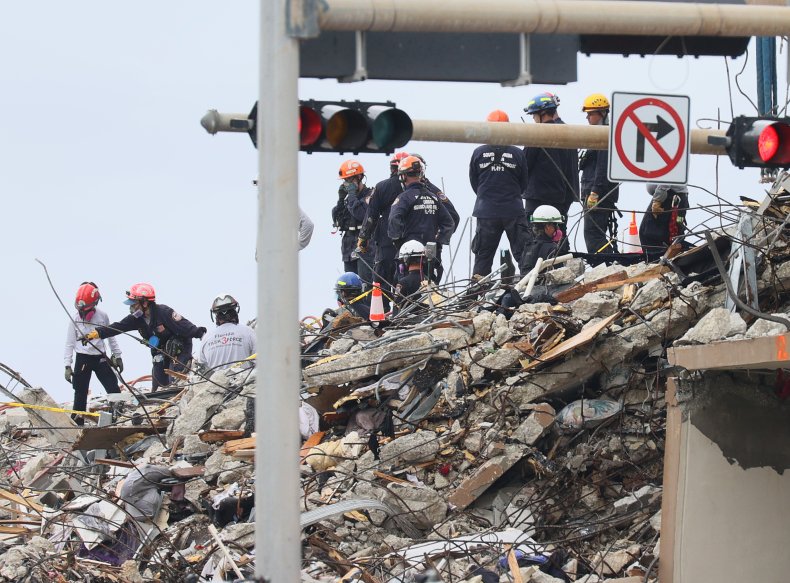 Noting the later challenges, Cooke said that "an extremely complex and heavy load of collapsed materials including reinforced concrete...has a lot of risks because there is a lot of chance for further collapse."
Crews have to work slowly when sorting through the rubble, Cooke noted, comparing crews' task to working "inside a game of Jenga, where what you move, what you cut, what you shore and what you add in terms of people in different spaces causes a reaction."
Fire and thunderstorms
A fire underneath the wreckage broke out on Friday, creating extra damage and causing smoke to billow.
Mark Scorer, an engineer for SARAID's international response team, told Newsweek how the flames could have burned through items supporting the structure.
"A risk of fire can clearly destabilize the building and it can cause furniture to collapse or burn though which could have been actually in some ways supporting the collapsed structure. So, there is a risk of further collapse," Scorer said.
"Also the high heat and melting of metal in there could mean access to it and breaking through even more difficult as well. The fumes as well as that. There are numerous hazards that will just add to the challenge of trying to find a safe way in."
Thankfully, crews were able to put out the "extremely difficult to locate fire" over the weekend by using a combination of infrared red technology, foam and water, according to Florida Miami-Dade County Mayor Daniella Levine Cava.
But it was the smoke that has posed the "biggest barrier," she added.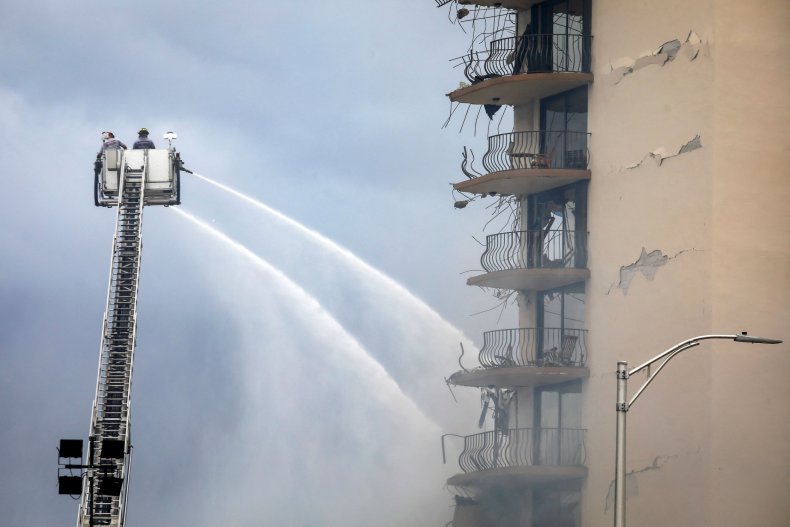 The crews have also been forced to take breaks due to heavy rain and thunderstorms that have hit the area several times during the search, slowing them down even more.
Further storms are expected to hit Florida over the next few days, which could also hamper the search, as some crews will potentially have to leave the site to respond to emergency situations elsewhere in the state, according to The Miami Herald.
While sniffer dogs and sonar can help locate possible places where survivors might be found, they can—in the short-term at least—slow down the rescue while they are in use.
"It takes time because for example, to put a dog over or to use your seismic acoustic listening kit, you have to remove everyone else," Urban rescue expert Cooke told Newsweek over the phone on Wednesday.
"That slows down, or appears to slow down an awful lot of what's going on, but what it does is speed up enormously locating possible survivors."
Despite the seemingly slow progress, Cooke said that from his point of view he would "expect it to be going as it is doing," and noted that an investigation into the cause is being carried out alongside the rescue mission.
"There is also a lot of work happening alongside it as everything is evidence to what happened, so there will be people investigating whilst also responding [and] making the area and community surrounding it safe," Cooke said.
He added: "It is a long and difficult job and what might appear as slow going is the nature of the job."
At the site of the collapse
Hundreds attended a vigil on Monday night. The crowd was a mix of Surfside residents, rescue workers, as well as friends and family of victims and unaccounted for people.
A memorial has also been erected around a block from the site that includes bouquets of flowers and messages, including one to first responders reading: "Thank you for looking for my grandmother."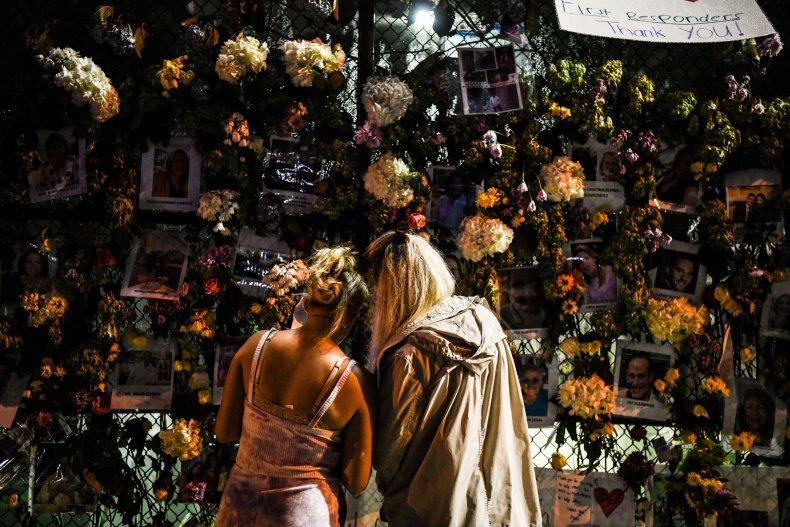 Family members of those still unaccounted for have visited the site of the collapse and shouted messages to loved ones in the hope that they could be heard underneath the rubble.
Both Cooke and Scorer said that there is still the possibility of survivors, as they have worked on sites where people were found alive under rubble days after a collapse occurred.
"There are chances of survivors," Cooke said, as he explained that he was once on a rescue mission of a collapsed 12-story building that saw survivors come out 5-and-a-half days after the disaster.
He said that "there's every chance that these people are fit and well" and explained that the teams "have incredible resources at their calling that are on task."
Scorer added: "There is still some hope. There have been instances of people pulled from rubble 9,10, 12, 13 days post earthquake, so I'm sure they won't be giving up just yet.
"They'll just be focusing on whatever they can do to look for signs of life."
Cava, however, told reporters on Tuesday that although rescue teams are "incredibly motivated" to find all the people that are still unaccounted for following the collapse, officials have told family members to prepare for the worst outcome.
"Families are coming to their own conclusions," Cava said. "We have shown them the pancake area, where the tunnel is being dug. They have seen the operation now ... They are preparing themselves."