Florida's Miami Is the New Wuhan As Coronavirus Cases Surge, Health Official Says
Miami has been branded the new coronavirus epicenter as cases surge at record levels in Florida.
Dr. Lilian Abbo, an infectious disease specialist at the University of Miami, compared the situation in Miami to that of Wuhan, China, earlier in the pandemic.
"Miami is now the epicenter of the pandemic. What we were seeing in Wuhan six months ago, five months ago, now we are there," said Abbo, who is also chief of infection control for the Jackson Healthcare System.
Giving this description of the situation, Abbo added that "we really need your help," calling upon people to follow guidelines issued to prevent the spread.
Miami City Mayor Francis Suarez also updated residents on the situation in a virtual press conference on Monday.
"Our hospital system is essentially at its peak," he said. "It's at somewhere between 91 and 92 percent capacity."
He said there were efforts to increase capacity by up to 50 percent over the next couple of weeks, stating the issue was staffing to facilitate this.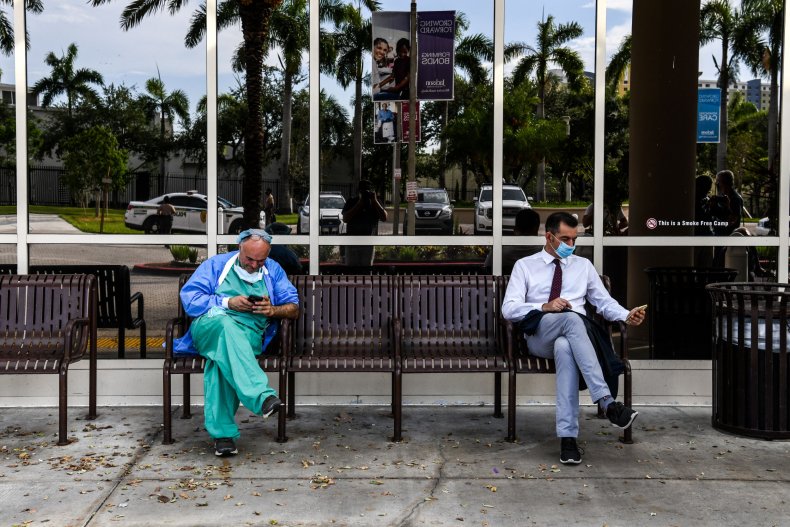 According to CDC statistics, Miami-Dade county has accounted for 23.9 percent of the cases in Florida. It has suffered 64,444 cases, with an infection rate of 2,372 per 100,000 people.
The Florida Health Department's COVID-19 dashboard puts the cases statewide at 282,435. This would put the Miami-Dade cases at a slightly lower percentage of 22.8 percent if accounting for a case total of 64,444.
Newsweek has contacted Abbo, the Florida Department of Health and the Miami City Mayor's office for comment.
On Sunday, Florida saw the highest daily spike in coronavirus cases any state has experienced during the pandemic, with more than 15,000 confirmed, breaking a previous record set in New York.
This accounted for nearly 25 percent of the new cases in the United States that day. The state accounts for around 6.5 percent of the nation's population.
Despite the rises, Florida Gov. Ron DeSantis has expressed reservations over stalling the reopening process.
Other states have moved to halt or reverse plans in which they were lifting restrictions. California has moved to reimpose a number of measures across the state to curb the renewed spread.
The U.S. has seen more than 3.3 million confirmed cases since the outbreak began, according to Johns Hopkins University figures. The graphic below, from Statista, shows states which have stalled or reversed on reopening plans.