Michelle Obama Breaks Silence on 'Sobbing' at Trump Inauguration
Former First Lady Michelle Obama said she experienced a flood of emotions on the day of Donald Trump's inauguration as she and her family left the place they had called home for eight years.
Obama and her husband, former President Barack Obama, left the White House in January 2017, following the latter's two terms in office. He was succeeded as president by Trump, a Republican noted for his starkly different views and values compared to the outgoing Democrat, and who perpetuated the "birther" conspiracy theory that Obama was not born in the United States.
On Monday, People magazine released a preview clip from the upcoming debut episode of the former first lady's podcast, Michelle Obama: The Light Podcast, in which she opened up about the emotions she felt during Trump's inauguration. The day left her in a fit of "uncontrollable sobbing" at one point.
"That day was so emotional for so many different reasons," Obama said. "We were leaving the home we had been in for eight years, the only home our kids really knew."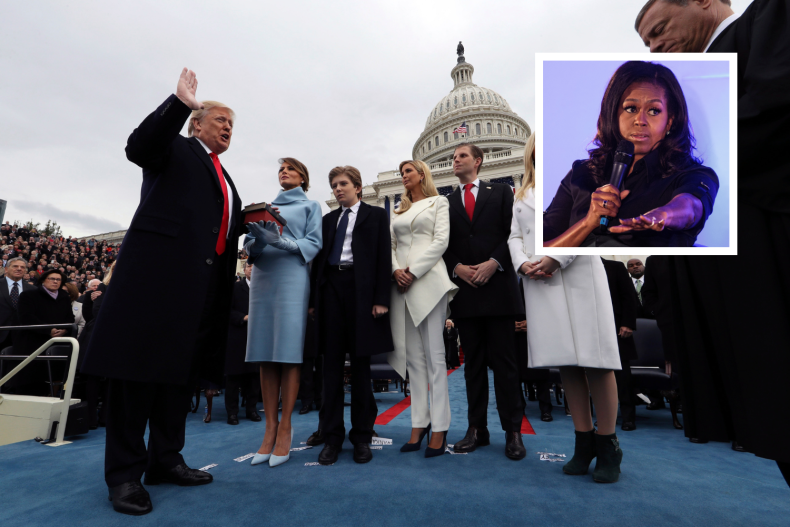 Speaking further, Obama noted that she was particularly struck by the lack of diversity at the event, a stark contrast to what she felt she and her husband's time in the White House had represented.
"To sit on that stage and watch the opposite of what we represented on display—there was no diversity, there was no color on that stage," she said. "There was no reflection of the broader sense of America...Many people took pictures of me, and they're like, 'You weren't in a good mood?' No, I was not! But you had to hold it together like you do for eight years."
By the time she and her family boarded Air Force One to leave Washington, D.C., Obama said she broke down in tears due to the emotions of the day.
"When those doors shut, I cried for 30 minutes straight, uncontrollable sobbing, because that's how much we were holding it together for eight years," she said.
Former First Lady Obama has spoken critically of Trump's presidency in the past as well. During an appearance at the 2020 Democratic National Convention, she said that Trump was "the wrong president for our country," adding that he was "clearly in over his head" and "simply cannot be who we need him to be for us."
Trump's administration was often criticized for the lack of diversity in its staff. A February 2021 report from NPR found that, compared to Barack Obama and Joe Biden's choices, Trump's cabinet picks notably included fewer women and nonwhite candidates, with the number of white men chosen for important roles being significantly higher.
In the wake of the 2017 departure of Omarosa Manigault-Newman as a special assistant to Trump, Sarah Huckabee Sanders, then the White House press secretary, pushed back against diversity criticisms and said that Trump had "a really diverse team across the board at the White House." As the Guardian noted, however, she did not provide examples of Black senior staff members when pressed.
Newsweek reached out to Trump's representatives via email for comment.