Michelle Obama: I'd Never Forgive Donald Trump for Spreading 'Crazy' Birther Conspiracy
Michelle Obama attacked President Donald Trump for spreading the "birther" conspiracy theory involving her husband in her forthcoming book, according to reports.
The former first lady said she would "never forgive" Trump for fueling the "xenophobic" claim that former President Barack Obama was born in Kenya and not in the United States, with Trump even tweeting in 2012 how an "extremely credible source" told him the former president's birth certificate was a "fraud."
In her memoir, Becoming, Michelle Obama said Trump helped fuel the conspiracy theory, suggesting it could have had deadly consequences for her family.
"The whole [birther] thing was crazy and mean-spirited, of course, its underlying bigotry and xenophobia hardly concealed," she wrote in her book, reported The Washington Post.
"But it was also dangerous, deliberately meant to stir up the wingnuts and kooks. What if someone with an unstable mind loaded a gun and drove to Washington? What if that person went looking for our girls? Donald Trump, with his loud and reckless innuendos, was putting my family's safety at risk. And for this I'd never forgive."
Those were some of the most direct words for Trump by Obama, who has mostly chosen not to criticize the current president since he came to the White House.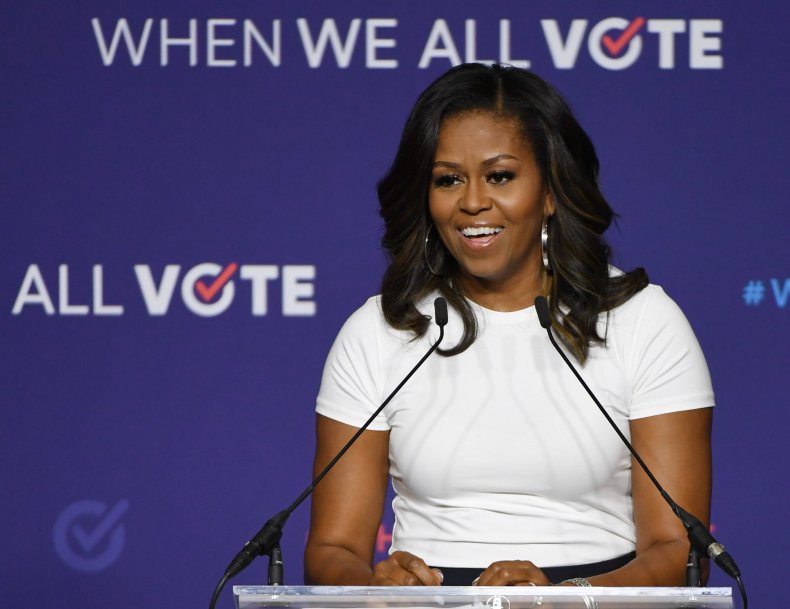 In September 2016, Trump finally admitted that Barack Obama was born in the U.S. after years of peddling the claim, but not before suggesting it was Hillary Clinton who started the theory after she lost the 2008 Democratic primary to Obama in 2008.
"Hillary Clinton and her campaign of 2008 started the birther controversy. I finished it. I finished it. You know what I mean," Trump said.
According to The Washington Post, Becoming consists of three parts, starting with Michelle Obama's life growing up in Chicago. The second part discusses her relationship with Barack Obama, including reflecting on how their marriage initially suffered in the early stages as her husband was away a lot of the time as his political career was advancing.
She described how the pair met with a counselor "a handful of times" before realizing she was more "in charge" of her happiness than she had realized, according to the Associated Press.
The third part of the book discusses their lives as public figures and the intense scrutiny they faced. Obama writes about how she feared she would always be labeled "other" for being the first black woman to serve as first lady in U.S. history, and that she would have to work hard to achieve the same accolades given to her white predecessors.
Michelle Obama found confidence in her ability as first lady by repeating to herself: "Am I good enough? Yes I am," reports AP.
The 426-page book will be released on Tuesday, November 13.