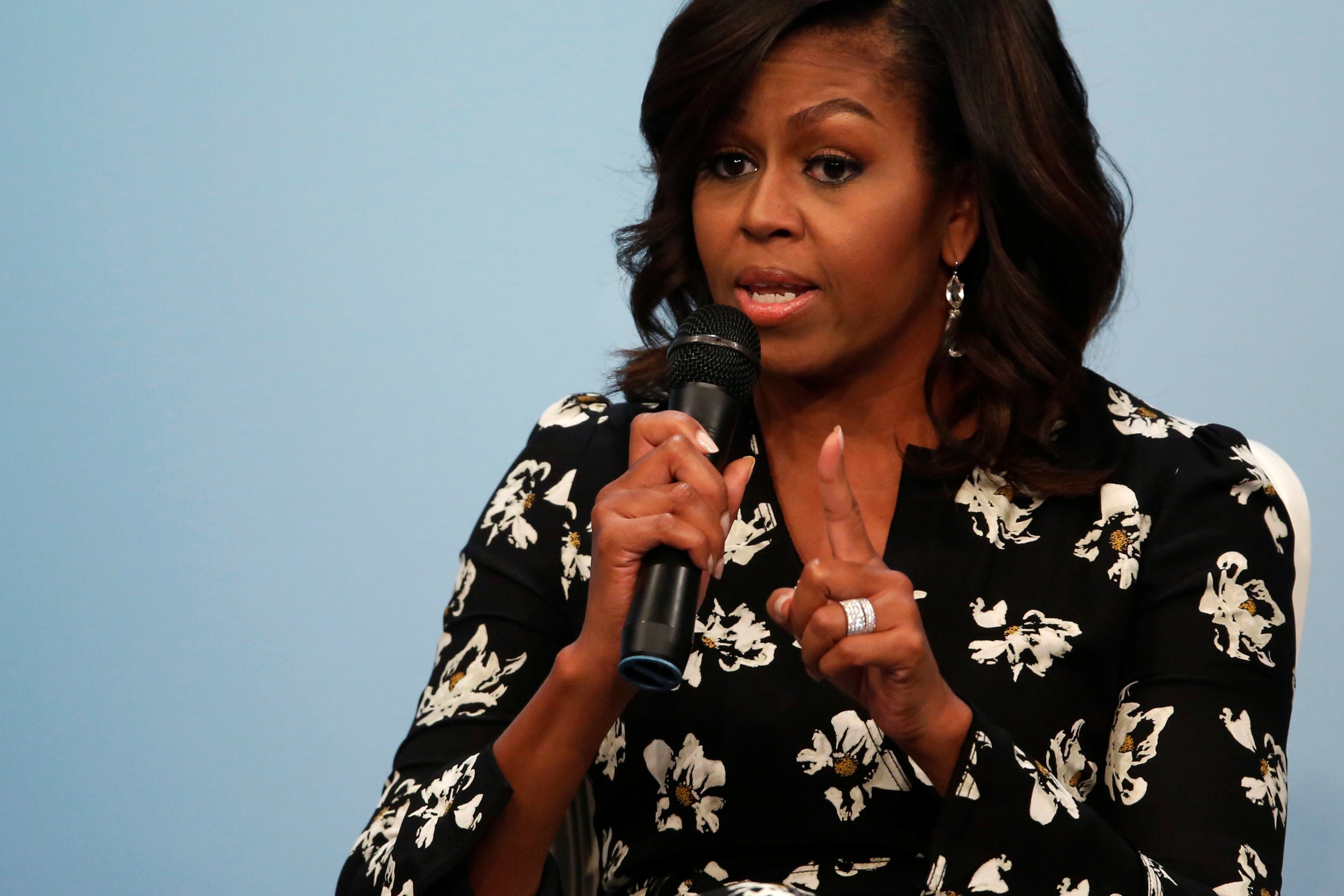 First lady Michelle Obama is urging voters in New Hampshire to not ignore the most recent allegations against Donald Trump—inappropriate conduct with several women—as another "disturbing footnote in a sad election season."
Speaking to voters in the crucial Granite State on Thursday—just two days after she celebrated the International Day of the Girl at the White House—Obama refused to repeat the actions alleged against the Republican presidential candidate. But she emotionally reacted to details from a New York Times report published Wednesday evening that said two women had endured sexual aggression from the real estate mogul. Other women subsequently made similar allegations to other media outlets, putting more pressure on Trump as he trails his Democratic presidential rival, Hillary Clinton, in the polls less than a month before the election.
"I can't believe that I'm saying that a candidate for president of the United States has bragged about sexually assaulting women," Obama said. "I can't stop thinking about this. It has shaken me to my core in a way that I couldn't have predicted."
She added, "So while I'd love nothing more to pretend like this isn't happening and to come out here and do my normal campaign speech, it would be dishonest and disingenuous to me to just move on to the next thing like this was all just a bad dream."
Obama was set to campaign for Clinton and her running mate, Virginia Senator Tim Kaine, in New Hampshire on Thursday, as the two didn't have any public events scheduled.
All of this comes less than a week after the release of a 2005 tape on which Trump crudely brags about how he treated women. He apologized for the remarks at Sunday's second presidential debate but dismissed the comments as mere "locker room talk" and not harmful actions.
In the wake of the tape's release, House Speaker Paul Ryan and other Republicans either turned their attention away from Trump to congressional races or completely disavowed the candidate for the remainder of the campaign.
Meanwhile, Trump's lawyer has threatened to sue the Times if its editors don't retract its report about the allegations. David McCraw, the newspaper's assistant general counsel, said Thursday the paper declined to retract the article and rejected claims it was libelous.
The accusations, Obama said in New Hampshire, don't involve just lewd conversation or "locker room talk," referencing Trump's phrase from the debate. "This was a powerful individual speaking freely and openly about sexually predatory behavior and actually bragging about kissing and groping women," she said.
"This is not normal. This is not politics as usual," she added. "This is disgraceful. It is intolerable. And it doesn't matter what party you belong to, Democrat, Republican, independent: No woman deserves to be treated this way. None of us deserve this kind of abuse."
As Obama wrapped up her speech, Trump took the stage at a campaign event in Florida, where he emphatically denied the recent claims, calling the accusations "vicious" and "absolutely false" stories created by the media.
"These claims are all fabricated. They're pure fiction, and they're outright lies. These events never, ever happened," Trump said, adding that he could prove his innocence but not providing additional information.