Michelle Obama to Young Americans: Empower Yourselves With Education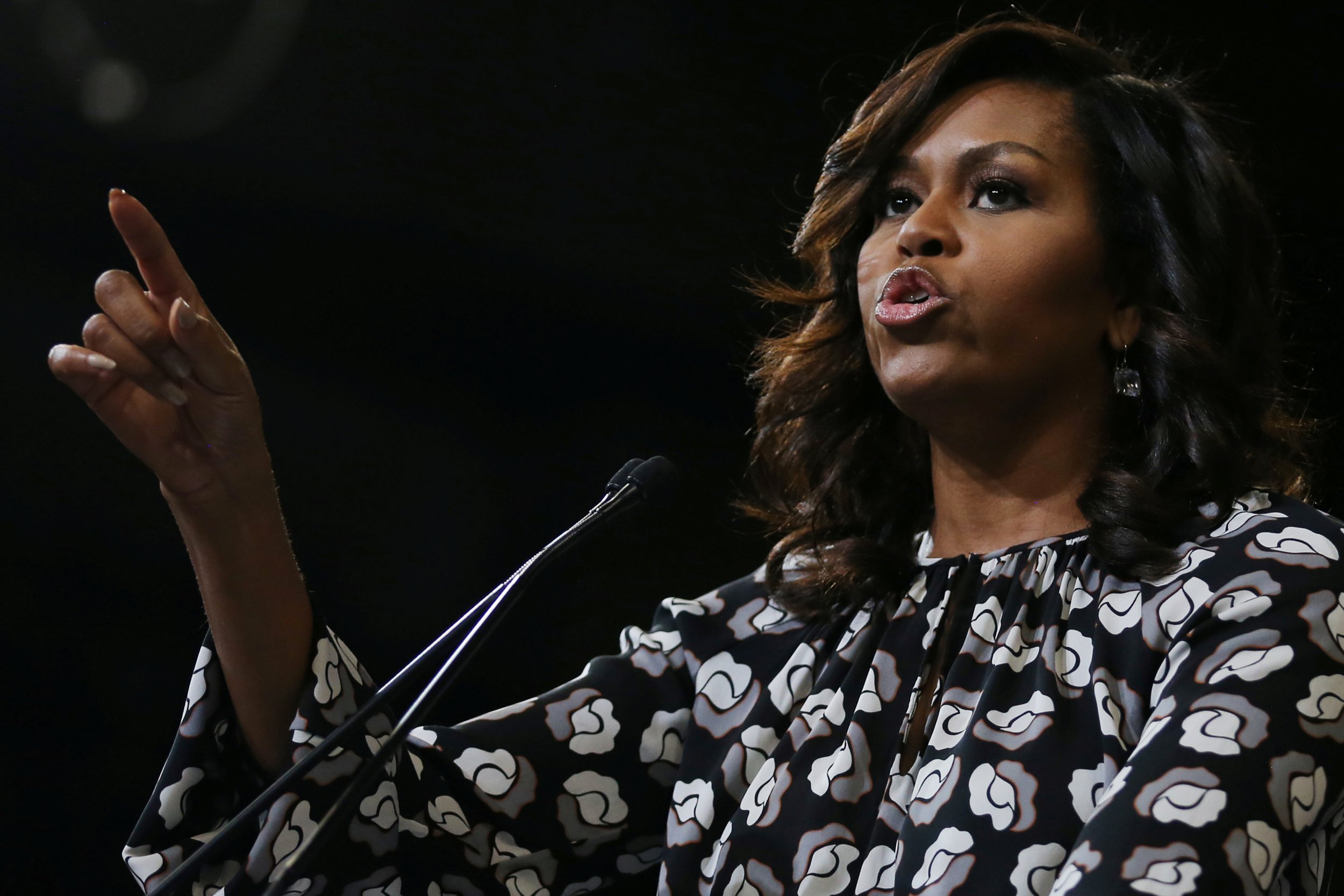 Michelle Obama used her final speech as first lady on Friday to address young Americans, with a message that they belong and are important to the country.
Fighting back tears throughout her 20 minutes at the podium, she shared with the crowd what she called her "simple" last message to the country: "Young people, don't be afraid. Be focused. Be determined. Be hopeful. Be empowered. Empower yourselves with a good education, then get out there and use that education to build a country worthy of your boundless promise."
Related: Michelle Obama: Trump's comments have "shaken me to my core"
Obama addressed a crowd gathered in the East Room of the White House on Friday for an event to honor the 2017 School Counselor of the Year, an award she launched two years ago. One of her main goals as first lady was to reach out directly to young people and encourage them to take charge of their futures through education.
In 2014, she launched Reach Higher, an effort to change the national conversation about what it takes to be successful in the United States. As part of that initiative, she held the 2016 College Signing Day event to highlight students' academic achievements—many after overcoming daunting odds. The day was similar to that given to athletes when they sign with their college teams. Obama also created the "Better Make Room" social media movement to help students reach their higher education goals.
To young Americans, she said Friday: "Know that this country belongs to you, to all of you, from every background and walk of life." She specifically mentioned families of immigrants, children from low-income families and those of different religious faiths. "Our glorious diversity, our diversities of faiths and colors and creeds, that is not a threat to who we are. It makes us who we are," she said to applause from the crowd.
The Obama administration, she said, among other things helped get the high school graduation rate to a record high; doubled investments in Pell Grants; made it easier to apply for financial aid; and created a college scorecard to assist students in choosing schools. She cheered the school counselors gathered around her for helping young Americans achieve their dreams. "You see the promise in each of your students. You believe in them even when they can't believe in themselves, and you work tirelessly to help them be who they were truly meant to be," she said.
Others in attendance included former Education Secretary Arne Duncan, singers Usher and Kelly Rowland, University of Michigan football coach Jim Harbaugh and talk show host Andy Cohen.
Obama last year gained attention for her speech at the Democratic National Convention, in July, and for her address to voters in New Hampshire two months later, when she called Donald Trump's sexualized comments toward women "intolerable." During the campaign, a 2005 tape was released on which Trump crudely brags about how he treated women.
Without mentioning the president-elect in her speech on Friday, she seemed to refer to his upcoming inauguration in two weeks. "To the young people here and the young people out there, do not ever let anyone make you feel like you don't matter or you like don't have a place in our American story, because you do. And you have a right to be exactly who you are," she said. Obama encouraged them to add their voices to the national conversation, stay informed, be engaged citizens, think critically and stand up for American values.
Referring to her and President Barack Obama, she added: "It is our fundamental belief and the power of hope that has allowed us to rise above the voices of doubt and division, of anger and fear, that we have faced in our own lives and in the life of this country."