Michelle Yeoh's Instagram Post About Cate Blanchett Sparks Backlash
Michelle Yeoh has come under fire for a since deleted Instagram post about the Oscars ahead of Sunday's Academy Awards.
The actress shared some screenshots from a Vogue article about her and her fellow nominees for best actress, which had the headline "It's Been Over Two Decades Since A Non-White Best Actress Oscar Winner. Will That Change In 2023?"
Halle Berry is the only woman of color to have won a best actress Oscar, taking the prize for her performance in the 2002 film Monster's Ball.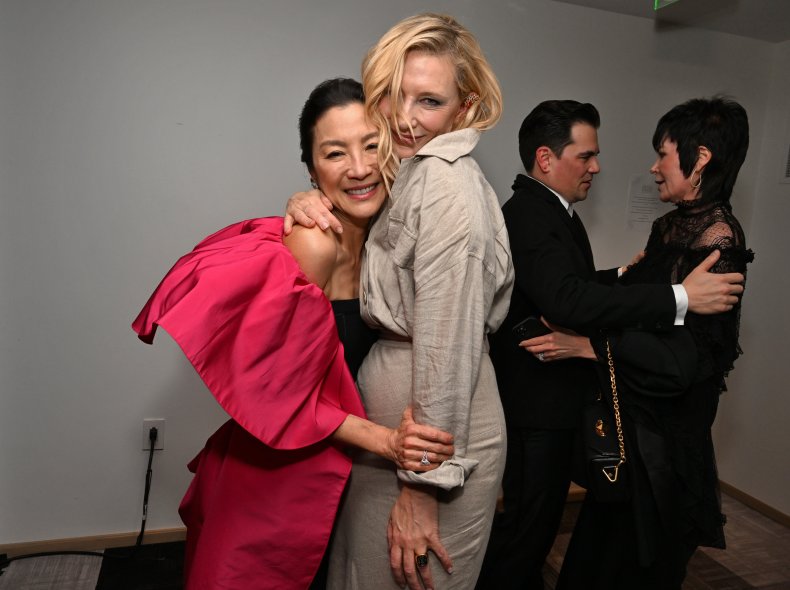 Yeoh has received her first Oscar nomination for Everything Everywhere All At Once. Her main rival for the award is thought to be Cate Blanchett, who is nominated for her role in Tár and already has two Academy Awards.
The Asian actress posted a passage from the Vogue article that analyzed the merits of Blanchett picking up a third Oscar and said a win for Yeoh "would be life-changing: her name would forever be preceded by the phrase 'Academy Award winner', and it should result in her getting meatier parts, after a decade of being criminally underused in Hollywood."
The article also suggested that "acting Oscars are very rarely, if ever, won based on a performance alone," underlining the importance of awards season campaigns and whether voters feel a nominee is "overdue" a win and "their film has captured the zeitgeist better than its competitors."
It added that the majority of voting members of the Academy were white and would likely relate to seeing themselves reflected on the big screen.
"If prizes were handed out purely on merit, it's difficult to believe that only one non-white woman would have taken home the best actress Oscar in 94 years, especially considering that people of color have been in front of the camera practically since the inception of moviemaking," the article continued.
Yeoh captioned the Instagram post with the acceptance speech she gave when she was named best actress at the Screen Actors Guild awards in late February. Her speech was also quoted in the Vogue article.
"I think if I speak, my heart will explode. This is not just for me—this is for every little girl that looks like me. Thank you for giving me a seat at the table, because so many of us need this. We want to be seen, we want to be heard," she said.
Newsweek has contacted representatives of Yeoh and Blanchett for comment.
Although Yeoh deleted her post, it had already been screenshot by social media users and reshared on Twitter, prompting a mixed reaction from fans.
A Blanchett fan account wrote (and then deleted): "No I've lost so much respect for Michelle Yeoh for posting this. The winner of the Oscar should only come down to the acting. Not how many awards somebody has already won. If Cate has two it's cause she deserved it."
Another Twitter user defended Yeoh, pointing to the Vogue passage about one non-white winner in 94 years: "Since Michelle Yeoh has deleted her IG post after people needlessly attacked her, let me share this part of the said article she shared, with the most important point highlighted because apparently reading comprehension is dead."
A third social media user thought Yeoh's post was "embarrassing," writing: "Pwease give me this Oscar, Cate Blanchett already has two of them, I deserve one too... pwease feel sorry for me n give it to me because I'm Asian."
Newsweek has reached out to the Academy for comment.