Michigan County GOP Censures Fred Upton for Voting to Remove Marjorie Taylor Greene From Committees
Representative Fred Upton has been censured by the Cass County Republican Party in his home state of Michigan for his vote to strip Georgia Congresswoman Marjorie Taylor Greene from her committee assignments
Upton announced the censure in a series of Twitter posts late Tuesday night. He wrote that their resolution stated that her "comments have not been out of line with anyone else's comments."
"Really?" he wrote.
In 2018 and 2019, before her campaign and election to Congress, Greene liked and spread social media content supporting the conspiracy theory known as QAnon—a broad movement that believes former President Donald Trump is working to expose an elite cabal of child sexual abusers. In one post, Greene liked a comment that said "a bullet to the head would be quicker" to remove House Speaker Nancy Pelosi. Others promoted conspiracies that mass school shootings were staged events.
"Does the Cass GOP really think someone like that represents Republican values and should be serving on the education committee? I served on that committee and met with Columbine school shooting survivors...I have since met with Parkland and Sandy Hook School shooting survivors and heard all of their personal stories. She should not be on the education committee, and Congress was right to remove her, period," Upton tweeted.
The vote to censure Upton was 17 to 3, with one abstention. Mark Howie, the chairman of the Cass County Republican Party, responded to Upton's tweets in an email statement to Newsweek.
"My response to the Congressman's tweet is that he must not understand the Censure. It clearly states that his actions are inconsistent, he doesn't vote to remove others from their committees when they make comments that are very controversial while they are serving in congress, but he votes to remove Marjorie Taylor Greene from her Committees for comments made before she was elected to congress," Howie said.
He added: "Fred Upton has continued to ignore our voice, we will be heard."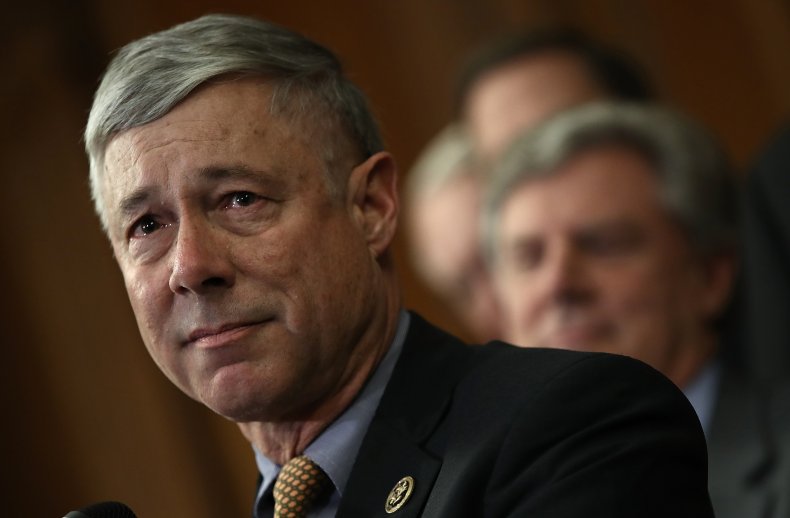 Last month, after more of Greene's past social media activity came to light, House Democrats moved to remove the Georgia representative from her assignments on the education and budget committees—after Republican leaders denied to take action against her.
Before the vote to strip her of her committee seats, Greene made a final appeal to her colleagues in her first speech from the House floor. Greene separated herself from QAnon, stating she stopped "believing it" in late 2018 and never used the word during her campaign last year or during her time in Congress so far.
"These were words of the past, and these things do not represent me," Greene claimed. "They do not represent my district, and they do not represent my values."
Eleven Republicans joined Democrats in the final vote to strip her of her assignments on Thursday, including Upton.
The resolution to censure Upton, which was shared by the congressman's office with Newsweek, read: "We believe Congressman Upton's vote is a betrayal of his oath of office and core values of the Cass County Republican Party. We believe this vote was not cast in accordance with the voice of the voters of Cass County and against our interest."
Updated 11:16 AM ET, to include comment from Cass County GOP chairman Mark Howie.