Michigan Democratic Party Chair Who Called Trump Supporters Racist Doubles Down After GOP Backlash
The Michigan Democratic Party Chair Lavora Barnes has stood by comments in which she said President Donald Trump and his supporters were racist, following criticism from her GOP counterpart.
Over the weekend, Barnes released a statement titled "The Time for Silence is Over." She called upon people to "have uncomfortable conversations," describing it as "time to risk some friendships, time to make waves at work, time to recognize that we are past politics now."
She commented on the president stating: "If you support Donald Trump, you are a racist. Here is where it gets tricky and uncomfortable. Donald Trump is a racist, and if being a racist is not a dealbreaker for you, you are the reason Black people are being murdered for being Black."
Commenting on demonstrations across the nation following the death of George Floyd, who died after a police officer put his knee on his neck while he was being arrested, she said: "We have arrived at the turning point, where silence is not an option."
She went on to call for an end to economic oppression of Black communities, criminal justice reform and also urged change in law enforcement.
"And I want law enforcement to actually do their jobs and prosecute hate crimes, and when law enforcement participates in racist conduct I want them held accountable — not by the prosecutors and colleagues they work with every day, but by an independent body, that they hold no sway over," she wrote.
"Demand these things of your elected officials, they do have the power to make those changes. Here is what they hope for, that we get tired and go away."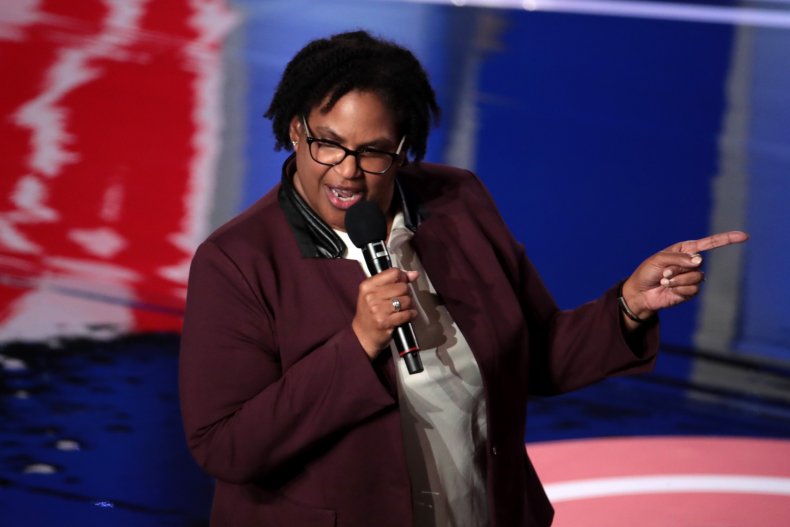 After her statement, Laura Cox, chair of the Michigan Republican Party, released a statement, branding the comments calling Trump and his supporters racist as unacceptable, adding that calling someone racist was akin to saying they were evil.
"One of the many reasons our nation is great is because, while our two major parties have disagreements, we can look past these differences and come together as Americans. Despite these differences, we fundamentally believe that our fellow Americans are good people motivated by good intentions.
"Let's be perfectly clear, there is nothing good about racism. It is a form of pure evil and calling someone a racist is akin to calling that person evil. Lavora Barnes' remarks claim that millions of Michiganders are evil. It implies that they cannot be reasoned with, and that our differences cannot be resolved peacefully through discourse and not violence," she said.
"I refuse to accept this inflammatory statement from my counterpart. As leaders in our state at this trying time, I believe it is imperative that we forge a path forward to better circumstances for every American," Cox said.
Trump has previously rejected accusations of racism, describing himself as the least racist person, and Cox went on to defend him by saying he has "worked tirelessly on behalf of the African American community, and any narrative to the contrary is blatantly and knowingly false."
Cox's comments prompted a further statement from Barnes, who stood by points she made and said she was not surprised "Laura Cox and the Michigan Republican Party would take this moment in history to attempt to shame me for speaking truth to power."
She said it was hypocritical of Republicans to denounce comments they deem inflammatory, referring to a tweet from Trump in which he wrote "when the looting starts, the shooting starts."
"As Americans, we don't have time for these political games. Black women and men are being killed," she said in a statement, shared by the Michigan Democratic Party on Facebook.
"Ms. Cox doesn't get to tell me how I should feel as I watch in horror my brothers and sisters be murdered in cold-blood because of the color of their skin. Ms. Cox doesn't get to tell me what I can say, as unchecked power strips people of their dignity and access to basic human rights. Ms. Cox doesn't get to speak for me, or my family, because right now her job is to listen, not speak.
"It is time for us to look past politics and have some really uncomfortable conversations, like this one. I will continue to speak truth to power. I will not be bullied by the likes of Laura Cox."
Cox responded to this with another statement, calling for Democratic Michigan Gov. Gretchen Whitmer and Sen. Gary Peters (D-MI) to comment on the situation.
She wrote: "Is it now the official position of the Michigan Democrat Party that anyone who disagrees with their left-wing progressive agenda is a racist? If so, this is truly a sad day for American democracy and political discourse in our state. Michiganders deserve to know if their governor and junior senator agree with this position."
Newsweek has contacted the Michigan Democratic Party, the Michigan Republican Party, Whitmer, Peters and the White House for comment.
The clash between the Michigan party chairs comes amid widespread protests following the death of Floyd in Minneapolis.
There have been more than 9,000 arrests amid the protests nationwide, according to an Associated Press tally.
Amid demonstrations, some have used the situation as a springboard for violent acts, including looting, and the president has said he would deploy the military if the National Guard is not used across states to control scenes of unrest.