Flint Water Crisis Deaths: Michigan Health Director Nick Lyon Faces Manslaughter Charges
Michigan's state health director Nick Lyon will stand trial on suspicion of involuntary manslaughter in connection with two men who died from Legionnaires' disease during the Flint water crisis.
Nick Lyon was accused of not acting quickly enough in response to the outbreak of the disease, which had been linked to the deaths of 12 people. District Court Judge David Goggins of Genese County described officials who kept the public in the dark as "corrupt," reported The Associated Press.
Lyon, the highest-ranking official to face criminal charges in connection with Flint's tainted water scandal, said the situation is "a long way from over." He declined to comment further. He also faces one count of misconduct in office.
Some experts said the deaths of Robert Skidmore, 85, and John Snyder, 83, from Legionnaires' disease were a direct result of having drunk contaminated water. In 2014, the city chose to tap water from the Flint River instead of getting it from the Detroit Water and Sewerage Department to save money. The water had not been properly treated to reduce corrosion and began leaching lead from the water pipes, contaminating the supply.
Newsweek subscription offers >
Governor Rick Snyder and Lyon announced an outbreak of Legionnaires' disease in January 2016, although Lyon admitted he had been aware of cases that were reported many months before then.
Lyon denied any wrongdoing, saying there was not enough information about the outbreak to share with the public nor to speculate about the exact cause of Legionnaires' disease.
His lawyer said that he would appeal the decision.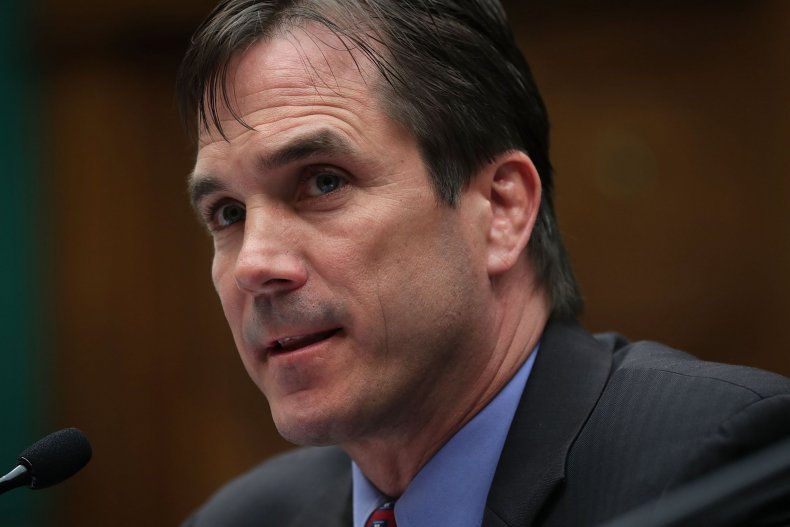 Newsweek subscription offers >
"We gave 20 pages of legal arguments in our closing brief, explaining why none of these charges have legal validity," Lyon's attorney, John Bursch, told MLive.
"He [the judge] did not address a single one of those 20 pages. The circuit court and if not there, the Court of Appeals, are going to look at this and they are going to reverse so fast it will make your head spin."
Lyon is the 15th current or former state and local official to have been charged with crimes in connection with the Legionnaires' outbreak or the appearance of lead in Flint's water supply.
Responding to the charges against Lyon, Mayor Karen Weaver said the decision was a "good step on the road to recovery and healing for the people of Flint."
"The residents of Flint have been waiting to feel like their lives matter," Weaver added. "We cannot ever recover the time spent trying to understand the extent of this tragedy, nor make up for the trauma both mentally and physically behind this man-made crisis.
"The people of Flint have been traumatized by the actions, or lack of actions, by state officials."
She added: "This is I hope that the state continues to be held accountable for the state's decisions.
"What happened in Flint cannot and should not happen anywhere else in this country, especially in the state of Michigan. This sends the message that lives are more important than dollars and to consider people over both profit and policy."
Flint Water Crisis Deaths: Michigan Health Director Nick Lyon Faces Manslaughter Charges | U.S.