Michigan Judge Allows Barbershop to Open Despite Lockdown As Sheriffs Refuse to Enforce Governor Whitmer's Orders
A Shiawassee County judge in Michigan on Monday refused the state Attorney General's motion for a restraining order to close a barbershop owned by 77-year-old Owosso barber Karl Manke.
Manke has reopened his barbershop in violation of Governor Gretchen Whitmer's executive order shutting down all non-essential businesses amid the ongoing coronavirus pandemic. The business owner first opened his shop last Monday because he said he could no longer survive without making an income. He also felt as if the social distancing afforded by his shop's barber chairs and his use of face masks and hand sanitizer made the shop safe enough to operate without potentially spreading the COVID-19.
"When the Governor said we're going to have another 28 days (of being shut down), it knocked me to my knees. I couldn't take another 28 days. I had to get back to work," Manke said during a press conference in front of his barbershop on Monday.
"I've gone through 14 different administrations and I've never seen anything like this at all. No, I've never seen this type of an oppression by a government ever, not even during the '60s," he added.
Ryan Jarvi, spokesperson for the state Attorney General's office, told The Detroit News, "The court wanted to provide Mr. Manke with an opportunity for a hearing on the request for an injunction, despite the clear public health dangers that continued operation of his business creates."
The Shiawassee County Sheriff's office said that it won't enforce Whitmer's stay-at-home order. Five other sheriffs departments representing the counties of Benzie, Leelanau, Livingston, Manistee, Mason have also said they will not enforce Whitmer's order.
"I have decided within my authority that our office cannot and will not divert our primary resources and efforts towards enforcement of Governor Whitmer's executive orders," Shiawassee County Sheriff Brian BeGole wrote.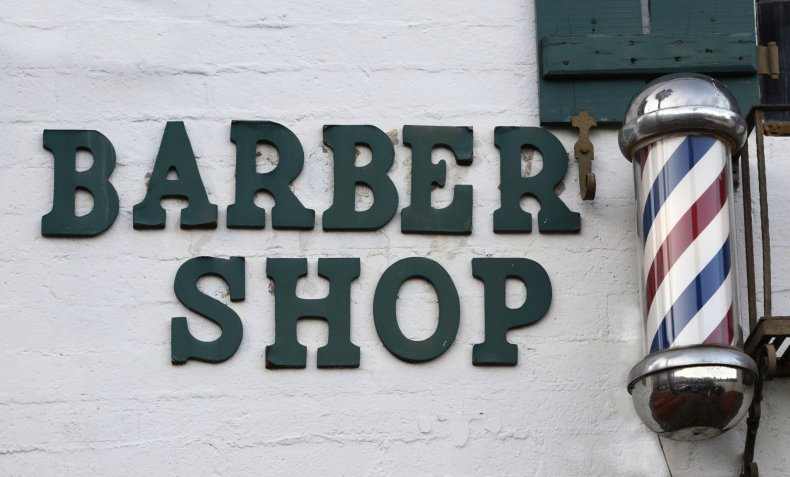 BeGole and Manke's lawyer David Kallman both believe that the extension of Whitmer's state of emergency order isn't enforceable.
"All the EOs issued by the governor after April 30, 2020 ... are illegal and unlawful because the Legislature refused to extend her declared state of emergency past that date," Kallman wrote. Additionally, he believes Whitmer's order violates "various constitutional and statutory requirements and protections."
"We're waiting to hear how the court wants to proceed," Kallman said at a Monday press conference. "We're hopeful that a hearing will be set and we'll have the opportunity to make our arguments in court on that day."
In a statement on Monday, Whitmer said her orders have the force of law. "[They are] not suggestions, not optional or helpful hints. I expect all Michiganders to follow the law unless and until a court decides otherwise," Whitmer added, according to ABC 12 News.
Newsweek reached out to Whitmer's office for comment. This story will be updated with any response.
Manke also faces criminal charges filed last week by Owosso city police, citing him for a civil infraction and two misdemeanors. His court date is set for June 23. "We'll be filing motions to dismiss those cases also," Kallman said.
When asked by reporters if he plans on keeping his shop open during legal proceedings, Manke said on Monday, "I'm going to stay open until Jesus comes."
Members of the Michigan Militia had told the local NBC News affiliate that they planned on blocking the front door of Manke's shop to ensure that police wouldn't arrest him for continuing to operate.
Another person during the press conference asked Manke how he would respond if opening his barbershop created new coronavirus cases.
"Well, first of all, how would we know if it came from my barbershop or the local Wax-Mart store?" Manke responded. "No, I don't want to make anyone responsible. I don't want to take responsibility for anybody's sickness. It's like when we have colds, we have flus—I try to keep my barbershop as clean as possible. Y'know, we are all responsible for ourselves. If people don't feel safe, then I think they should stay home."
At the end of the conference, Manke shook hands with someone in the audience before returning to work.
Manke's case is reminiscent of Texas salon owner Shelley Luther who received a seven-day jail sentence and $7,000 fine for refusing to follow a court-issued restraining order to close her business during the shutdown of non-essential businesses ordered by Governor Greg Abbott.
Luther was released early after Abbott and the Texas Supreme Court intervened. Texas State Attorney General Ken Paxton paid her fine.