Texas Judge Orders Jail Sentence for Hair Salon Owner Who Kept Business Open Despite Stay-at-Home Order
A Texas judge has sentenced a North Texas salon owner to seven days in jail for keeping her business open despite Governor Greg Abbott's executive statewide order to shutter all non-essential businesses during the coronavirus epidemic.
The judge offered to commute her sentence if she apologized for "being selfish." However, she didn't apologize and plans on appealing the judge's decision.
Salon À la Mode owner Shelley Luther was found in criminal and civil contempt of court by Dallas Judge Eric Moye for continuing to operate her salon despite receiving a court-issued temporary restraining order on April 28 requiring her to discontinue all business operations.
The restraining order came four days after Luther received a cease and desist letter from Dallas County Judge Clay Jenkins on April 24, according to the local ABC News affiliate, WFAA. Luther's refusal to close her shop eventually got her a citation.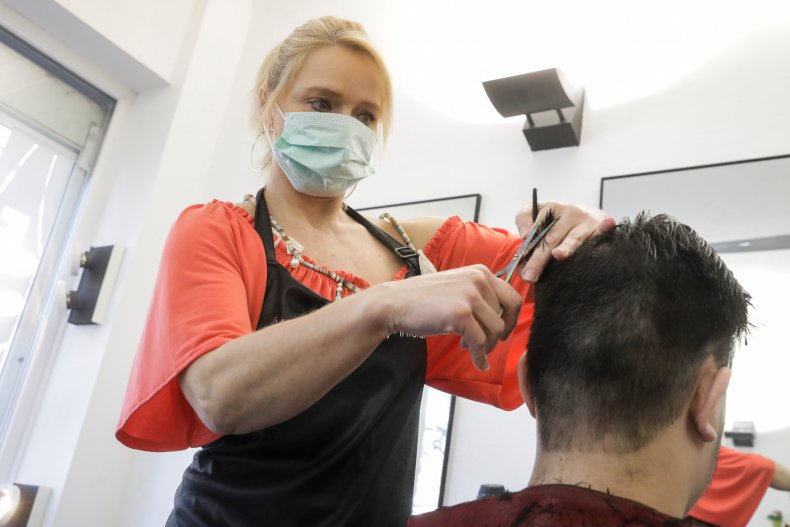 Judge Moye informed the salon owner that he'd consider commuting her jail sentence if she'd call her opening "selfish" and apologize to the legal officials she had defied.
"I have to disagree with you sir, when you say that I'm selfish because feeding my kids—is not selfish," Luther told the judge. "I need to feed my family and my stylists could not feed their families."
"I have hair stylists that are going hungry because they'd rather feed their kids. So sir, if you think the law is more important than kids getting fed, then please go ahead with your decision, but I am not going to shut the salon," she continued.
Newsweek reached out to Luther for further information. This story will be updated with any response.
Along with the seven-day jail sentence, Judge Moye ordered the salon to pay a $500 fine for every day it stayed open despite the court's mandate to remain closed.
"The defiance of the court's order was open, flagrant and intentional," Moye wrote in his decision. "The defendants, although having been given an opportunity to do so, have expressed no contrition, remorse or regret for their contemptuous action."
On Tuesday, Governor Abbott announced that barbers, hair salons and cosmetologists can re-open their businesses on Friday. Social distancing protocols will still be enforced and customers and stylists will be encouraged to wear face masks.
On the same day, Abbott was caught on an audio recording saying that reopening the state's businesses will "actually will lead to an increase in spread" of coronavirus, adding, "The goal never has been to get COVID-19 transmission down to zero."
"When we engage in safe distancing, when we engage in practices where people are wearing face masks, when we use best practices, we are able to open up in ways that control and constrain the spread of COVID-19," he continued.