Wait, Which States Are Voting on Tuesday? Michigan and Where Else?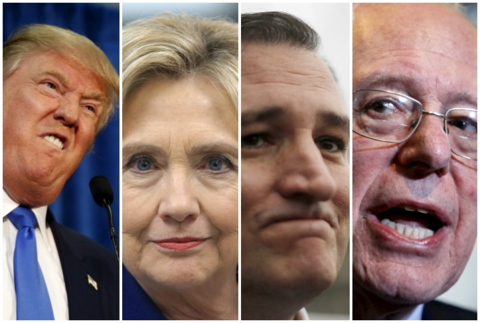 Voters in four states will hold presidential contests on Tuesday, as Donald Trump tries to strengthen his lead in the Republican race while Hillary Clinton and Bernie Sanders battle it out in closely fought Michigan.
Residents in Michigan and Mississippi will cast votes for both parties. The same day, Republican voters will caucus in Hawaii and participate in Idaho's primary. But Michigan is seen as the biggest prize, with 59 delegates up for grabs in the Republican race and 130 in the Democratic field.
Just days before the primaries, both parties held debates in Michigan. Polls show Trump and Clinton leading the other contenders there. On Tuesday, both presidential hopefuls will look to expand their statuses in the battle to pick nominees for the November 8 general election.
Michigan polls are open between 7 a.m. and 8 p.m. local time. Later in the day, voters can follow the results on the secretary of state's website. As is the case in many primary states, the names of many of the candidates who dropped out of the race remain on the ballots because they withdrew after printing deadlines.
Last week on Super Tuesday, Trump won big in the South. But over the weekend, Texas Senator Ted Cruz solidified his claim to be the billionaire's prime challenger by splitting four nominating contests with him. Florida Senator Marco Rubio, who many of the party's most powerful members have hinted at supporting, won only his second victory in Puerto Rico on Sunday. Ohio Governor John Kasich is looking to stage an upset in neighboring Michigan, but polls show him trailing.
Besides Michigan on Tuesday, the Republican candidates have 19 delegates available in Hawaii, 32 in Idaho and 40 in Mississippi.
Clinton, coming off of her Super Tuesday wins in the South, along with Massachusetts and American Samoa, was victorious Saturday in Louisiana. But she lost Kansas, Nebraska and Maine to Sanders by the end of the weekend. In addition to Michigan on Tuesday, the Democrats have 36 delegates for the taking in Mississippi.
Later this week, the parties will meet in respective debates ahead of the crucial Florida primary on March 15. The Democrats will face off on Wednesday and the Republicans on Thursday, both in Miami.