Biggest Moments of Super Tuesday
Super Tuesday is the biggest night of the primary season. We'll document the moments as Republicans try to stop Donald Trump and Bernie Sanders tries to slow Hillary Clinton.
Commenting tonight will be Newsweek's Emily Cadei, Matthew Cooper and Michele Gorman. Cadei covers the presidential campaign and politics for Newsweek, where Cooper is the political editor. Gorman covers politics for Newsweek.
12:08 a.m. ET: Well, the Associated Press has called Vermont for Trump. With few delegates, the Green Mountain State was never going to be pivotal but losing there means the Ohio Governor John Kasich will likely end the night with no wins—making him the only candidate, aside from Ben Carson, not to have any Blue Ribbons on his mantle. He'll try to stick it out until Ohio but this didn't help. — Matthew Cooper
12:02 a.m.: As the clock ticks past midnight, we still have two states outstanding, both on the Republican side: Vermont, which is neck-and-neck between Trump and Ohio Governor John Kasich, and Alaska, where the caucuses just wrapped up. — Emily Cadei
11:43 p.m.: In an interview on CNN, Texas Senator Ted Cruz tells Wolf Blitzer, "I think tonight will serve to narrow the field even further." Sounds like wishful thinking. He ducks a question asking if he wants Florida Senator Marco Rubio or the other Republicans in the race to drop out, pointing out, "I'm the only candidate who has beaten Donald three times." — Emily Cadei
[Related: Trump, Clinton, Rubio: Why Everyone's Fighting So Hard for Virginia]
11:40 p.m.: In a blow to Sanders, CNN calls his next-door state of Massachusetts for Clinton. The Sanders campaign had heavily targeted the state's liberal voters, and the race had been neck-and-neck going into tonight. — Emily Cadei
11:20 p.m.: CNN calls Minnesota for Rubio, and the Florida senator's campaign must be breathing a huge sigh of relief. It's Rubio's first win in the 2016 Republican primary, finally! It's not a huge amount of delegates but psychologically and rhetorically it's important as he tries to justify staying in this race. — Emily Cadei
10:58 p.m.: NBC News calls Colorado for Sanders, a big win for the senator in a key general election swing state. Colorado is a state the Sanders campaign was targeting, along with Oklahoma, Massachusetts, Minnesota and, of course, Vermont. He could go five-for-five in those states (he's already nabbed Oklahoma and Vermont) and yet still fall way behind Clinton in the delegate race, given her huge wins across the South tonight. — Emily Cadei
10:27 p.m.: Rubio appears on ABC and tries to argue that he, not Cruz, is Republicans' best shot to upend Trump. "We love the way the math shapes up for us," the Florida senator insists. And he predicts a win in his home state on March 15. "We'll win Florida, I'm confident of that," Rubio says. — Emily Cadei
10:19 p.m.: Cruz just gave his Super Tuesday remarks, appealing to Republicans to unite to defeat Trump. And compared to Trump, who was relatively subdued tonight, Cruz sounded downright angry. "America shouldn't have a president whose words would make you embarrassed if your children repeated them," the Texas senator shouted. And he warns that Trump supports a liberal agenda, including Obamacare and Planned Parenthood. "If you're angry at Washington, I understand, but Donald Trump has been a part of the Washington corruption for over 40 years." Republicans have been trying for months to make this argument that Trump isn't a true conservative but it isn't sticking. Cruz may need to try a new tack if he wants to win back evangelical, social conservatives from the thrice-married reality television star from New York. — Emily Cadei
[Related: Speaking from His Winter White House, President Trump Addresses the Nation]
9:42 p.m.: Trump congratulates "Ted" on beating him in Texas, which seemed oddly demure. But then he called Rubio a lightweight, so we were back to normal. The setting is slightly bizarre, Trump's mansion, Mar-a-Lago. And his riffing on the country. — Matthew Cooper
9:38 p.m.: We're still waiting for Arkansas, where Rubio still has a shot at winning. Go figure. The state borders on Texas and would seem riper for Cruz than Rubio. But somehow it's become one of Rubio's last stands. — Matthew Cooper
9:18 p.m.: Oklahoma felt the Bern—the wires and CNN have called the Sooner State for Sanders, his second win of the night, and it couldn't be in a more different place than his Vermont home. — Emily Cadei
9:13 p.m.: And in short succession, the AP also calls Oklahoma for Cruz. Two big wins in a matter of minutes for the Texas senator, who now has an argument to make that he's the most viable Trump alternative. Though, if we go back to the fall, the idea that the Cruz campaign would win just two southern states on Super Tuesday would have been considered a major disappointment. Tonight was supposed to be the apex of his "southern strategy." Trump has put a major dent in that. — Emily Cadei
9:09 p.m.: Rubio has made losing primaries and declaring victory an art form. He hasn't won one yet and tonight is no exception. He's speaking from Miami where he needs to declare victory. So tonight the real goal isn't to spin defeat but lay the ground for a victory on March 15 when Florida goes to vote. Obviously, if Rubio loses his home state he's not going to be able to sustain a campaign for the White House. But he's now succeeded in defining down the definition of victory so much that a Florida win really will be seen as a win. An interesting twist in his remarks: Framing immigrant-rich Miami as a prism for seeing the American dream. That's a big contrast to Trump, who will be speaking later tonight from his Palm Springs estate, Mar-a-Lago. — Matthew Cooper
9:01 p.m.: The AP calls Texas for Cruz and Clinton. This is huge for Cruz, it keeps his campaign alive. But it maybe even more huge for Trump—it virtually guarantees that he'll face fragmented opposition going forward, with Rubio and Kasich sticking around at least until their home states (Florida and Ohio, respectively) vote on the 15th. As long as that's the case, Trump will continue to be the front-runner, and will continue to put distance between himself and any would-be rival. — Emily Cadei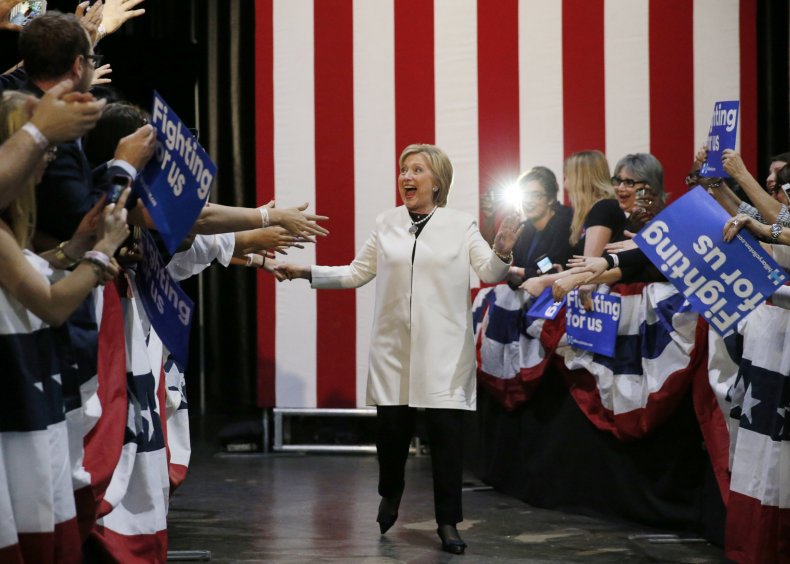 8:53 p.m.: Clinton declares a great night from Florida, where next week the Sunshine State will vote. One thing she won't do tonight or any night: Urge Sanders to drop out. Clinton hated it when Obama allies kept trying to push her out of the presidential race in 2008. Besides, she knows, it tends to force insurgents to become even more determined to fight. And tonight she used a line Bill Clinton has been using: "American never stopped being great." It's an obvious dig and Trump and her further call "to make American whole" is also a shot at the Republican front-runner. "Trying to divide America between us and them is wrong." — Matthew Cooper
8:49 p.m.: CNN and NBC are calling Virginia for Trump, what looks to be a narrow victory over Rubio. The real estate tycoon remains the only Republican to have won a state tonight, but these states are all awarding their delegates proportionally, so second and third place still count. — Emily Cadei
8:38 p.m.: More states have been called by the AP, more southern victories for Trump and Clinton: the wire service has called Alabama and Tennessee for the two front-runners. — Emily Cadei
8:22 p.m.: Oklahoma is shaping up to be a really interesting race on the Republican side tonight. Just a small percentage of votes are in, but so far it's looking like a three-way game of tug-of-war between Trump, Rubio and Cruz. Cruz is from next-door Texas and would love to snatch Oklahoma, on top of his home state. It would strengthen his arguments that he's the real alternative to Trump, especially if Rubio fails to win a single state tonight. — Emily Cadei
8 p.m.: CNN projects Trump will win the GOP race in Alabama, Massachusetts and Tennessee, while Clinton wins Alabama and Tennessee on the Democratic side. The race in Oklahoma is looking tight on both sides. — Emily Cadei
7:30 p.m.: To chants of "Feel the Bern," Sanders addressed supporters in Burlington, Vermont, after he was declared the winner in his home state primary. Sanders has held office here since the '70s, working his way up the city council to become Burlington's famed socialist mayor. Tonight he's highly unlikely to win a majority of delegates so he needs to frame the results in a way that encourages his supporters to keep fighting, even as the nomination becomes much harder to secure. He's going for greatest hits—rapping inequality, denouncing climate change, promoting free college tuition for public universities and so on. "I know Secretary Clinton and many of the establishment people say I'm too big in my thinking," Sanders said. I don't think so." Look to see how Sanders does in Colorado, Minnesota and Massachusetts later tonight. — Matthew Cooper
7:27 p.m.: I'm interested to see what happens in the Republican race in Virginia. It looks like Rubio is keeping it relatively close with Trump. This is one of the few states Rubio has a shot at winning tonight, albeit a long one. Rubio's team has been trying to keep the focus on Cruz, pointing out this was supposed to be "his night" given all the contests in conservative southern states. But Rubio needs to show he has some viability somewhere, and soon. — Emily Cadei
7:12 p.m.: It looks like Trump is going to carry the Georgia primary. Democrats have been hoping the state's rising Hispanic population might make it a swing state. That didn't happen in 2008 or 2012 but Democrats are hoping a Trump nomination will put many nontraditional states in play. — Matthew Cooper
7:05 p.m.: That didn't take long, did it! No big surprises in any of those, of course. But there is some redemption for Clinton, she lost Virginia and Georgia to President Obama in 2008. Tonight, she appears to have won many of those Obama voters. — Emily Cadei
7:01 p.m.: Clinton declared winner in Georgia and Virginia while Sanders takes Vermont. — Matthew Cooper
This is a developing story and will be updated as more information becomes available.​