Best Moments of the Clinton, Sanders Debate in Flint, Michigan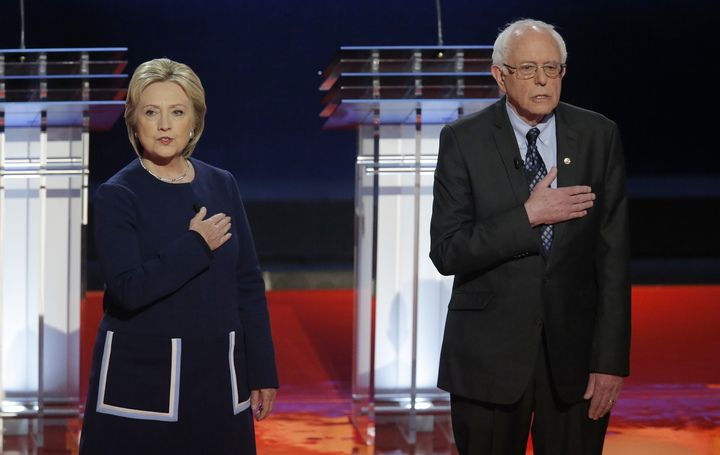 Tonight's Democratic debate is set in Flint, Michigan, where residents are dealing with an ongoing lead-laced water crisis. Following it are Newsweek's Michele Gorman and Taylor Wofford.
10:01 p.m. ET: Next up: Clinton and Sanders will participate in a Fox News town hall on Monday at p.m. ET. — Michele Gorman
9:58 p.m.: Closing statements, a true two-hour debate! Sanders uses his to criticize the wealth in the country and to call for a political revolution, while Clinton says she is running for president to try to knock down all of the barriers that stand in the way from Americans' success. — Michele Gorman
9:55 p.m.: I was not expecting that question to go the way it did. A voter just asked Clinton who she prays for. Clinton reiterates she always has been a "praying person." If she hadn't been one as secretary of state, she says she would have become one while working in the White House. — Michele Gorman
9:49 p.m.: Not the emails! How is Clinton going to take on Donald Trump, who has vowed to talk about the email scandal every day until November 8, if they are both their party's nominees? Clinton uses her response to say that the Republican front-runner's "bigotry, his bullying, his bluster are not going to wear well on the American people." She says she is looking forward to "engaging him," taking aim at his "Make America Great Again" motto. America "never stopped being great," she says. — Michele Gorman
9:37 p.m.: Cooper asks both candidates about fracking. Clinton goes through three points that would lead her not to support fracking, then says, "I do not think there will be many places in America where fracking will continue to take place" after her three conditions are met. In a response that digs at his opponent, Sanders says his answer is much shorter: "No, I do not support fracking." — Michele Gorman
9:24 p.m.: Education and schools. Big issue in the Detroit Public School District, where there is mold growing in classrooms and rodents roaming the floors. One voter wants to know how each candidate will step up to bring a successful future to her daughter. Sanders doesn't directly answer the question, but vows not to have tax break for billionaires. "We should be ashamed of how we treat our kids and our senior citizens," he says. He blames Republicans in Congress for not being able to reach an agreement to fix the Detroit schools. "We have got to change our national priorities." Clinton answers much more directly, clearly outlining her plan. She promises to reinstate a former program where the federal government provides funding to modernize public schools, try to force the governor and state to return schools to Detroit residents and create a so-called "education SWAT team" who goes in to help troubled districts. — Michele Gorman
9:15 p.m.: Clinton is asked about her previous use of the phrase "super predators." She admits it was a poor choice of words and vows not to use it again. — Michele Gorman
9:13 p.m.: Don Lemon asks what they would do to more effectively tackle racial issues than President Obama. Sanders fights back, saying Obama has made a "good, good basis and foundation" of tackling racial issues. He adds that he would make sure the U.S. Department of Justice investigates every killing of a citizen under apprehension of a police officer or in police custody and would end the militarization of police departments. — Michele Gorman
9:12 p.m.: Don Lemon pushes both candidates on "what racial blind spots" they have. An interesting question, but not one that any candidate running for president is going to answer truthfully. It's a question with no right answer: say you don't have any racial blind spots and voters know you're lying. Admit to them and you automatically come off as a racist. — Taylor Wofford
9:02 p.m.: Clinton is pressured over her husband's signing of the 1994 criminal justice reform bill that many say is responsible for putting a generation of black men behind bars. Clinton defends her decision to back the bill, arguing that it achieved a decrease in crime, despite other poor outcomes. But her answer to Don Lemon's question about why black people should trust her now—that Sanders also supported the bill—falls flat. — Taylor Wofford
8:58 p.m.: 10 minutes! This is the longest we have gone in any debate, Democratic or Republican, in talking about gun violence and gun laws. And it's continuing... — Michele Gorman
8:55 p.m.: I find it interesting that the ongoing lawsuit has come up between some of the families of the Sandy Hook Elementary School victims against the gun maker, distributor and seller of the rifle that the shooter used to kill 26 people in Newtown, Connecticut, in December 2012. A judge currently is deciding whether or not the lawsuit will move forward, since PLCAA has provided immunity to gun makers in similar cases. Sanders said he agrees that a manufacturer should be held liable if they realize they're selling firearms to criminals. "But," he added, "if they are selling a product to a person who buys it legally...that's ending gun manufacturing in America." — Michele Gorman
8:49 p.m.: The conversation has turned to crime. Last month, an Uber driver went on a shooting spree in Kalamazoo, Michigan. A voter questions what the candidates are going to do to stop gun violence in the U.S. In her answer, Clinton mentions the Protection of Lawful Commerce in Arms Act (PLCAA), a 2005 measure that gives immunity to gun makers from legal responsibility. She has spoken several times about this law on the campaign trail because as a senator she voted against the bill, while Sanders voted for it. "Giving immunity to gun makers and sellers was a terrible mistake," she added. — Michele Gorman
8:44 p.m.: Clinton uses every chance she can get to mention the successes that have resulted from Barack Obama's presidency. Note: She has accused Sanders in the past for being overly critical of Obama in the 2012 presidential election. — Michele Gorman
8:30 p.m.: Sanders responds to Clinton's repeated line that he is a "one-issue candidate" by saying, "My one issue is trying to rebuild a disappearing middle class. That's my one issue." Sanders brings up Clinton's SuperPAC and the speeches she gave on Wall Street for what he says was hundreds of thousands of dollars. As he did in the most recent CNN town hall, Sanders calls on Clinton to release the transcript from the speeches. Clinton says she will, as long as every presidential candidate does so (she previously told CNN's Chris Cuomo that she shouldn't be held to a different standard). — Michele Gorman
8:29 p.m.: Clinton is once again making the case for "hard choices." She cites the example of the bailout as an imperfect deal that nonetheless saved the auto industry. It's a line that draws big applause. — Taylor Wofford
8:26 p.m.: Clinton is attacking Sanders for being against the auto bailout. "I voted to save the auto industry; he voted against the money that ended up saving the auto industry...I think that is a very big difference." Sanders tries to respond, and when Clinton attempts to speak over him, he says, "Excuse me, I'm talking." — Michele Gorman
8:23 p.m.: Sanders goes after Clinton hard on free trade. "I'm glad Secretary Clinton has discovered religion on this issue," he said, before attacking her record on free trade agreements like NAFTA. Sanders's criticisms of Clinton draw applause from the audience. He seems the winner of this exchange. But Clinton comes back, reminding the crowd that Sanders voted against the auto industry bailout, a popular measure in Michigan. — Taylor Wofford
8:17 p.m.: Don Lemon, who would not rule out the possibility that MH370 disappeared into a black hole, is now questioning the candidates about Flint. So let it not be said that all the crazy is on one side of this campaign. — Taylor Wofford
8:16 p.m.: Clinton says people should be held accountable for Flint, whether that leads to resignation. — Michele Gorman
8:06 p.m.: As in previous debates, Clinton and Sanders stuck to their usual strategies when asked about the water crisis in Flint. Clinton touted her tight relationships with Michigan lawmakers and the mayor of Flint, Karen Weaver. Sanders, meanwhile, blamed greed for the crisis in Flint. — Taylor Wofford
8:03 p.m.: This debate is the first time in recent memory that the audience has been able to ask questions. Typically, we only see this style at town halls. — Michele Gorman
8:01 p.m.: Tonight's Democratic debate is taking place in Flint, Michigan, where the residents have been dealing with an ongoing lead-laced water crisis since 2014. Both Sanders and Clinton used their opening statements to call for Republican Governor Rick Synder to resign. Sanders said hearing stories from Flint residents in recent days "literally shattered me." He continued: "The governor should understand his dereliction of duty was irresponsible and he should resign." Clinton said "Amen" to her opponent's remarks, and said they need to "shine a very bright spotlight about what has happened in this city." — Michele Gorman
Best Moments of the Clinton, Sanders Debate in Flint, Michigan | U.S.