At Debate, GOP Candidates Face Questions on Flint Water Crisis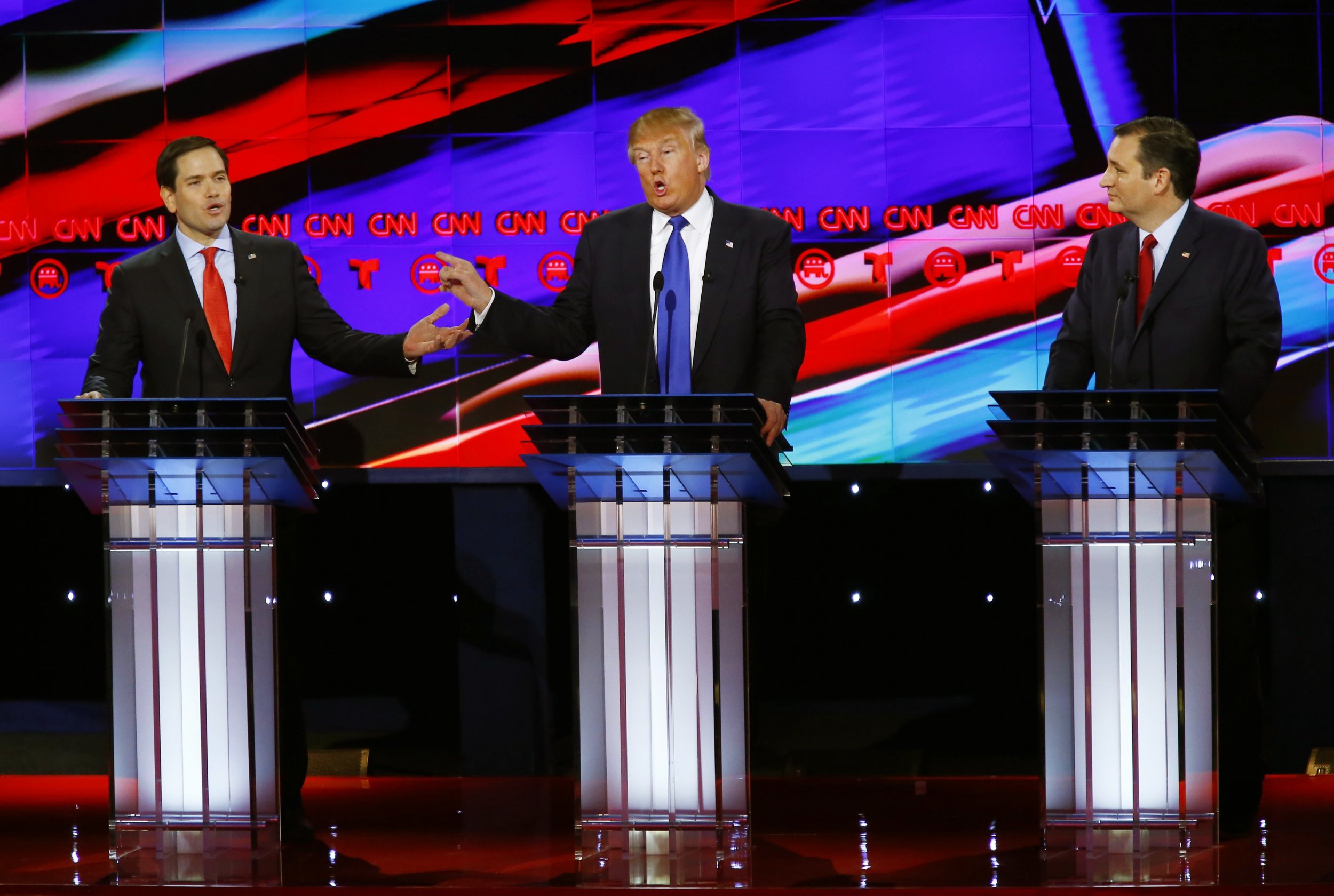 On Thursday night, four of the Republican presidential candidates faced off at their 11th debate, this time in Detroit—which is about 70 miles from where residents are dealing with the ongoing lead-laced water crisis in Flint, Michigan.
The contamination stems from a decision in 2014 to switch Flint's source of water for drinking and other purposes from Detroit's system to the Flint River—to cut costs—without accompanying treatments for the higher lead levels. After only a month, residents in the city complained about their water looking, smelling and tasting strange. It wasn't until more than a year later that tests showed elevated lead levels in the water and in the blood of some residents, including children. The state decided to switch back to Detroit's water in October 2015, but active response from all levels of government was delayed.
Governor Rick Snyder has received much criticism in recent months over his handling of the crisis, which arguably is the biggest controversy since he took office in 2011. He eventually called in the National Guard, but has admitted that he didn't act swift enough and has promised to fix the problem. He soon will testify before the U.S. House Committee on Oversight and Government Reform.
[Related: How to Watch Thursday's Debate in Detroit]
Flint is a majority black city of almost 100,000 residents. President Obama approved limited federal funding for Flint, which continues to be cast in the national spotlight, especially on the campaign trail. The issue has divided candidates along partisan lines. But with the state's Republican governor, the issue is tricky for the GOP candidates, who haven't said much about the contamination and repeatedly try to deflect questions from reporters.
With the debate's proximity to Flint, the Fox News Channel moderators asked the presidential hopefuls about the public health crisis on Thursday, five days before Michigan voters head to the polls for their state's primary on March 8. Here's what the candidates have said about Flint previously while on the campaign trail.
Donald Trump
At a January campaign event in Iowa, a reporter questioned the real estate billionaire about Flint.
"It's a shame what's happening in Flint, Michigan. A thing like that shouldn't happen," Trump said on January 19. "But, again, I don't want to comment on that. They've got a very difficult problem."
Trump, who is leading the GOP field both nationally and in Michigan, continued on to say that Snyder has a "very difficult time going." But he declined to elaborate, saying he "shouldn't be commenting on Flint."
Marco Rubio
The Florida senator also was asked about Snyder's handling of the crisis in January.
"In general I believe that the federal government role in some of these things is largely limited unless it involves a federal jurisdictional issue," Rubio said on January 18. "I'd love to give you a better answer on it. It's just not an issue we've been quite frankly fully briefed or apprised of in terms of the role the governor has played and the state has played in Michigan on these sorts of issues."
Days later, Rubio said he had learned more about the crisis, and called it a tragic situation. At the debate he decried what he called the "politicization" of the crisis.
[Related: March Presidential Primary Election, Caucus and Debate Calendar]
Ted Cruz
Last week, Cruz temporarily delayed bipartisan legislation introduced in the Senate that could stop Flint's lead contamination. While on the campaign trail, Cruz denied a quick vote on the deal, a $220 million package that would provide new infrastructure and piping to replace deteriorated water lines. A day later, he reviewed the bill and concluded he wouldn't prevent the measure from moving forward.
In earlier remarks, Cruz said he blamed the federal government.
"What's happened in Flint, Michigan, is an absolute travesty," Cruz said at a January 19 campaign stop in New Hampshire. "It is a failure at every level of government, a failure of the city officials, a failure of the county officials, and the men and women of Michigan have been betrayed."
John Kasich
While campaigning in Michigan this week, the Ohio governor said Snyder is doing all that he can to respond to the contamination.
"I don't have all the details, but when you suspect something, you have to act quickly and I think now the governor is doing everything he can," Kasich said Wednesday in Grand Blanc. "I think now the key is what do you do to try to get everything back up on its feet?"
He continued: "For me to come in here and try to tell him how to do his job I don't think is appropriate."
Previously, Kasich said he was confident Snyder would manage the situation appropriately and that the crisis should push the federal government to review water regulations.
Ben Carson
The retired neurosurgeon said he won't participate in the debate Thursday because he doesn't see a "political path forward" toward the GOP nomination, following his weak turnout on Super Tuesday. He stopped short of officially suspending his campaign, but is expected to elaborate on his long-term plans Friday at the Conservative Political Action Conference. He previously has blamed local leadership and the federal government for not addressing the high levels of lead in Flint's water supply.
Meanwhile, in the Democratic race, both front-runner Hillary Clinton and Vermont Senator Bernie Sanders have spoken out about the crisis and what they called Snyder's poor handling of the contamination. In Flint last week, Sanders said he hopes people will look at the crisis and say, "never again." He also has called on the governor to resign. Clinton also has visited the city, and in the state has aired a campaign spot focusing on the crisis and suggesting racial injustice played a role the way officials handled the situation.
The two challengers likely will expand on their views when they face off in their next debate Sunday in Flint.