How to Watch and Live-Stream Thursday's Republican Presidential Debate in Detroit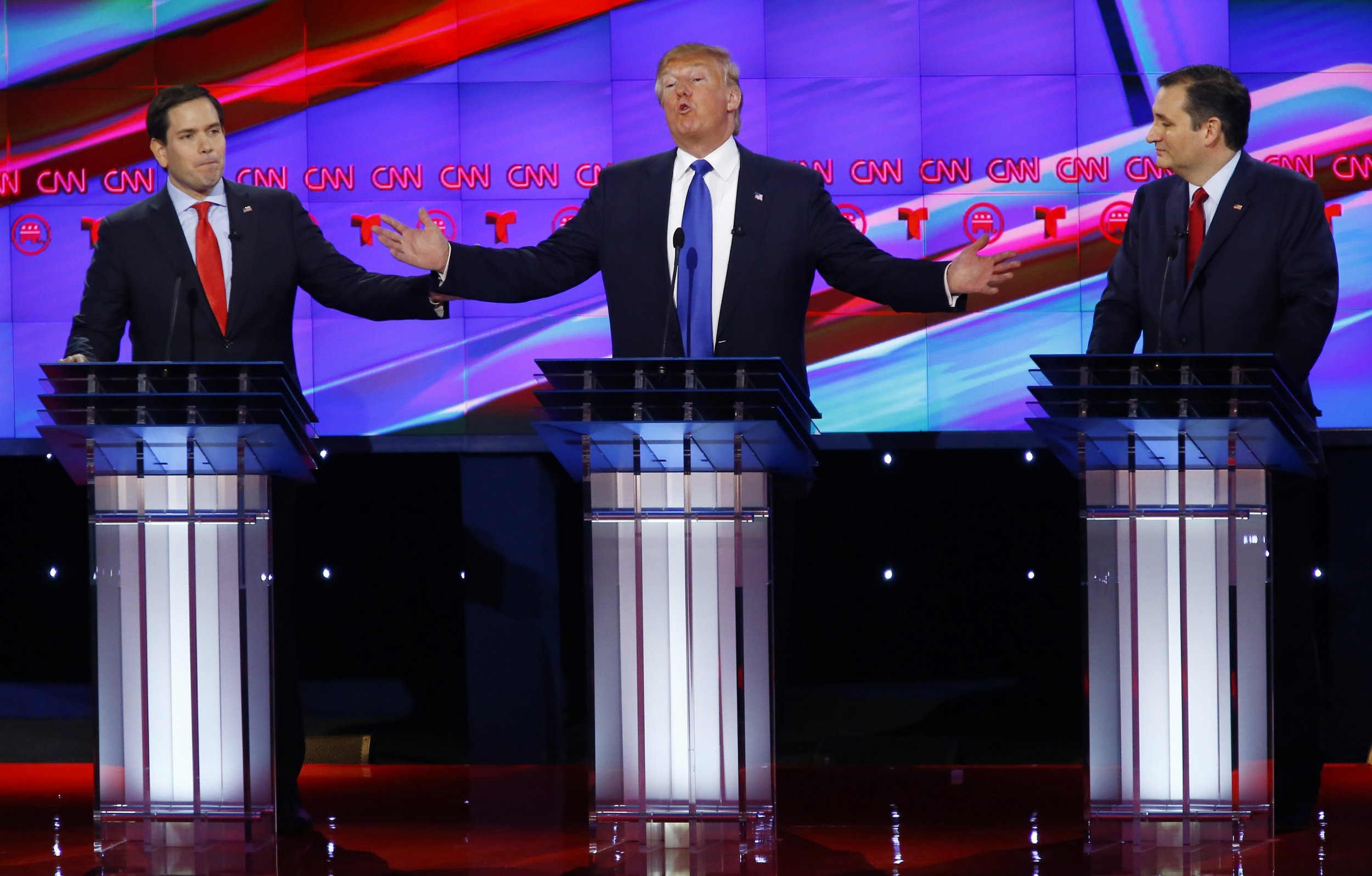 Thursday night's Republican presidential debate will be the party's 11th forum—as well as its smallest—with four candidates participating in Detroit.
The event is the first since front-runner Donald Trump scored multi-state wins on Super Tuesday. Ben Carson, who didn't win at all that day, announced on Wednesday he sees no "political path forward" to the GOP nomination and will skip the debate, which is happening in his hometown.
The two-hour debate will be streamed on FoxNews.com beginning at 9 p.m. ET from the Fox Theatre. For viewers who prefer to watch it on television, the forum will be live on Fox News Channel. The debate also will be aired on Fox News Radio and Fox News Mobile. Social media users can follow along using the hashtag #GOPDebate.
Host Fox News Channel will welcome Trump, who skipped the network's last debate in Iowa. He decided to boycott the event after he discovered anchor Megyn Kelly would serve as one of the moderators. The two had sparred in the party's first debate last August, and he criticized her for being unfair. Fox's Kelly, Bret Baier and Chris Wallace will moderate on Thursday, a repetition of the lineup to the January 28 debate that Trump refused to attend.
Texas Senator Ted Cruz, who pulled off Super Tuesday wins in three states, including his own, will join Trump onstage, as well as Florida Senator Marco Rubio, who won a state this week, and Ohio Governor John Kasich.
[Related: March Presidential Primary Election, Caucus and Debate Calendar]
The next round of primaries and caucuses is set for Friday and will continue over the weekend in Puerto Rico for the Republicans and in Maine for the Democrats. Michigan, the state hosting Thursday's debate, will hold its primary on Tuesday, March 8.
The Republican candidates will face off in their next debate in Miami on March 10, five days before Florida's primary.
In the Democratic race, front-runner Hillary Clinton this week won big in the South, as well as in Massachusetts and American Samoa. Her challenger, Vermont Senator Bernie Sanders, took home four wins on Tuesday night. The two opponents will meet next for a debate in Flint, Michigan, on Sunday.