Michigan Republican State Senator, Who Tried to End Coronavirus Lockdown, Tests Positive for COVID-19
A Republican Michigan state senator, who introduced legislation to curb Governor Gretchen Whitmer's emergency powers amid her stringent coronavirus lockdown in April, has now tested positive for COVID-19, the disease caused by the novel virus.
State Senator Tom Barrett, a member of the Michigan Army National Guard, was tested as part of a screening policy recently implemented for service members. The GOP lawmaker issued a statement about his diagnosis on Sunday afternoon.
"Despite taking reasonable precautions, I was notified this afternoon that I tested positive during a routine screening on Friday, July 31," Barrett, 39, said.
"Thankfully I do not have any significant symptoms at this time, and I will be self-isolating according to medical guidelines. I have done my best to make contact with those I have been around in the past couple weeks so that they may also seek medical advice," he said.
Newsweek reached out to Barrett for further comment, but he did not respond by the time of publication.
Back in April, Barrett introduced legislation to curb the emergency powers of Governor Whitmer, a Democrat, as she implemented stringent lockdown measures in an effort to prevent the rapid spread of the coronavirus pandemic. Michigan was hit harder than many other states back in April, and Whitmer put forward one of the nation's strictest state lockdowns.
"Gov. Whitmer happens to be the one in charge now making these unilateral decisions. Next time, it might be a Republican. That's not the point," Barrett said at the time. "To allow a governor nearly unlimited power without deadline is not good, no matter who is in charge."
The bill, which passed through Michigan's Republican-controlled legislature, sought to limit the governor's emergency powers to two weeks. After that, the legislature would be required to step in to approve continuing an emergency declaration. It would have cut the time in half, from 28 days to 14 days. Whitmer vetoed the bill after it was approved by the state legislature.
"Not even the Legislature — the people's voice in government — can limit this time," Barrett said. "That is a dangerous loophole in the law, and Gov. Whitmer has abused her power with decisions that have cost people their livelihoods."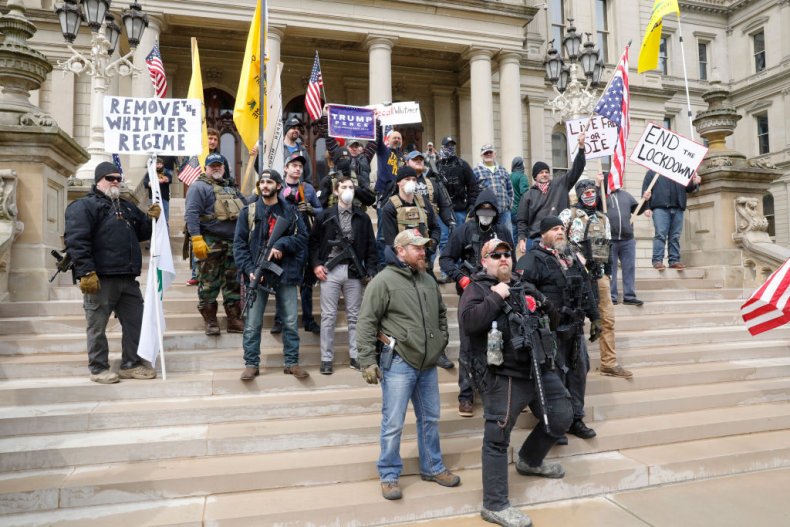 Whitmer, who was previously viewed as a frontrunner to serve as Democratic presidential candidate Joe Biden's running mate, faced significant pushback from conservatives and right-wing groups for her strict response to the pandemic.
In mid-April, hundreds of anti-lockdown demonstrators descended on Lansing to protest her emergency orders. Later that month, anti-lockdown protesters stormed the state capitol in Lansing. Many of the demonstrators had guns, while some held signs with messages like "tyrants get the rope" and "shut down the lockdown."