Michigan Republican Who Tested Positive for COVID Attended 580-Person Anti-Whitmer Event Maskless
A GOP senator in Michigan tested positive for coronavirus less than two weeks after he attended an outdoor event with hundreds of others without wearing a face covering.
Senator Tom Barrett, 39, who represents the 24th District in Michigan's Senate, tested positive July 31 despite saying he took "reasonable precautions" to protect himself from the virus.
Barrett made the announcement August 2, saying he had received his positive test result following a routine screening by the Michigan Army National Guard, of which he is a member. The Army tested Barrett nearly two weeks after he attended a July 18 event, where he collected signatures in a petition drive meant to limit Michigan Governor Gretchen Whitmer's use of emergency powers during the coronavirus pandemic.
Whitmer, a Democrat, issued one of the strictest lockdowns of any state in the U.S. Armed demonstrators have protested several of Whitmer's imposed policies, calling them arbitrary and a mark of tyranny.
Barrett introduced legislation in April in an attempt to curb Whitmer's emergency powers, which Whitmer ultimately vetoed after it was approved by the state legislature. The bill would've cut the governor's emergency powers from 28 days to two weeks.
"Not even the Legislature—the people's voice in government—can limit this time," Barrett had said of Whitmer's decision. "That is a dangerous loophole in the law, and Gov. Whitmer has abused her power with decisions that have cost people their livelihoods."
The July 18 event was meant to protest Whitmer's "abuse of power and the use of an outdated, World War II-era law" which allowed the governor to issue a "blizzard of over 100 executive decrees," according to Unlock Michigan, the coalition in charge of the petition drive.
"With no paid advertising and only a couple of days notice over 580 people came from 21 different counties to sign the petition to Unlock Michigan," Barrett wrote on his Facebook page following the July event.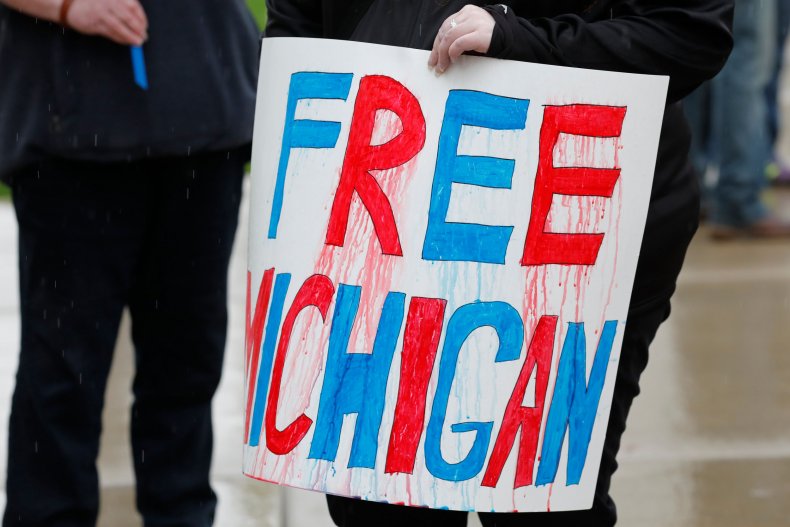 While county health officials have not linked any coronavirus cases to the event in Eaton County, Barrett was photographed talking without a mask and shaking hands with dozens of other attendees, most of whom were also maskless, Bridge reported.
Photos obtained by Bridge show that Barrett and other attendees were not following social distancing and mask guidelines put forth by the state. Whitmer signed an order which took effect July 13 requiring that anyone in indoor and outdoor public spaces wear masks when they are "unable to consistently maintain a distance of six feet or more from individuals who are not members of their household."
The day after announcing his positive test results, Barrett reiterated that his stance on Whitmer's decisions had not changed.
"Yes, I tested positive for COVID," Barrett wrote on Facebook. "No, I do not believe that we should have unilateral control of State Government placed with one person. Principles don't change based on your day to day situation."
Newsweek contacted Barrett for comment, but did not hear back in time for publication.
The Barry-Eaton District Health Department launched an investigation after learning of Barrett's positive test results, but it was unaware of any additional coronavirus cases connected to the July 18 event. The department typically investigates contacts of an infected person within the prior two days, not the last two weeks, Community Health Promotion Specialist Sarah Surna told Bridge.
Eaton County, a small area just west of Lansing, has reported 472 positive and probable coronavirus cases, according to the most recently available data. As of August 14, Michigan has a total of 91,140 confirmed cases, according to the state's website.