Michigan Republicans Tried to Submit Fake Electoral Votes to Capitol
On Monday, while Michigan's Electoral College voters met inside of the state's Senate building to cast their ballots for President-elect Joe Biden, a group of Republicans identifying themselves as the "GOP Electors" tried to persuade a state police officer to let them into the building so they could "do their constitutional duty" and join the electoral voters.
"The electors are already here. They've been checked in," Michigan State Police First Lieutenant Darren Green told the group assembled outside of the building's side door in a video shot by Detroit Free Press videographer Mandi Wright. The group protested in response, saying that they are the "GOP electors."
"Per the capitol commission, per the governor's office, per the Speaker of the House, per the ... Senate," Green explained while blocking their entry, "the capital is closed unless you have office business today or you are taking part in the Electoral College process. Anybody else is not permitted to enter."
Local lawyer Ian Northon then stepped up to Green and said, "The GOP electors are also on the governor's certificate of ascertainment."
Northon is associated with the Thomas More Society, a conservative legal group whose newly formed Amistad Project filed lawsuits alleging widespread voter fraud in Michigan and other swing states which ultimately voted for President Donald Trump.
"I'm not going to get into a political debate," Green responded. "I'm following orders."
Revealing an envelope, Northon replied, "It's not a political debate. It's the official sealed document. The certificate of ascertainment also has the GOP electors. They are here. They're trying to do their constitutional duty. Their constitutional duty requires them to be in the Senate chamber today at 2 p.m. They're here."
Green replied that Northon can contact the governor's office or the Senate and House majority leaders if he had any questions. He also refused Northon's request to deliver the envelope to the Republican Senate Majority Leader Mike Shirkey, stating that Shirkey wasn't present.
Detroit Free Press reporter Mike Boucher, who covered the Senate's Monday electoral vote, told Newsweek he believes that Northon was accompanied by two Republican elected officials who support Trump's attempts to overturn the election, as well as other Republicans electors who would've been chosen to cast their votes in support of Trump, had Trump won the state's election.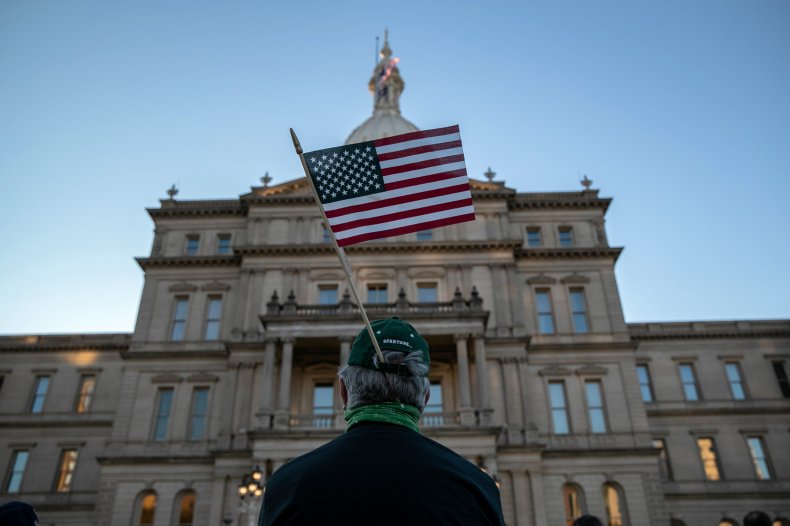 Biden won the state by 154,188 votes, earning him its 16 electoral votes. Yesterday, all 50 states' electors cast their final ballots, certifying Biden as the next president of the United States with 306 overall electoral votes to Trump's 232.
While talking to the press after he and his group were turned away from the Michigan Senate building, Northon cited reports of massive voter fraud caused by Dominion Voting Systems voting machines in Antrim County.
However, Michigan's Secretary of State Jocelyn Benson and Attorney General Dana Nessel said such reports were based on "false information and fake documents," according to the aforementioned publication.
In a November 20 statement from the Thomas More Society which has since been taken offline, the organization said it would be helping the Trump campaign file election lawsuits on a case-by-case basis.
In the statement, Trump campaign lawyer Rudy Giuliani said, "We are excited to have the Amistad Project as a partner in the fight to ensure the integrity of our elections. The Amistad Project has uncovered an organized effort involving multiple private organizations and partners working with government officials to design, fund, and implement an improper and illegal scheme to create an unconstitutional two-tiered election system to deliver the presidency to Joseph R. Biden."
However, the Trump campaign and Republicans have lost almost all 60 of their lawsuits alleging widespread voter fraud. All but one of the cases have been withdrawn or thrown out for lack of evidence.
On January 6, both houses of the U.S. Congress will vote on the Electoral College's vote, the last procedural step before Inauguration Day on January 20. While the vote is usually a formality, this year, Republican Alabama Representative Mo Brooks has pledged to oppose the Electoral College's count, something which would require all congressional members to vote on the record whether or not they support Trump's attempt to overturn the election results.
On a Tuesday caucus call, Senate Majority Leader Mitch McConnell urged colleagues not to object during Congress' count and certification of the Electoral College January 6 vote, stating that it would put GOP senators in a tough spot and adding, "[It] isn't in the best interest of everybody."