Country music artist Mickey Guyton on Friday released her debut album Remember Her Name just over one year after her Grammy-nominated song "Black Like Me" began gaining widespread attention.
The day before the album's release, Country Music Television (CMT) announced it will recognize Guyton as its Breakout Artist of 2021 during its "Artists of the Year" event next month.
Guyton is also expected to perform Friday as part of Today's summer concert series to promote her new album, with appearances on The Tonight Show Starring Jimmy Fallon and The View scheduled next week. Capitol Records Nashville, the label Guyton first signed with in 2011, announced the anticipated performances earlier this week when it released the track listing for Remember Her Name.
Included among the album's 16 tracks is "Black Like Me," one of the 15 songs her label said Guyton co-wrote. Guyton first wrote "Black Like Me" more than a year before she introduced it to the world on June 1, 2020. Guyton told Newsweek during an interview last October she didn't initially plan to share the song outside her trusted inner circle but was compelled to change her mind as protests against systemic racism and violence against Black Americans gained steam in the wake of George Floyd's death.
"I was just going off my own experiences of being a Black person in America," Guyton told Newsweek last fall. "That song was really just me singing about that, and I never thought that the song would have ever gotten to see a light of day."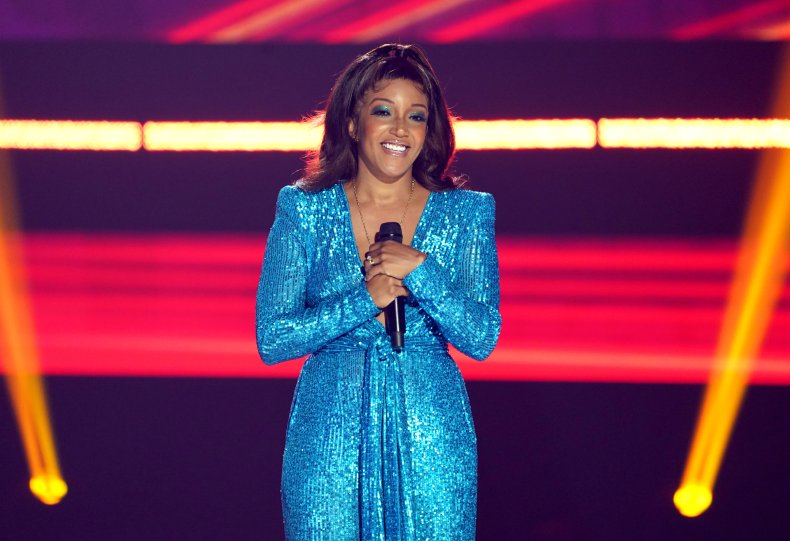 Guyton told Newsweek she was for years encouraged to make her songs "light and fluffy," advice that was often in contradiction with her experience as a Black woman trying to forge a music career within a genre dominated by white men. She decided to try "writing my truth" following a conversation she had with her husband, and the later success of "Black Like Me" motivated her to continue writing honestly about her experiences.
"It definitely lit a fire in me to continue writing songs like this," she told Newsweek at the time.
"Black Like Me" quickly gained traction among listeners with help from Spotify, which Guyton said added the song to its Hot Country playlist. She was invited to appear at the 2020 Academy of Country Music (ACM) Awards and became the first Black woman to perform her own material at the event on September 16, 2020.
Guyton went on to collect a Grammy nomination for "Black Like Me" in the Best Country Solo Performance category and performed the song at the awards ceremony in March. She was the first Black woman to be nominated in a country solo performance category at the Grammys.
In the months since her Grammys performance, Guyton has continued performing for wide audiences and raising awareness for her music. She co-hosted the 2021 ACM Awards with Keith Urban in April, performed as part of PBS' A Capitol Fourth in July and joined other country artists onstage at CMA Summer Jam in early September. She was also one of 53 artists to contribute to Metallica's The Metallica Blacklist, featuring covers from The Black Album, released earlier this month.
As the date of her own album release approached, Guyton relayed her excitement in messages posted on social media. When she first announced her album's release date over the summer, Guyton said on Twitter she "couldn't be more proud" to share the news. She continued relaying messages about the forthcoming songs, writing on Instagram that her song "Love My Hair" is for her "probably the most special song on the album" while "Remember Her Name" is "a song about believing in yourself and never giving up on your dreams."
On Thursday, Guyton celebrated CMT's announcement that she would be its 2021 Breakout Artist—"This means more than you know," she wrote on Instagram—and debuted the music video for her album's title track with an exclusive launch on Facebook.
Pinned to the top of Guyton's Twitter account is her July 12 album release date announcement, which features the album's cover art and a brief synopsis of the work.
"I set out to create music that would make people feel self-empowered, loved, and comfortable with being themselves & this album holds true to all of that," she wrote.
Newsweek reached out to Capitol Records Nashville for further comment and will update this article with any response.