Migos Spark Break Up Fears as Offset Unfollows Members—What We Know
Hip Hop trio Migos have gone from strength to strength since they released their debut single "Versace" back in 2013. Since then, they have made four Billboard Hot 100 top 10 entries and even starred in Donald Glover's Atlanta.
To critical acclaim, in June 2021, Migos released their long-awaited fourth album Culture III, the third and final installment of their Culture trilogy.
However, fans have serious fears that Migos are heading for a split which was sparked with Offset unfollowing Migos members Quavo and Takeoff on Instagram.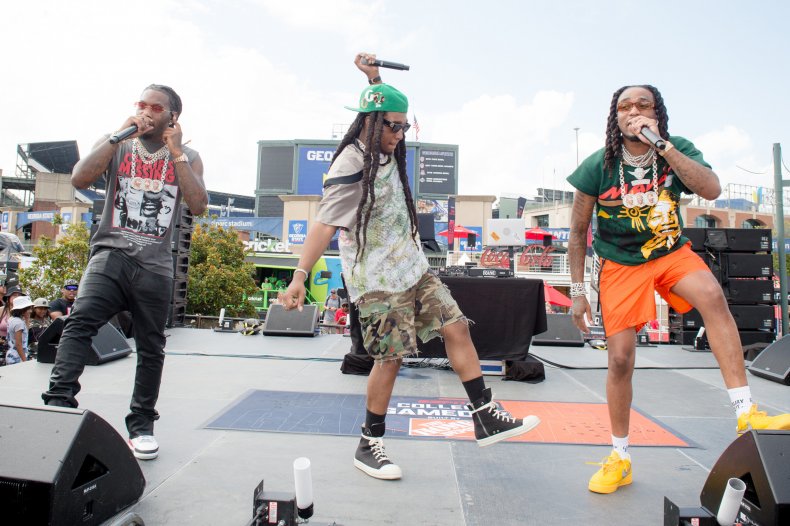 At the moment, Migos have not announced they are going their separate ways for good, but that has not stopped fans from worrying as they believe some signs are pointing in that direction.
Not only has Offset unfollowed Migos stars Quavo and Takeoff, but his wife Cardi B also unfollowed the other members of the group.
To add fuel to the fire, Quavo and Takeoff announced on the same day Offset and Cardi unfollowed them on social media, that they were going to be dropping new music as a duo, named Unc and Phew, on Friday, May 20.
Quavo and Takeoff's duo project has been no secret to Migos fans. They both released a snippet from Unc and Phew's project "Hotel Lobby" at the end of April.
Unfortunately, it has never been confirmed by the duo if they have abandoned Migos as a trio for good, if there is an ongoing hiatus or if Unc and Phew is a simple side-project.
Newsweek has reached out to Migos' representatives for comment.
Over the years, Quavo, Takeoff, and Offset have embraced solo projects whilst also remaining committed to their work as a trio in Migos. Most recently, they released their album Culture III in June 2021.
Fans have been sharing their thoughts online about Migos' future, with some believing Migos are officially over.
On the other hand, some suspect Migos will never break up, considering they are family. Quavo is Takeoff's uncle, and Offset is Quavo's cousin and the three were raised together by Quavo's mother in Atlanta.
One fan tweeted: "If the Migos have officially split, they had a nice run.
Culture (2017) was classic.
Made Men is their best song.
Offset — best flow — the best overall
Takeoff — best lyrically — most underrated
Quavo — best hooks — most popular."
A second fan added: "Damn Migos broke up?!? Y'all family."
A third fan commented: "They seem big on family, no way they break up Migos. Said it themselves in old interviews + they think they're the best rap group of all time, doubt they tarnish that."
In the meantime, fans have Unc and Phew's new single "Hotel Lobby" to look forward to, which is available to stream and download from Friday, May 20.