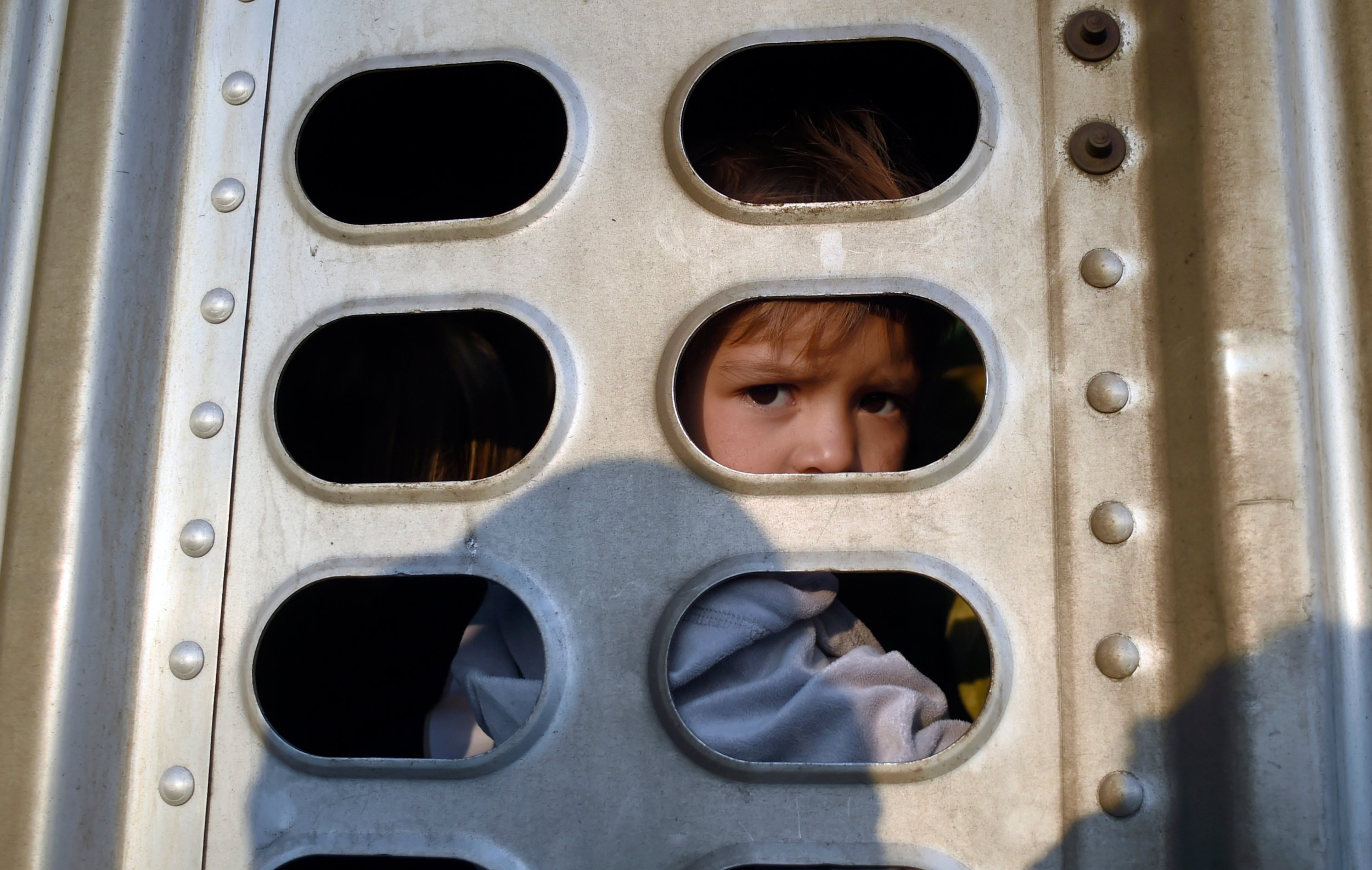 Thousands of Central Americans embarked on a months-long perilous mission to reach the U.S.-Mexico border in hopes of fleeing gang violence, poverty and low employment in the Northern Triangle, comprised of Guatemala, El Salvador and Honduras. At least 6,000 of them have been reportedly stationed in the border city of Tijuana, Mexico, but their arrival has posed several challenges for local authorities.
In late November, the Benito Juarez sports complex sheltering U.S.-bound immigrants was at least three times above its capacity, but it was shut down last week due to poor sanitary conditions, according to the local government. The overcrowding has resulted in the rise of respiratory diseases, chickenpox and lice. Many of the migrants have opted to create makeshift shelters outdoors in heavy rains and the ensuing flooding. The state of the complex forced officials to transport migrants to another shelter called El Barretal, 30 minutes away from the overcrowded sports center.
On Thursday, the Mexican Secretary of Interior announced that it will spearhead efforts to provide services such as food, healthcare and security for an indefinite period at El Barretal, Mexican newspaper Excelsior reported. All the while, migrants are still hoping to get their U.S. asylum application expedited. Out of desperation, some families with their children have attempted to climb, dig under or crawl through the wall in recent days.
Though the Andrés Manuel López Obrador administration ensured that migrants will not lack basic goods, some Central Americans prefer to live in muddy conditions, fearing that their move to El Barretal would split them from their families in the same fashion that the White House's zero-tolerance practice had separated children from their loved ones once they entered U.S. soil illegally. An executive order stopped such practice in July, yet the Trump administration separated 81 migrant children at the border last week, PBS NewsHour reported.
UNICEF USA reported in late October that at least 2,300 children were traveling with the migrant caravan as their families attempted to cross the Guatemala-Mexico border. "The long and arduous journey has left children exposed to inclement weather, including dangerously hot temperatures, with limited access to proper shelter," the organization reported at the time.
As of December 11, at least 4,600 migrants were located in the State of Baja California in Mexico, and 2,500 of them were at the new shelter—including 484 children—, 600 in other shelters and approximately 300 outside of the old sports complex, according to UNICEF USA. The organization added that they have ensured the establishment of a children's pavilion in the new shelter.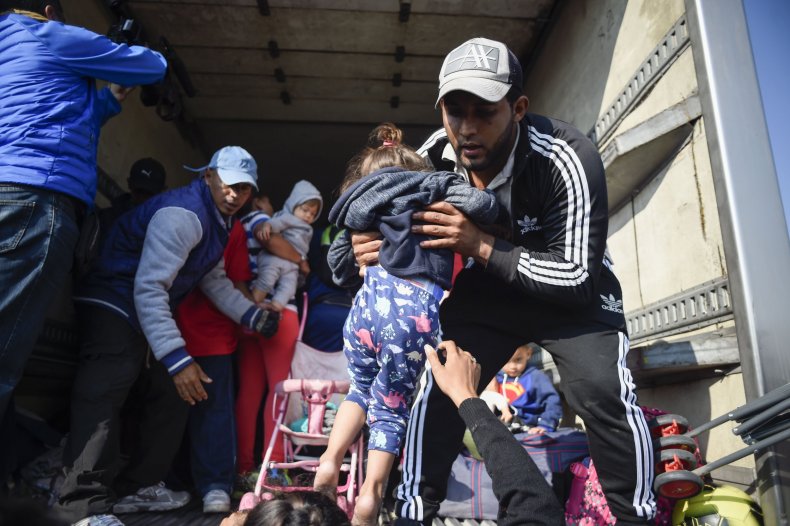 To assess the current conditions of El Barretal, UNICEF USA CEO Caryl Stern traveled to Tijuana on Friday afternoon. She spoke with Newsweek ​after her visit to the new shelter and discussed what the future holds for children and their families.
What are some of the biggest challenges you witnessed during your visit?
It is the idea that nobody knows what tomorrow is going to hold. Migrant caravan members have spent more than 45 days trying to get to where they want to be. They have been staying in tents and there are no schools for their kids while they're in the shelters. The challenges they go throughout the day are horrific.
What are the conditions at El Barretal?
Food is being distributed and adults make a long line to receive coffee. The Mexican government is providing what is needed, but there are those who are living on the streets. The Benito Juarez sports complex was expected to be a building but it's an open lot and it's so tiny it can't even fit them in. They're setting up tents on the streets, which reminded me of the Haiti Earthquake in 2010, with the exception that this is a man-made issue. You can pack more people but you may run into the same issues from the past complex.
At El Barretal, there is just a space for tents, however, I don't know if there are beds inside. There is a section for men who are traveling alone and there's another section for families, predominantly for women and children. UNICEF has some family safe spaces where the children can play with hula hoops and crayons while their parents are trying to sort things out. We're providing spaces for breastfeeding and we're helping women to be nourished so that they can nourish their children, too.
There are separate bathrooms UNICEF facilitated just for children. Also, there is a wall of letters from children of Tijuana welcoming the children of Honduras and El Salvador, and then the children of Central America post letters thanking the Mexican kids for embracing them.
Why are some of them still living on the streets if El Barretal is supposed to be a larger venue?
I asked that question to the moms on the streets. One mom told me that she was religious and doesn't want to go to the shelter because some of the migrants may have alcohol in there. Most of them did tell me they didn't want to go because they didn't want to be farther to the U.S.-Mexico border and they don't want to walk anymore. The shelter is 30 minutes away from the Benito Juarez sports complex, in the outskirts of Tijuana.
How can UNICEF work with the Trump administration? What are your views on the White House's policies?
We have no politics, this is not a Democratic or Republican issue but an issue that involves children. Countries have the right to protect borders and have immigration laws, but the children sitting on the other side of the border have the right to eat and have access to health care and education, and they are no less important than the children I gave birth to or you gave birth to. This is not just about government policy; we all have a moral obligation.
UNICEF continues to support these children in Central America as well as in Mexico, and we will continue to support them because they're still children. We should do what's best in the interest of the child. These are not migrants or refugees, they're just children—and we collectively must establish first.
Are any of them dealing with any health issues from the overcrowding at the complex? What kind of food or services are they being provided with?
I'm not a doctor so I couldn't tell you exactly, but we all know that overcrowding conditions are bad, especially for children since they drool and touch things so they always catch germs. Today at El Barretal, however, the Mexican marines have set up a food system, and although they're not cooking there they're providing oats to make oatmeal, and they distribute canned goods and other products twice a day. Inside El Barretal, they also have a distribution of coffee to the adults making a long line. On the street, however, those who opt to stay out of the shelters are dependent on the volunteers who give them food.
Have officials given any indication of how much longer immigrants may be kept waiting to make their asylum claims?
I got various answers from various people. The women I spoke on the street said she submitted her application two weeks ago. Families with accompanied children got priority but others are placed in a waiting zone. The system seems overwhelmed but I don't know if it's true.
Are any families considering going back to their home countries or choosing to "self-deport?"
Nobody told me they were going back home. They were either going to wait out and hopefully go into the U.S or seek permanency in Mexico. I actually lost count of the people I talked to but most of them said they're still waiting.
What conditions do they face if they choose to return to their home countries, specifically Honduras, Guatemala and El Salvador?
Having spent the most time in Guatemala myself, I can tell you that I met young women ages 17 to 20 who are prone to abuse, rape or are forced to go into gangs. UNICEF USA stands by the best solution for the sake of these kids because we don't choose where to be born.
What are they saying about what it's like there? Did they expect to be received this way or to be waiting this long to make their asylum claims?
In the beginning, those who have lived in tents have experienced clashes with the locals, but others have seen the generosity of people. There are people getting produce for them, while a priest in Tijuana is making sure migrants on the streets get access to bathrooms.
I was talking to some women today and they were telling me that they escaped from people who abused them, and now they feel a sense of security at the shelter. One of them said, "I know he's not going to kill me." She later added, "I just want to find a place where I can work and support a family." This is indicative that they want to have a better life. The message I want to take to the American people from the migrants is that they just want to work and that they will take care of the rest.