Hundreds of people across the United States have offered to open up their homes to the Central American asylum seekers traveling with the "migrant caravan" that President Donald Trump has been determined to stop from entering the country, organizers have told Newsweek.
Jess Morales Rocketto, chairperson of We Belong Together, an immigration campaign launched by the National Domestic Worker Alliance, said as many as 200 people from several states, including North Dakota, South Dakota, Missouri and Virginia, are prepared to offer shelter in their homes.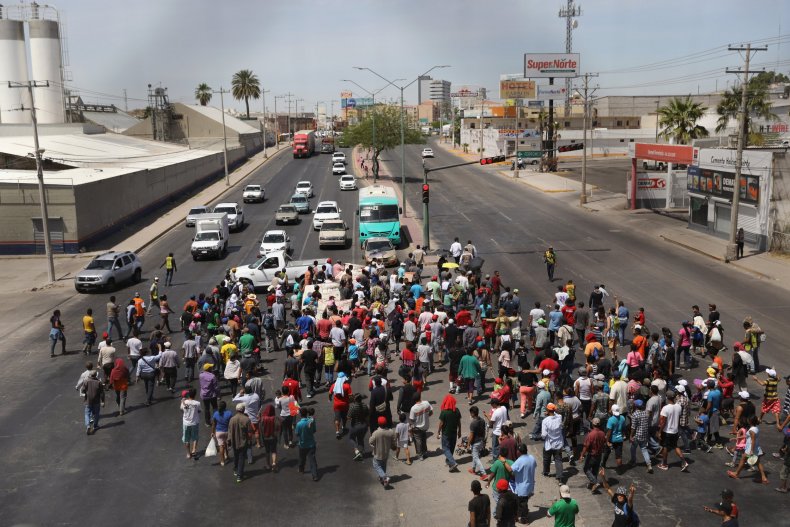 The asylum seekers, who started their weeks-long journey from southern Mexico to the U.S. late last month, are currently in Tijuana. They are preparing to make their way to the U.S. border on Sunday, where they will make their asylum claims.
Rocketto said she was "startled" by the outpouring of support from people across the U.S. who are "willing to open their homes to strangers."
"It's been really heartening," Rocketto said.
Grace Aheron, who lives in Charlottesville, Virginia and volunteers with Showing Up For Racial Justice, said she plans to offer shelter in her home for "as long as it takes."
"These people who are coming are leaving behind such incredible circumstances of violence and fear and they are sacrificing so much," Aheron told Newsweek. "It felt like the least we could do would be to give them a soft place to land."
Aheron said that she felt it was "important to give refugees proper hospitality in the U.S. and a safe place to be in light of all the rhetoric that's going around." She said much of that rhetoric was coming from the president, but added that while his administration has been a "canary in the coal mine... President Trump is not speaking into a vacuum."
Living in Charlottesville, Aheron said she has watched anti-immigrant sentiments in the local community grow over the last two years.
Read more: Migrant Caravan Set to Reach U.S. Border This Weekend, Despite Warnings Asylum Seekers Could Face Arrest
Tensions in the Virginia city came to a head last August when a rally largely organized by white supremacists, protesting the removal of a statue of Robert E. Lee from Emancipation Park, turned deadly after a man rammed a car into a crowd of counter-protesters, killing 32-year-old Heather Heyer.
"[Charlottesville] kind of feels like Ground Zero for white supremacy," Aheron said. "We've been trying to fight it on all fronts and welcoming these people here feels like a way to push back from people who want to have this white ethno-state... white supremacists, essentially."
She said she wanted asylum seekers to know "what you are doing is an incredibly brave thing. I'm sorry that it is so hard and that people in my country are making it so hard."
"I want you to know we are fighting for you on the other side and waiting with open arms for you once you get here. I wish there was more we could do," Aheron said.
Rocketto said her campaign has been interviewing potential hosts and asylum seekers to ensure the "people that are opening their homes will be safe" and to "ensure the refugees will be safe as well."
However, Aheron said her household is not not concerned "at all," adding that she lives in a Christian community home, where guests are welcomed all the time.
"These people are leaving such incredible circumstances," she said. "I can't imagine what it must be like to risk so much and to leave home and leave the place where your family is, so we're ready to support and welcome these people for as long as it takes."
As many as 130 asylum seekers are expected to start arriving at the U.S. border on Sunday. Many are fleeing from Guatemala, El Salvador and Honduras in fear of threats from gangs, attacks on their families and political persecution. Hondurans, in particular, have left their country to escape the instability and violence that has followed the contested reelection of President Juan Orlando Hernández.
Read more: "Migrant Caravan Asylum Seekers Being 'Illegally' Turned Away at Border, Rights Group Says
While the caravan is an annual event that typically takes place around Easter to raise awareness of the plight of asylum seekers, in previous years it has been largely symbolic, with most participants marching in Mexico, rather than making it all the way to the U.S. border.
This year has been different, however, with participants determined to make the journey to the U.S. to claim asylum.
While migrants do have the right to request asylum in the U.S., Trump has railed against the caravan, vowing to stop those traveling with it from entering the country.
The group, which at one point swelled to include as many as 1,500 people, has dwindled in numbers after the U.S. leader repeatedly called for Mexican authorities to take action and break up the caravan and ordered thousands of National Guard troops to be sent the U.S.-Mexico border to monitor the situation.
Migrants do have the right to request asylum in the U.S. and should not be turned away by border officials unless they fail to pass initial security screenings.
However, Alex Mensing, a spokesperson for Pueblo Sin Fronteras–the immigration advocacy group that organized the caravan–told Newsweek last Friday that a number of migrants who arrived at the border earlier this month were "illegally turned away by border officials" upon trying to request asylum.
U.S. Secretary of Homeland Security Kirstjen Nielsen said earlier this week that her agency would be monitoring the caravan and warned that the U.S. would prosecute anyone who tried to enter the country illegally, as well as anyone who tries to make a "false immigration claim."