Migrant Caravan Members Have Breached the U.S. Border Fence in Desperate Bid to Claim Asylum
Faced with weeks, if not months, of waiting at the U.S.-Mexico border, frustrated Central American asylum seekers reportedly breached the border fence in a desperate bid to claim asylum in the U.S.
On Monday, a number of the asylum seekers who had been waiting in the Mexican border town of Tijuana to make their asylum claims climbed over the border fence, despite being almost certain to face detention by U.S. authorities on the other side, Reuters reported.
While the migrants are well aware of the risks of entering the U.S. outside designated ports of entry, they took the chance that entering illegally would at least give them a chance to make their claims for asylum.
Read more: Black U.S. citizen arrested by ICE mocked with Bob Marley impression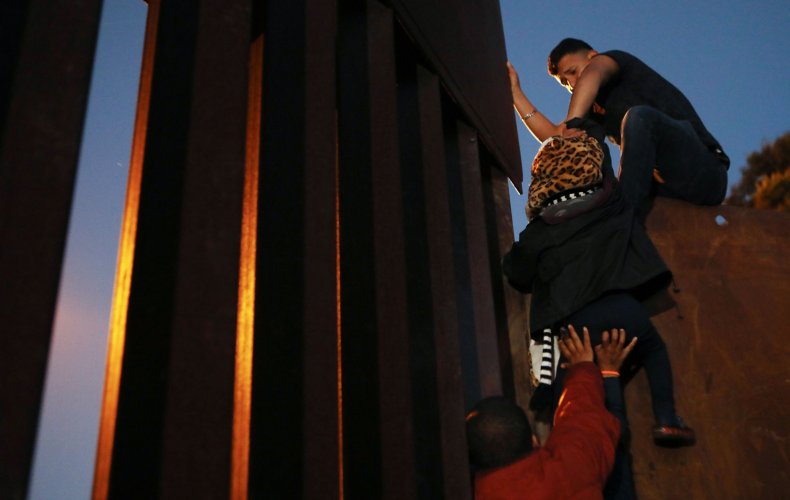 Photos show groups of asylum seekers climbing over fencing put up at the border in Tijuana. Some photos show small children being hoisted by adults and carried over the border fence, with many telling Getty photographers that they planned to request political asylum in the U.S. once they reached U.S. soil.
It is unclear how many people tried to cross into the U.S. on Monday.
Asylum seekers have faced weeks of waiting in Tijuana as U.S. immigration officers at the nearest port of entry, San Ysidro, in San Diego, California, continue to process no more than 100 asylum each day.
It is unclear how long they will be forced to wait. Tijuana's government has said the asylum seekers could be there for months before they get their chance to submit their claims to U.S. authorities.
If the Trump administration's recently proposed asylum policy barring anyone caught entering the U.S. outside legal ports of entry from being eligible for asylum was not tied up in court, asylum seekers caught crossing the border would likely face immediate removal orders.
The Trump administration issued the policy on November 8, however, San Francisco Federal Judge Jon Tigar temporarily blocked it shortly afterward, stating that Congress had mandated that all immigrants should be eligible to apply for asylum in the U.S., regardless of how they arrived in the country.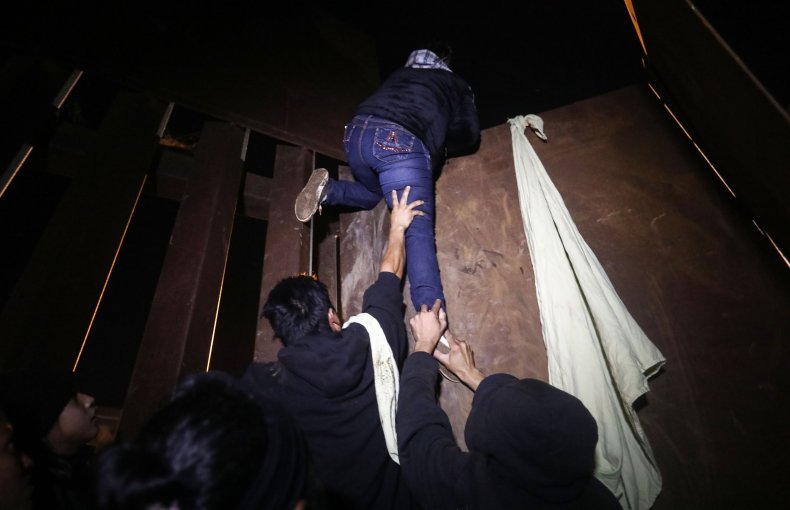 President Donald Trump has since proposed that asylum seekers should be forced to wait in Mexico while their claims are processed in the U.S.
That proposal is likely to face challenges, however, with advocates saying that it would endanger the lives of refugees and deny them due process.
Central American asylum seekers have expressed frustration over the conditions and treatment they have faced in Tijuana and at the U.S.-Mexico border, where U.S. Border Patrol agents fired tear gas at asylum seekers, including families with small children, last month.
A Tijuana shelter housing as many as 6,000 of the asylum seekers in a sports arena was recently shut down because of "poor sanitary conditions," according to the local government.
The closure came after advocates sounded the alarm about asylum seekers becoming sick with respiratory problems and chicken pox while living in the temporary shelter, where they were living in wet and muddy conditions brought on by heavy rains.
Many asylum seekers have been moved to a new facility, which is farther away from the U.S.-Mexico border.
The new facility, set up at a former concert venue, is roughly 10 miles away from the border and will be run by federal authorities.