Migrant Shelter Censors News of Child Separations so Parent Detainees Don't Know What's Happening
Senator Catherine Cortez Masto said undocumented migrants at a Texas detention center had little idea of what was happening around the issue of child separation at the border because the guards consistently blocked out the news.
Cortez Masto visited the Port Isabel Detention Center on Monday and described it as a "prison facility" with "barbed wire everywhere," a place where detainees were subjected to strict routines, and wore overalls color coded according to the risk they were believed to pose.
The Democratic senator from Nevada said the guards, at certain points of the day, allowed the detainees to watch television.
"But only on certain channels because, quite frankly, some of the women I talked to said that if there is any type of news about the families and children being detained they'll change the channel on them," Cortez Masto told NBC News. "They were asking me questions [about] what was going on because they don't get to see all of it."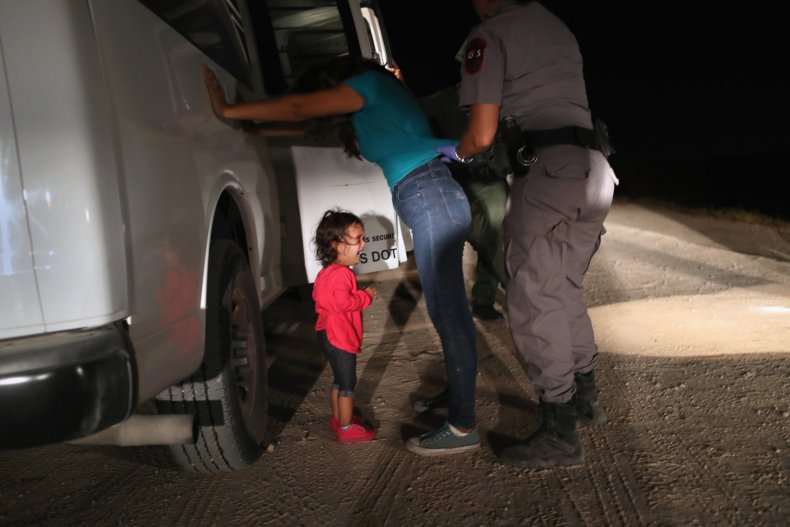 Cortez Masto said she talked with six women and three men from Guatemala, Honduras and El Salvador.
They told her they came to America after fleeing persecution and fearing for their lives, bringing their children along. One woman who arrived with her 5-year-old daughter had witnessed a murder and was at risk of being killed herself.
Immigration and Customs Enforcement (ICE) did not respond to a request for comment.
In April, the Trump administration said it was adopting a "zero tolerance" policy on illegal immigration. Attorney General Jeff Sessions ordered that all those caught crossing the border illegally were to be prosecuted.
In practice this meant that any children accompanying undocumented adults had to be separated from their parent or guardian.
So far, more than 2,000 children have been separated from their parents or guardians and taken to child detention centers, including toddlers and babies.
Distressing reports, images and an audio recording from child detention centers have emerged, including sounds of traumatized children wailing for their parents, huddled together in cages and sleeping under space blankets.
After public outcry, President Trump walked back the policy, issuing an executive order instructing border officials to detain families together. There is also a temporary suspension of prosecutions of adults who arrive with children. But questions remain about when those separated before Trump's executive order will be reunited.
The Department of Homeland Security and Health and Human Services both said on Saturday that they were putting together a reunification plan, including a system for identifying separated children and their parents, and promised to "ensure communication" between divided families.