Migrants in Detention Centers Have Increased More Than 55 Percent Since Biden Took Office
Over 22,000 are being held in U.S. Immigration and Customs Enforcement (ICE) detention centers, according to data collected on October 1 by Syracuse University's Transactional Records Access Clearinghouse (TRAC). This represents a 55.9 percent increase from the over 14,000 reported by TRAC on January 22, shortly after President Joe Biden took office.
In its report, TRAC said that over 17,000 (77 percent) of those being held were arrested by U.S. Customs and Border Protection (CBP) while nearly 5,000 (23 percent) were apprehended by ICE.
Tasked with enforcing immigration laws within the greater United States, ICE aims to apprehend undocumented immigrants within the country while CBP generally focuses on enforcement near the borders. This would indicate that the majority of those apprehended likely landed in ICE detention upon attempting to illegally cross into the United States.
In the time since Biden assumed the Oval Office, CBP has encountered roughly 1.6 million people at the southwest land border. The number of encounters rose each month from February till July, posting a peak of nearly 214,000 encounters.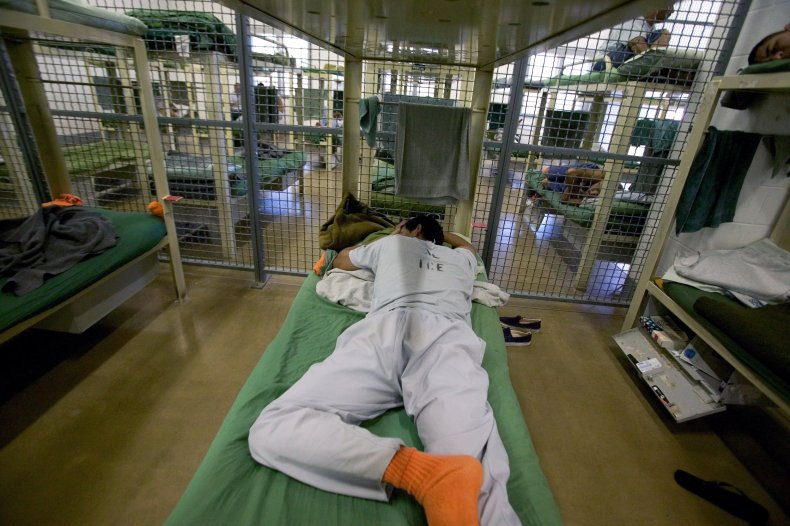 A recent study by the Migration Policy Institute (MPI) and a coalition of other agencies reported that since pandemic, the number of Central Americans who expressed a desire to migrate from their home country has jumped by 35 percent.
While the report stated that no one factor can be attributed as the sole cause for the jump, it placed economic insecurity, further worsened by COVID-19, as one of the primary drivers, as people across the region face food insecurity. It also reported violence and environmental issues related to climate change as conjoining forces that have made living conditions unbearable for millions of people in the region.
The White House has tasked Vice President Kamala Harris with leading the charge to address these root causes with the hopes of staving off migration in the future. Since the July announcement of Harris' strategy, the number of migrant encounters has tapered off. Yet with the total number of crossings still in the hundreds of thousands, the administration has fielded off criticism from Republicans for a perceived lack of action.
In mid-October, Secretary of Homeland Security Alejandro Mayorkas called on ICE to cease the practice of workplace raids where sometimes hundreds of workers would be apprehended and placed in detention. While the total number of ICE arrests jumped between September and October, according to TRAC, it remains to be seen whether this policy will lead to a decrease once November's data is released.