Migrants Headed to Texas, California, but There's No Border Crisis in Arizona
An influx of migrants may be headed to the Southern border, but while towns in Texas and California have become overwhelmed by unaccompanied minors, Arizona hasn't seen a change in numbers.
"It hasn't been any different than any day of the year," Nogales Mayor Arturo Garino told Newsweek. "We don't have that influx of people like they have in Texas and in the California area. Nogales is actually the biggest port in the state of Arizona, but no, it's the usual—the people that have been apprehended that you see every year, but not a large influx. Not at all."
Nogales, with its population of nearly 21,000 people, is one of the largest ports of entry in Arizona and is accustomed to Central Americans who cross the border into the city in hopes of seeking a new future in the U.S.
But while border towns like Laredo,Texas, and Sunland Park, New Mexico, have prepared for a wave of migrants to come in response to President Joe Biden's election, Garino says Nogales hasn't been told to expect any change in foot traffic.
"We haven't prepared ourselves for anything because we haven't gotten any information, honestly, from the federal government saying that they're going to be releasing any migrants in our streets at all," Garino said.
"We have great communications with Customs and Border Protection and all the federal agencies because we work with [law enforcement] directly under the Stonegarden funding," he added. "Per capita, our city probably is one of the safest cities in the whole border region because we have more law enforcement here than almost any other city our size, so believe me, we will know exactly what's going on here in the city if there's something was going on with migrants."
Operation Stonegarden is a federal grant program administered by the Federal Emergency Management Agency designated for additional law enforcement personnel, general purpose equipment and other activities to "improve overall border security."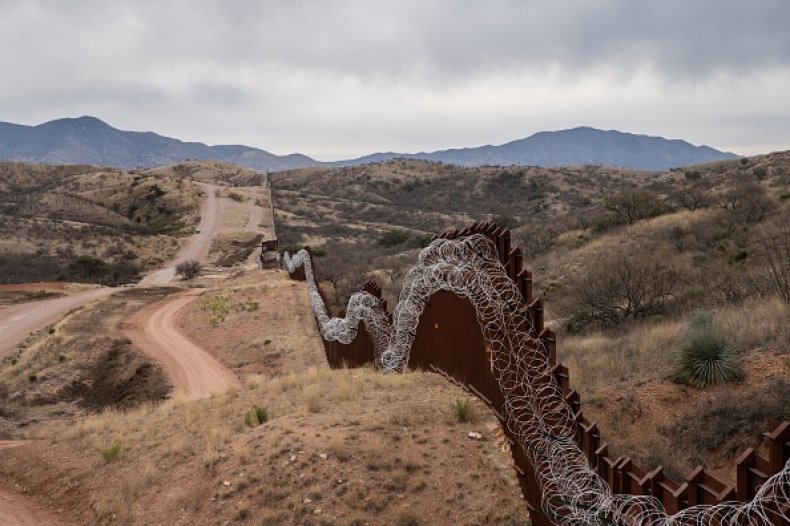 The mayor said that while the city hasn't been informed of a potential surge, no community on the border could prepare for a rise in numbers like the ones that have been reported in other states.
The number of migrant youths crossing the border alone has spiked recently as Biden rolled back a number of Trump-era immigration policies. Under the new administration, the government is required to transfer unaccompanied children to federal shelters and then to relatives in the U.S. while their cases are pending, rather than sending them back home.
As a result, holding facilities have become overcrowded. According to CBP figures reviewed by the Los Angeles Times, a Border Patrol tent in the Rio Grande Valley intended to house 250 during the coronavirus pandemic held nearly 4,000 migrants over the weekend.
Last week, the U.S. Department of Health and Human Services, which is responsible temporary care of these migrant youths, also announced it would reactivate a temporary Influx Care Facility in Carrizo Springs, Texas—infamous for the "cages" that generated widespread outrage under the Trump administration.
While Nogales, too, had its own detention center when there was a surge in unaccompanied minors in 2014, Garino says the current situation in the city is vastly different from the one he saw as mayor seven years ago.
"I was mayor back in 2014, when we had the processing center here in Nogales and that was way different. That was under the Obama administration and that was very different," he said. "They were sending them here, we were in contact with them. We worked directly with Border Patrol, everything was being communicated. This time around, nothing is happening."
The Nogales processing center was widely criticized for holding children in crowded and unsanitary conditions.
According to a report from The New York Times, 900 children from El Salvador, Honduras and Guatemala were being held in nine holding pens where they slept on mats on the floor. The shelter was emptied in 2014.
"I'm sure that they would inform us if they were going to be releasing anybody in the city of Nogales," Garino said. "I understand that's happened with some people in the Yuma area, but I don't think it's happening in the San Luis area or if it's happening in the Douglas area—the other two borders, but like I said, Nogales is the biggest port, so if you were going to do something, we would know immediately here what's going on."
Garino said he's unsure why Nogales hasn't been the site of a larger influx of migrants, especially since it is where a major highway from Mexico ends.
"Interstate 15 or carretera quince, that comes from all the way down from Mexico City, ends in Nogales. It doesn't end in Texas, it doesn't end in Tijuana or any other border. It goes to Nogales," he said. "So that's the main road for trade, for travel, for tourism, for everything."
"Why the migrants are diverting to Texas, before they hit the state of Sonora, I don't know. But the straight shot is Nogales, and that's not happening," he added.