Migrants in Mexican 'Open-Air Prison' City Sew Mouths Shut in Protest
Fed up with the conditions they are facing in Tapachula, Mexico, migrants from South and Central America took to sewing their mouths shut in protest, hoping to gain the attention of the country's National Migration Institute, Reuters reported on Wednesday.
Tapachula, which sits at the border of Guatemala, has been described by caravan organizer Irineo Mujica as an "open-air prison" because the migrants who enter the country there hoping to move north must stay in the city until their cases are processed. This results in some to individuals waiting from anywhere between three months to a year in a half.
"The migrants are sewing their lips together as a sign of protest," Mujica, who attended the demonstration, told Reuters. "We hope that the National Migration Institute can see that they are bleeding, that they are human beings."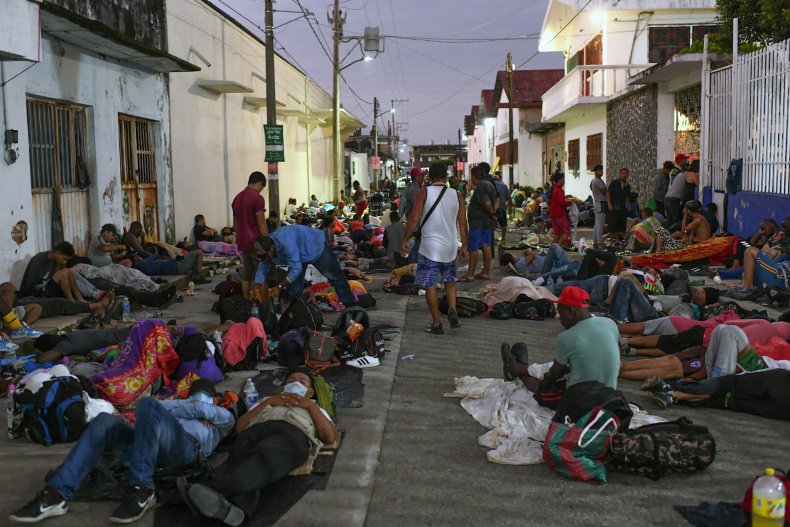 Although Tapachula offers a warm climate, the area is not always kind to the migrants forced to stay there.
Julio Rank Wright, deputy regional director for Latin America at the International Rescue Committee, told Newsweek during a December interview that migrants can experience discrimination from permanent residents. He also said the city offers "a limited amount of economic activity and economic opportunities," making it hard for migrants to make ends meet.
Yorgelis Rivera, a migrant from Venezuela who attended the protest, backed Wright's statement in comments to Reuters. Rivera, who was carrying her daughter, told the news organization that her daughter had "not eaten anything in the last few hours," adding, "We are like prisoners here."
The long wait times are attributed in part to the ongoing backlog facing Mexico's Commission for Refugee Assistance. Asylum requests in 2021 totaled over 123,000, up from the 41,000 applications for the year before.
Wait times caused by these backlogs pushed thousands of migrants to ban together in a caravan to escape the city by overwhelming authorities through sheer numbers. In October, a caravan of 3,000 to 4,000 left the city, pushing past National Guard. In late November, a caravan of 2,000 united to flee the city.
Authorities in Tapachula, who said they are aware of the concerns, condemned the activists who supported the migrants in their demonstration. Reuters reported that immigration officials from the National Migration Institute offered the following statement in response to the protest: "It is worrying that these measures have been carried out with the consent and support of those who call themselves their representatives, with the intention of pressuring authorities on an attention already provided."