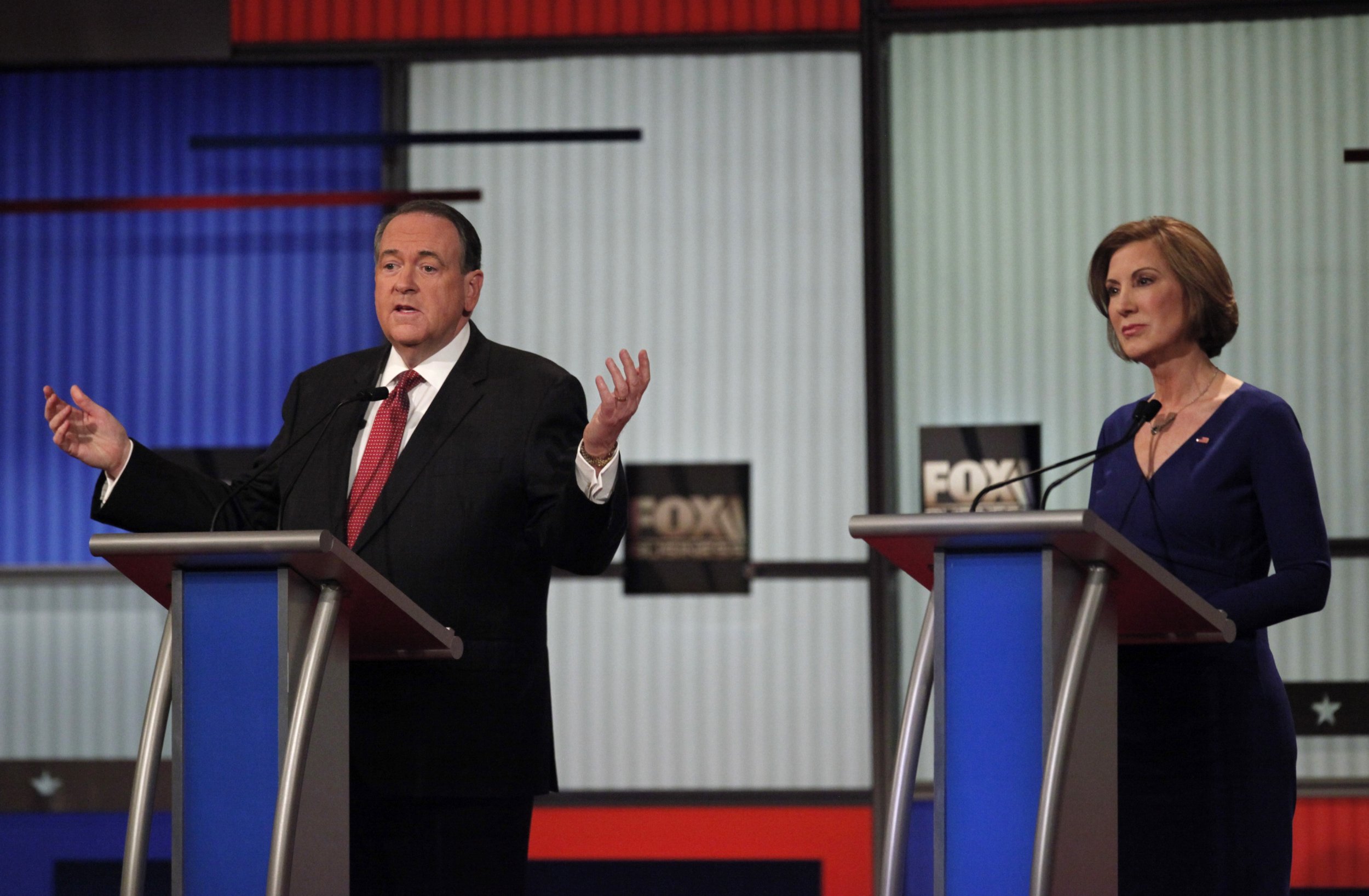 At the undercard Republican debate on Thursday night, former Arkansas Governor Mike Huckabee repeated an oft-heard claim that most mass shootings happen in places where guns are banned and potential victims can't return fire. Asked by Fox Business Network moderators about what the federal government can do to stop Americans who pose a risk to public safety from obtaining guns, Huckabee claimed that some mass shootings might have been prevented if more Americans were armed with firearms.
"Of course we want to stop gun violence, but the one common thing that has happened in most mass shootings is that they happened in gun-free zones, where people who would have been law-abiding citizens, who could have stood up and at least tried to stop it...were not allowed to under the law," Huckabee said to applause from the crowd gathered in South Carolina.
Huckabee's statement was one of several on gun control made during the undercard debate, which also included former HP Chief Executive Carly Fiorina and former Pennsylvania Senator Rick Santorum. The remarks come on the heels of a January 5 announcement by President Barack Obama of new executive actions to reduce gun violence in the wake of recent high-profile mass shootings.
Debate over the efficacy of gun-free zones has been commonplace in recent years, particularly in the wake of shootings at a movie theater in Aurora, Colorado, and at Sandy Hook Elementary School in Newtown, Connecticut. But a recent analysis of data in FBI and media reports over a nearly seven-year period shows that only 13 percent of mass shootings between January 2009 and July 2015 took place entirely in public spaces that had been deemed gun-free zones, according to Everytown for Gun Safety, which works to tighten gun laws. In a 2013 analysis of mass shootings going back 30 years, Mother Jones found zero of 62 shootings involved a gunman who had specifically targeted a place because it banned guns. The FBI defines a "mass shooting" as an event when at least four people are killed by a gun.
It's possible Huckabee was referring to more recent high-profile shootings, many of which did take place in gun-free zones. The military recruiting center and other military sites in Chattanooga, Tennessee, for example, where four unarmed U.S. Marines were killed in July 2015, are gun-free. Marysville-Pilchuck High School in Marysville, Washington, where a student shot and killed four friends and himself in October 2014, is gun-free, as are all public high schools under the Gun-Free Schools Act.
Even Umpqua Community College, in Roseburg, Oregon, where an assailant killed nine people in October 2015, is gun-free. Oregon has a campus-carry bill in place—which permits licensees to carry concealed firearms on college campuses—but private schools can opt out, and public schools can designate certain buildings or campuses gun-free. That is the case at Umpqua. According to the student handbook, "students may be subject to disciplinary action" for "possession or use, without written authorization, of firearms."
Everytown wouldn't comment specifically on Huckabee's remarks but deputy communications director Stacey Radnor points to data showing the vast majority of mass shootings take place in areas where guns are allowed.
"Pushing the myth that mass shootings only take place in gun-free zones is a twisted form of victim blaming," she says. "It effectively suggests that innocent people living their daily lives—praying in houses of worship, studying at a college library—are to blame for their own deaths because they were not armed to the teeth in places that anyone should feel safe."
Both the undercard and main GOP debates Thursday took place in North Charleston, South Carolina, not far from where nine African-American worshippers were shot to death by a white man during Bible study in June 2015.
Radnor continued: "It's this logic that NRA board member Charles Cotton used following the Charleston shooting, when he blamed a murdered pastor for being shot because he and the other victims weren't carrying guns."
Max Kutner contributed reporting.