Mike Lindell Claims Election Audits Will Prove Trump Won by 12 Million Votes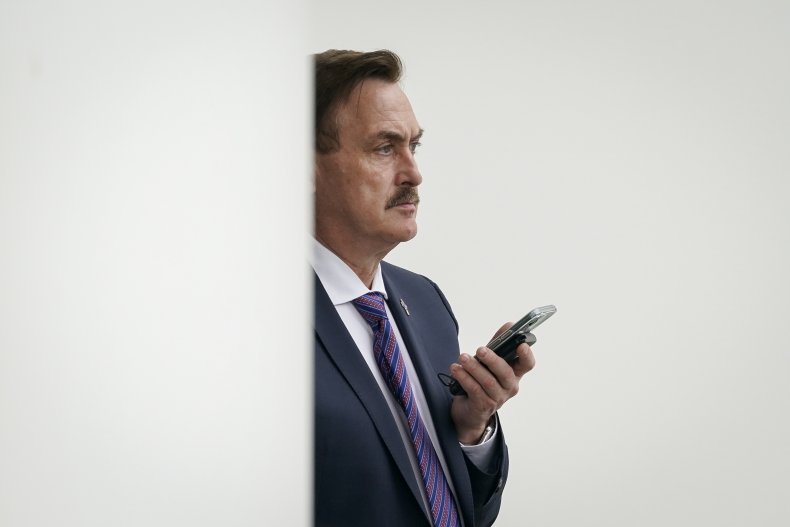 MyPillow CEO Mike Lindell claims vote audits will prove former President Donald Trump won the 2020 presidential election by 12 million votes.
In reality, Trump lost the national popular vote to President Joe Biden by a little over 7 million votes, approximately 74.2 million to 81.2 million, while losing in the Electoral College by 74 certified votes. Lindell disagrees, telling Rolling Stone during his MAGA Frank Free Speech rally in Wisconsin on Saturday vote audits in all 50 states would prove otherwise and lead to Trump's reinstatement as president.
"Trump won 80 million to 68 million," Lindell said. "Six months from now, Trump will be our real president and our country will be heading toward its greatest rebirth in history."
Lindell told the outlet, incorrectly, that 147 million people were registered to vote nationally in 2020, while official vote counts had Biden winning 80 million votes and Trump 75 million—claiming proof that 8 million more votes had been counted than there were registered voters.
In addition to Lindell's version of the official vote counts being off by around 2 million votes in Trump's favor, Lindell provided a wildly inaccurate number for voter registrations. There were actually over 200 million registered U.S. voters in 2020, according to World Population Review.
While repeated audits in multiple states have confirmed Biden's victory without finding any evidence of widespread fraud, pro-Trump efforts to audit the 2020 results have continued. A Maricopa County, Arizona audit being led by a company with a CEO who has indicated support for election conspiracy theories is ongoing, while Lindell and other supporters of the former president are hoping for similar efforts in other states.
The timeline for Lindell's prediction of Trump returning to the White House has been pushed back considerably, with the pillow salesman having previously claimed the former president would be back in office by August. Lindell insists that a 9-0 Supreme Court ruling will lead to Trump's reinstatement.
However, it is not clear what Lindell expects the court to rule on since the Constitution does not include any legal pathway for the election results to be retroactively overturned and Biden is already in office. Barring a military coup or some other suspension of the Constitution, Trump will not be returning to office without winning an election that has yet to take place.
Lindell's rally on Saturday featured a remote appearance by Trump himself, who praised Lindell as a "courageous patriot" and repeated false claims about the election. Lindell's efforts to promote "election integrity" were also praised in-person by Diamond and Silk, pro-Trump sisters and Newsmax hosts who previously urged the military to overthrow Biden to "get to the bottom of" the election results.
Newsweek reached out to Lindell for comment.