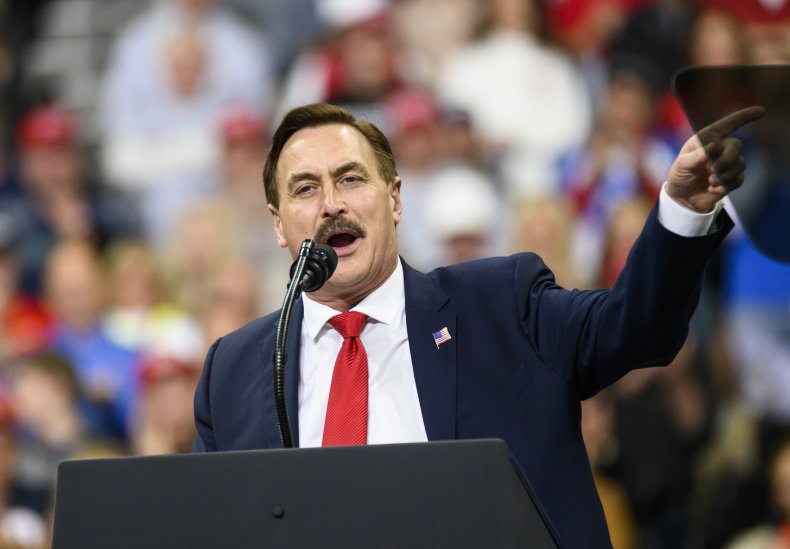 MyPillow CEO and Trump supporter Mike Lindell claimed on Tuesday that he was the victim of a cyber attack, resulting in a delay of the start of his "cyber symposium."
"The whole technology was attacked," Lindell announced to a live crowd gathered in Sioux Falls, South Dakota, to hear the symposium.
"We need to get the word out," he added, "because they blocked the thing. But this is part of what I'm going to talk about today. This is the cover-up. This is the absolute cover-up of the worst in history."
The three-day streaming event was scheduled to begin on Tuesday. The symposium is Lindell's latest effort to push his discredited conspiracy theories that the 2020 U.S. presidential election was stolen from former President Donald Trump.
The "cyber symposium," as he dubbed it, was set to be live-streamed for 72 hours straight on Lindell's new media platform FrankSpeech.com. To help promote the event and FrankSpeech.com, Lindell offered a large sale on MyPillow products on the platform.
In the lead-up to the symposium, Lindell has claimed he would provide evidence that shows China hacked the election so that President Joe Biden would defeat Trump. He has also claimed that his evidence will result in the Supreme Court unanimously overturning the election results.
Lindell, Trump's former reelection campaign chairman for Minnesota, said that if any person in attendance at the "cyber symposium" can disprove his claims, he will pay them $5 million.
Lindell previously stated that cyber experts, politicians and the members of the media would be in attendance at the event. More recently, he said in an interview with The Washington Times that delegates from 45 states have registered to attend.
Dominion Voting Systems, one of the largest manufacturers of voting machines, has sued Lindell for $1.3 billion in damages for defamation over his claims the machines were rigged. Lindell responded in June by filing a $1.6 billion countersuit that stated Dominion had infringed on his right to free speech.
In late July, Lindell pulled ads from Fox News after the network refused ads for the cyber symposium. Meanwhile, CNN aired an interview with Lindell on August 6 in which he was presented with evidence from cybersecurity experts and election officials that showed his claims about election tampering were false.
It is unclear at this time if FrankSpeech.com was the sole target of the hacking. There has been no further information made available regarding the cyber attack or updates about the symposium schedule.
Newsweek contacted Lindell for more information and comment, but did not hear back in time for publication.
Updated 1:11 PM ET, with updated information.