Mike Lindell's Frank 'Free Speech' Site Labeled 'Rip Off' by Gab CEO Andrew Torba
MyPillow CEO Mike Lindell is gearing up to launch a social media platform next week, and one ally was not pleased with the news.
Andrew Torba, the founder of Gab, a platform pitched as a "free speech" alternative to Facebook and Twitter, complained in a post on Tuesday that Lindell's site appeared to be a "rip off" of his own vision, including plans to expand into commerce.
Lindell, a Donald Trump-supporting businessman who was banned from Twitter in late January for spreading misinformation, has spent recent weeks hyping up a project called "Frank," which he has claimed is a mix of Twitter and YouTube.
Lindell said in a video posted to a placeholder website this week that "VIP early access" will start on Thursday this week, before launching for the wider public on April 19. He indicated that, like Gab, it will focus on maintaining "free speech" values.
On Monday this week, Lindell told Steve Bannon's War Room podcast that he would be launching an online marketplace to rival Amazon, dubbed MyStore.
Torba was not happy. In a post on Gab, which has since been edited, the CEO shared a link to Newsweek coverage of Lindell's claims and alleged the idea was stolen.
Torba said that Gab revealed its own marketplace plans roughly a week before Lindell's announcement, and complained that he had previously poured resources into helping Lindell host a documentary that was being removed by YouTube and Vimeo.
"The competition doesn't bother me, competition is good," the Gab founder wrote in a post to the platform on Tuesday, which has since been updated.
"What bothers me is how Mike led me, and the Gab community, on to believe that he was going all in on supporting Gab only to turn around and blatantly rip off our free speech platform vision as his own," he added. "I don't think Mike understands what he is getting into with these projects, but he will soon enough. I wish him all the best."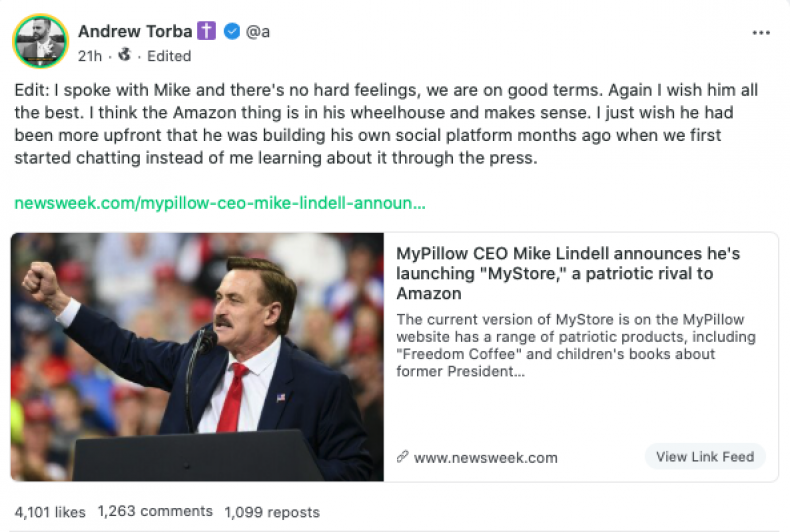 In the edited version of the Gab post, Torba said he is still on "good terms" with Lindell and there were "no hard feelings" about his future business plans.
He wrote: "I think the Amazon thing is in his wheelhouse and makes sense. I just wish he had been more upfront that he was building his own social platform months ago when we first started chatting instead of me learning about it through the press."
In the video posted to the placeholder site this week, Lindell said that despite his site allowing users to speak their mind, it won't be without restrictions. He said swearing, posting pornography or taking "God's name in vain" will all be off-limits.
Lindell is facing a $1.3 billion defamation lawsuit filed by the voting machine company Dominion Voting Systems in relation to his debunked claims about the election. Lindell falsely claimed the presidential election had been rigged in favor of Joe Biden.