Mike Lindell's Site Frank Goes Down Days After Launch, Dubbed 'Epic Success'
MyPillow CEO Mike Lindell's new free speech platform Frank was offline on Thursday morning following a messy launch earlier this week.
The site was pitched as being a social media network, a hybrid of YouTube and Twitter, but fans of the Donald Trump-supporting businessman spent days trying to sign up and have so far been unable to make personal profiles or comment on content.
On Friday last week, a teased VIP access failed to take place. On Monday this week, the intended date for a full launch, the website quickly crashed and was replaced with a live stream. When it returned, user account creation was still missing.
Lindell blamed the technical issues on a "massive attack" but maintained the launch had been a success. On Thursday, the platform's web domain—FrankSpeech.com—was only showing a live video stream and a short disclaimer about the outage.
The disclaimer read: "Thank you for visiting Frank! With over 2B [billion] requests in just 2-days, the Frankspeech experiment is a massive success—For you! Right now we're working on new features—keep checking back, we'll be up shortly!"
It was later updated to read: "Thank you for being a part of Frank! With over 200M streams in just 2-days, FrankSpeech so far has been an epic success!"
There was no additional information about what features were being implemented or an estimated timescale for when the platform would be accessible for its users. It was not immediately clear how the traffic statistic figures had been determined.
This week, Lindell promoted the site via a relentless live stream dubbed a "Frankathon," in which he and guests discussed conspiracy theories about the 2020 U.S. presidential election. He has repeatedly lashed out at media coverage of the launch.
On Telegram, where Lindell has a channel that is used to promote his work, some fans and followers—although it's impossible to say how many are trolling—appeared to be increasingly impatient with the lack of access to the site, which had been hyped up for weeks as a haven for free speech and an alternative to mainstream services.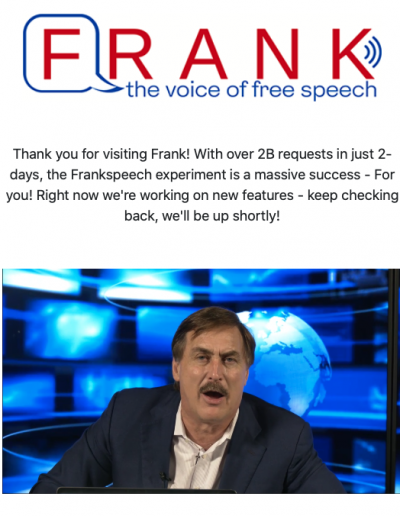 One Telegram user, Wade Nolen, wrote: "I was all for signing up for Frankspeech. But many of the excuses we are being told [are] really outlandish.
"One minute it's due to a cyber attack that has never been so massive... to the next it's 2 billion people trying to join. I have an issue with each of those claims but both of them together given as an explanation of why the site has issues is utter nonsense."
Another user, named Julie Boeckenstedt, wrote: "Is it working yet? I have had nothing but trouble trying to sign up." Another user, WakeUp News, wrote on the app: "I have not been able to set up an account since last week. Now the whole platform is down. Can someone put out an official statement so that we know what is going on?"
Despite unrest among Lindell's Telegram channels, many members appeared willing to wait it out, remaining supportive even as the technical issues mounted.
"So many people of little patience geez!!" noted a user with the account name Restored Soul. "Go back to your godless commie platforms then. We won't miss you!"