Mike Lindell's Platform Frank Fails to Launch Again, 'Massive Attack' Blamed
MyPillow CEO Mike Lindell's new social media platform failed to launch for the second time in a week, with users unable to sign up on Monday.
On Friday last week, followers of the Donald Trump-supporting businessman were left confused and frustrated after a teased "VIP access" failed to take place. Lindell assured fans that they would be able to join up when the website launched on April 19.
But the Monday rollout quickly turned into a mess, with the platform constantly crashing and users unable to create accounts or access the homepage. On social media, Lindell suggested without evidence that the website was being hit with a cyberattack.
He wrote on his Telegram page: "FrankSpeech.com is having a massive attack against it currently. We are working to get it up ASAP! Thank you for your patience."
While some followers of Lindell's verified channel on the Telegram chat app said they would patiently wait, others were annoyed by the repeated delays.
One user wrote on Monday: "Was supposed to be Thursday for VIP, then Sunday, then 7 a.m. today, now it's sometime today. This is borderline ridiculous." Another said: "Weird. I thought it was supposed to be super secure. Everything is always disappointing."
Shortly after the main platform failed to launch as planned, the Frank website domain was updated to show a livestreamed video feed of Lindell hosting a talk show.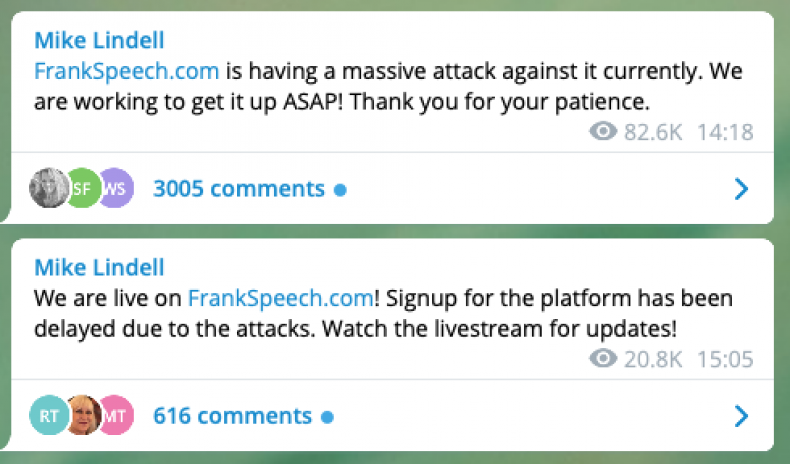 The launch of Frank came after weeks of hype from Lindell, who said it would be able to handle a billion users, be resistant to takedown attempts by Amazon or Google by using his own servers and provide a safe haven for free speech of Americans.
Last Friday, users who submitted their cell phone numbers to sign up for a glimpse of the platform were given no explanation from Lindell for the delay, and continued to complain on the Telegram channel about the lack of access over the weekend.
The MyPillow boss previously pitched the site as a hybrid of YouTube and Twitter, and said it would be used to host his new documentary about election fraud.
While it was described as a free speech site, Lindell said swearing, adult content and taking "God's name in vain" would be against the rules of his new platform.
He previously claimed to have spent "millions of dollars" making his the "most secure" site, saying: "We are going to be attacked. But I have my own servers."
Lindell, who was banned from Twitter in late January this year for repeatedly violating its misinformation policies, is known for spreading false claims online.
He is facing a $1.3 billion defamation lawsuit from voting machine company Dominion Voting Systems after he circulated conspiracy theories about the 2020 U.S. presidential election, including the suggestion that the outcome was rigged in Biden's favor.
Alongside Frank, Lindell announced this month that he would be launching an online marketplace for entrepreneurs called MyStore with the aim of rivaling Amazon. There was no evidence the store would have the resources to challenge the retail giant.
Before the launch, Lindell's plans were criticized by Andrew Torba, the founder of Gab, another social media site that claims to provide a free speech alternative to Facebook and Twitter. Torba blasted Frank and MyStore as a "rip off" of his own vision.
"I don't think Mike understands what he is getting into with these projects, but he will soon enough," Torba wrote in a post, later edited. "I wish him all the best."
In the past year, the free speech website Parler also gained significant traction among conservative politicians, right wing politicians and Trump supporters. It was forced offline in January after a content moderation dispute with hosting giant Amazon Web Services (AWS), while its related mobile apps were removed by Google and Apple.